Apple developing both A5X and A6 processors, hints iOS 5.1 code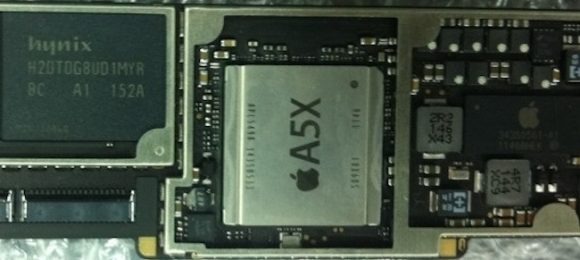 Apple may be working on two new processors this year for the upcoming iPad 3 and iPhone 5. There have been conflicting reports from trustworthy publications, some claiming that the next-gen iPad would sport a new quad-core chip, while others claim an enhanced dual-core chip with an improved graphics engine. A recently leaked image purported to be the iPad 3's logic board, showed an "A5X" processor, suggesting a more evolutionary upgrade than revolutionary. However, 9to5Mac delved into iOS 5.1 code, finding that Apple may actually be developing both at the same time.
What tipped off the possibility of both processors being developed is Apple's iOS device processor-naming scheme and the appearance of two new processor model names deep in the code of iOS 5.1 beta. The original iPad had used an A4 chip, which had the model number S5L8930X, while the iPad 2's A5 chip had the model number SL8940X, a full 10-point step up. The reported A5X chip has a model number of S5L8945, indicating a half-step up. But what has been found in iOS 5.1 code includes a new mystery S5L8950X processor, suggesting a full step up to an A6 processor.
As to why Apple would develop two next-gen processors is unclear, but speculation points to a few possible explanations. Apple could have developed both chips together to see which would be better fit for the new iPad. It could also be developing the quad-core A6 for the iPad 3, while preparing the A5X for the next-gen iPhone, a rumored Apple TV update, or another iOS device. Still, there's the possibility that the A5X will be for a cheaper iPad tablet or a smaller 8-inch iPad tablet.