iPad 3 Apple A5X Chipset Reportedly Leaked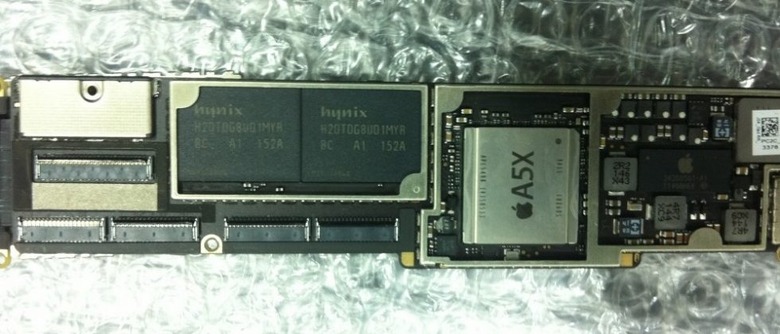 The iPad 3's logic board bearing its new Apple A5X processor has leaked, if Chinese tipsters are to be believed, the latest component from the hotly-anticipated third generation tablet to break cover. Although previous speculation had centered on Apple using an A6 chip in the new iPad, the photo shared at forum WeiPhone suggests a more evolutionary rather than revolutionary upgrade is intended. Yesterday, another iPad 3 component leak indicated the new model would have an 8-megapixel camera and slightly different styling.
Details on the Apple A5X processor are scant. The date code on the chip is 1146, which translates to the 46th week of 2011 (the week commencing November 14), while it's accompanied by two 16GB Hynix flash memory chips and a further, Apple-branded chip believed to be responsible for power management. However, the latter also has a higher part number than its counterparts in previous iPads.
Initial expectations around the Apple A6 chipset were that it would use a quad-core CPU, following Apple's existing progression of single-core (A4, as in the original iPad) to dual-core (A5, as in the current iPad 2). However, subsequent leaks tipped a dual-core processor for the iPad 3, despite the upgraded chip (and an improved GPU), though what looks to be quad-core support has been caught in an iOS 5.1 beta.
If the new iPad is indeed based on the A5X, that would certainly fit with the current believe that the third-gen tablet is a more limited upgrade over the iPad 2. Apple is believed to be improving the camera, processor and display – fitting a double-resolution "Retina Display" running at 2048 x 1536 instead of the current 1024 x 768 panel – and slightly tweaking the chassis to accommodate a larger battery, while any more comprehensive updates will wait until the fourth-gen iPad. Some are predicting the third version to in fact be the iPad 2S and the iPad 3 name saved for a later model.
We'll know more on March 7, or so the rumor-mill goes, the suggested date for Apple's big reveal of the new iPad 2S/3. That comes hot on the heels of MWC 2012, giving rival tablet manufacturers a small window to impress with their new wares.
[via MacRumors]