iPad Air 4G Launch Spreads As Regional Carriers Weigh In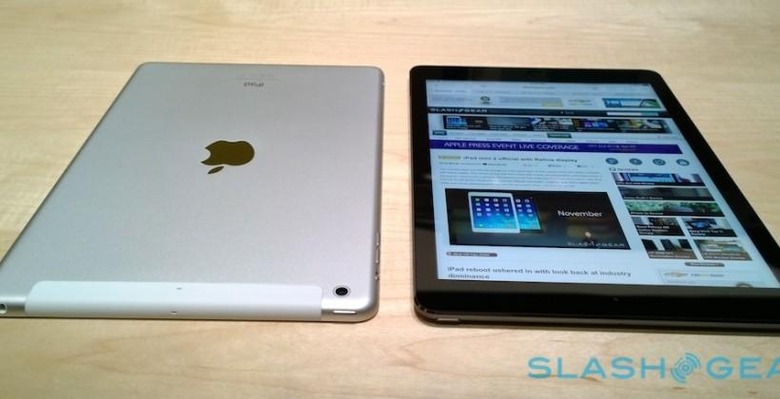 Regional carriers C Spire and Bluegrass Cellular have thrown their LTE hats into the ring for Apple's new iPad Air, confirming they will be offering the 4G version of the new slimline tablet announced earlier this week. The commitment follows AT&T, Verizon, and the other big carriers each announcing support for the cellularly-enabled iPad Air, though C Spire and Bluegrass Cellular will apparently lag behind their rivals with a launch only pencilled in for "the coming weeks."
Neither carrier has opted to confirm pricing at this stage, either, with C Spire saying only that the tablet will be offered "with a range of attractive data plans" when it arrives. However, we'd expect C Spire to price its LTE service roughly in line with its existing data-only plans, which currently include 1GB per month for $20, 3GB for $30, or 5GB for $50, with each further gigabyte priced at $10-20.
As for the big four carriers, they announced their data plans back at the iPad Air's launch. T-Mobile has the cheapest option, promising 200MB of free data each month as part of its "Un-carrier" tablet drive, though as ever the best deal varies depending on how much allowance you want and where you have the most consistent coverage.
iPad Air hands-on:
The C Spire and Bluegrass support for the iPad Air comes as little surprise, given the range of bands the new iPad Air 4G – along with the iPad mini with Retina display 4G – supports. In fact, both tablets can operate on fourteen different bands, meaning compatibility across nine different LTE networks in operation in the US.

A launch on Aio, GCI, and US Cellular is also highly likely, then, though as with the iPhone 5s and 5c, will presumably be staggered as the bigger carriers get their shot at sales first. For instance, both C Spire and Bluegrass only launched the iPhone 5s on October 1st, whereas AT&T and the others began sales on September 20th.
There's more on the iPad Air in our full hands-on.