iPad 2 Ships In 2-3 Weeks As Online Sales Rocket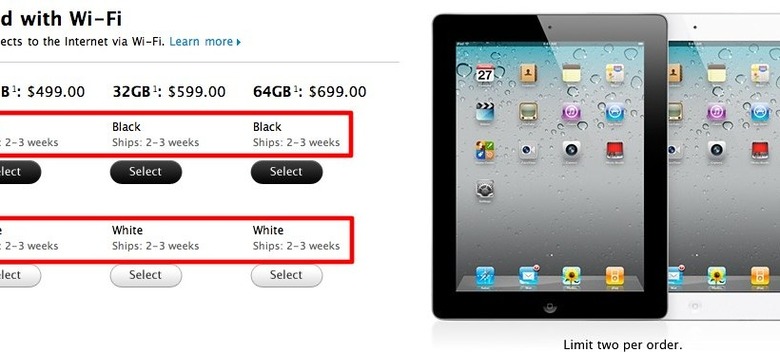 Demand for the iPad 2 continues to rocket, pushing online availability even further out. Having already slipped once this morning, from the original 3-5 business days to 5-7 days, online iPad 2 orders are now not expected to ship for 2-3 weeks.
The new delay in availability impacts all of the models bar one at time of writing, with the black 64GB iPad WiFi + 3G on Verizon listed as shipping within 1-2 weeks. That will cost you $829, though. All other models, in black and white, aren't expected until close to the end of the month, despite Apple's limiting orders to two per customer.
Update: The 64GB Verizon model is now showing the same 2-3 week shipping estimate as the rest of the range.
In-store sales will kick off at 5pm local time across the US today, and analysts are already predicting record sales of over 600,000 iPad 2 units over the launch weekend. That would double the sales record of the original iPad. More on the tablet in the full SlashGear iPad 2 review.