iPad 2 now ships in 5-7 days amid 600k sales estimates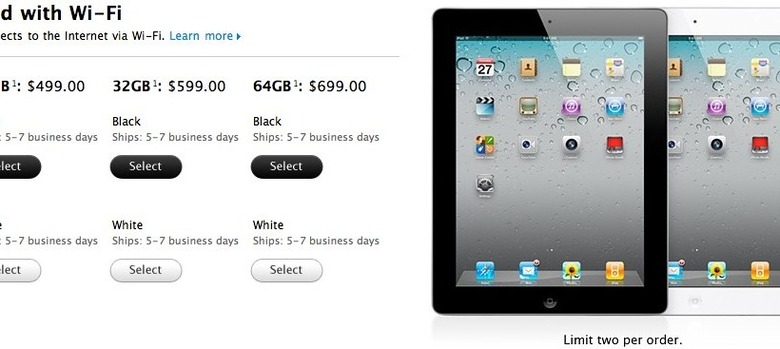 Having gone up for sale online earlier today, estimated ship times for Apple's iPad 2 have now slipped from their original 3-5 days to 5-7 days. The change – presumably as Apple's initial stock of the second-generation tablet is exhausted – means online buyers will have to wait up to a week before their iPad 2 arrives.
Apple's decision not to allow online pre-orders and instead only begin taking sales just before 1am PT this morning has frustrated many customers, who had hoped to bypass the queues outside Apple Stores and other locations. In-store sales are expected to begin from 5pm local time across the US today, with AT&T, Verizon and other places also offering the new model.
The news comes as at least one analyst predicts over 600,000 iPad 2 sales in the opening weekend alone, which would double Apple's previous record for the original iPad. For more on the tablet, check out the full SlashGear iPad 2 review.