The discovery of 'iOS in the Car" settings in the newly released iOS 7 beta 3 has prompted suggestions that Apple will use AirPlay to stream iPhone and iPad multimedia and apps to car dashboards. A new menu – offering "iOS in the Car over USB", "iOS in the Car over WiFi", and "iAP over WiFi" – was spotted in yesterday's third beta release of the new iPhone and iPad software by developer Hamza Sood, each affecting AirPlay settings.
Apple revealed iOS in the Car functionality back at WWDC in June, bringing features like music playback, navigation, messages, calls, and more to the dashboard of compatible vehicles. Unsurprisingly, Apple's own Siri virtual assistant plays a significant role, expanding the Siri Eyes Free service – intended for times when you don't want to, or can't, look at the phone's screen – to controlling playback and other aspects.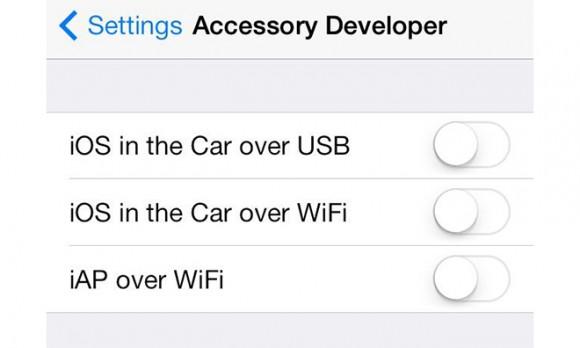 The newly spotted menu options suggests drivers will have a number of ways to hook their car up to their iPhone and Siri, including wirelessly. While direct USB connections will be supported – and most likely the default option on more affordable vehicles and infotainment setups – there'll also be a WiFi option, meaning you could leave your phone in your bag or pocket and still have it connect.
That's already the case with many hands-free systems, which use Bluetooth to pair wirelessly with a phone and stream music and calls through the car's speakers, but Bluetooth bandwidth would presumably be insufficient for everything Apple is aiming to do with iOS in the Car. In contrast, AirPlay over WiFi is designed for Full HD video, though would presumably have more of an impact on device battery life.
Chevrolet, Ferrari, Honda, Hyundi, Kia, Jaguar, Mercedes, Nissan, and Volvo have all signed up to release iOS in the Car compatible infotainment units, though the first vehicles to launch using the system aren't expected until 2014.
Voice control is expected to be a significant part of iOS 7, and indeed the iPhone 5S. Further sifting through the new third-release beta has turned up offline dictation support among other things.
VIA AppleInsider