iOS 7 beta 3 arrives for iPhone, iPad, and iPod touch

After hearing word last month that iOS 7 beta 3 would be rolling out today, the reports are true. Apple has indeed released the third beta of iOS 7 on this eighth day of July for the iPhone, iPad, and iPod touch. This beta comes with the traditional bug fixes that we saw in the previous betas, as well as general performance improvements.
The third beta comes two weeks after the release of the second beta, and it's arriving via over-the-air through Software Update in Settings, as well as through the iOS Developer Portal. Along with bug fixes and performance improvements, the user interface also received a few minor changes.
For instance, folders are more transparent on the home screen and the notification center received a couple of font tweaks. The status bar is also a bit larger when on the lock screen, and the clock icon in Control Center got a slightly new look. As for apps, the calendar app, weather app, and music app received a couple of tweaks.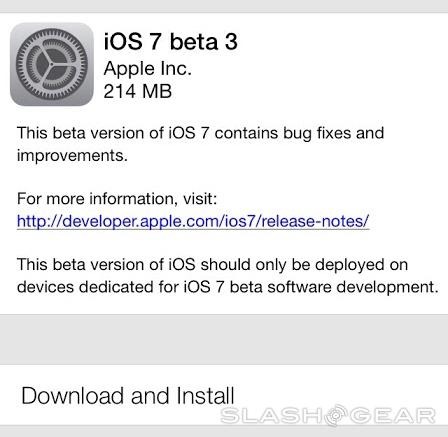 In the calendar app, it now shows what days you have events on using small grey dots, and the weather app was updated with slightly new fonts. Music controls are also redesigned in the music app, and the App Store app received redesign tab buttons at the bottom. It's also said that Siri received some performance enhancements for a faster experience.
If you're a registered Apple developer, you can check out the full release notes in Apple's Developer Portal. If you're not a developer, you don't have much to worry about except for waiting until the fall when the final version of iOS 7 is expected to be released to the public.
VIA: 9to5Mac
SOURCE: Apple Developer Portal