Apple's iOS 7 continues to outpace iOS 6 in terms of device upgrades, new research has indicated, with more than 70-percent of devices in North America now running the latest platform, as Android 4.4 KitKat makes its tentative first appearance in the Google breakdown charts. iPhone users have been a little more keen to update than their iPad counterparts (74.1-percent versus 63.8-percent) according to Chitika, with the prediction that iOS 7 will "continue to substantially outpace iOS 6 adoption" moving forward.
On the iPhone, 22.4-percent of users are still on iOS 7, with only a few remaining percent of active devices running iOS 3, 4, or 5. Chitika's figures are based on online ad impressions browsed by iOS devices in the US and Canada between October 25 and November 18 this year.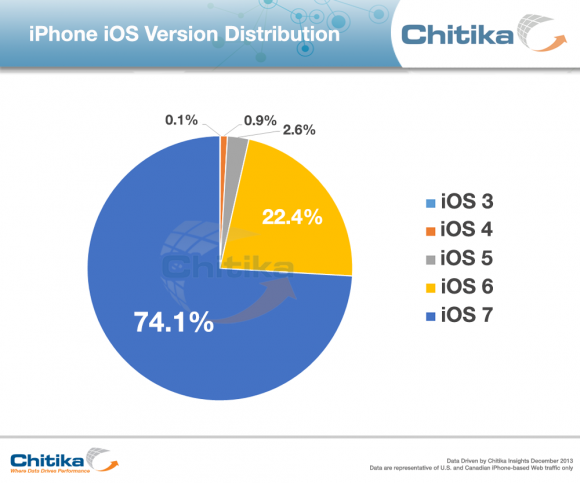 Over on iPad, however, iOS 5 has a significantly larger share of the overall pie. The ad analysis firm suggests that could be down to some of the headline iOS 7 features, like AirDrop, not being rolled out to all of the older iPad models, giving users less reason to upgrade.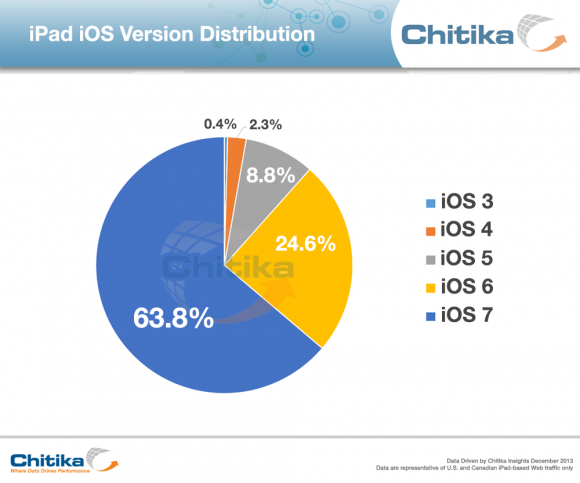 First-day adoption of the new platform version exceeded 18-percent, according to the same company's figures. In contrast, after Apple released iOS 6, after roughly a month it was on around 60-percent of devices.
The numbers are notable given the latest batch of Android platform stats are also out this week, with KitKat making an appearance as the most recent version of Google's OS in the wild. Android 4.4 is now on 1.1-percent of active phones and tablets accessing the Google Play store, the company says, though Jelly Bean – in its three variants – is still dominant, with 54.5-percent of installations.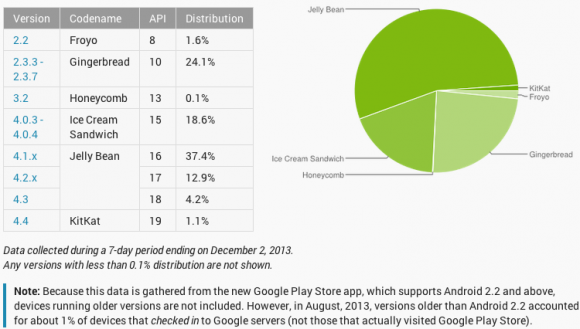 Although we've seen some devices, like the Nexus 7 and Nexus 4, brought up to speed with KitKat, OEM phones and tablets are likely to take some time longer to be updated.