iOS 6 adoption rate levels out at over 60% after one month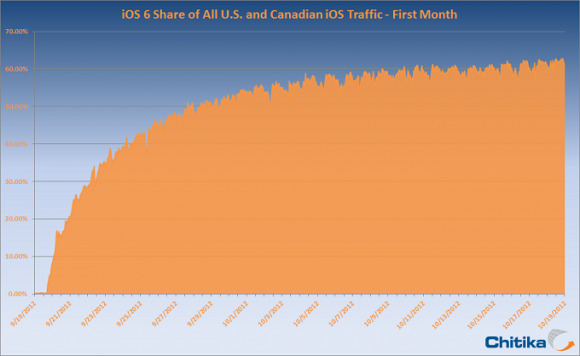 It's been just over one month since Apple released iOS 6 to the masses, and it seems all the criticism and issues that users have been complaining about hasn't stopped other users from upgrading to the new version. Mobile advertising network Chitika announced today that iOS 6 has finally been leveling out with more than 60% of iDevices upgraded to iOS 6.
While iOS 6 is installed on more than 60% of iOS devices, that still leaves 40% left over. Besides iOS 6, what's the most popular iOS version that users are running? Chitika reports that 25% of users are running iOS 5.1 (myself included), 9% are still on iOS 4, and 4% are running iOS 5, with 1% of iDevice owners running an older version of iOS.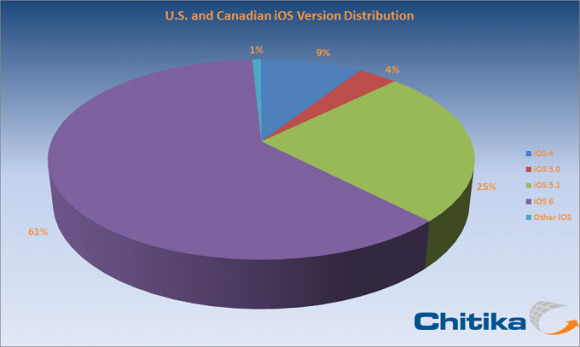 Obviously, you have to take into account that a lot of older iOS devices aren't able to upgrade to iOS 6, including the original iPad, the iPhone 3G, and the third-generation iPod Touch. So, it would be interesting to see the iOS 6 adoption rate that only counts the devices that are actually able to upgrade to the new version. We're sure the percentage would be a lot higher.
However, while Chitika says that adoption for iOS 6 has begun to level out, that doesn't mean it has peaked yet. They expect a slower climb for iOS in the coming weeks, with the possibility of reaching a 70% market share when adoption eventually peaks. They mention that the upcoming release of the iPad mini will likely make that happen.