iOS 13.1.2 Released As Apple Fixes Camera Bugs And iCloud Backups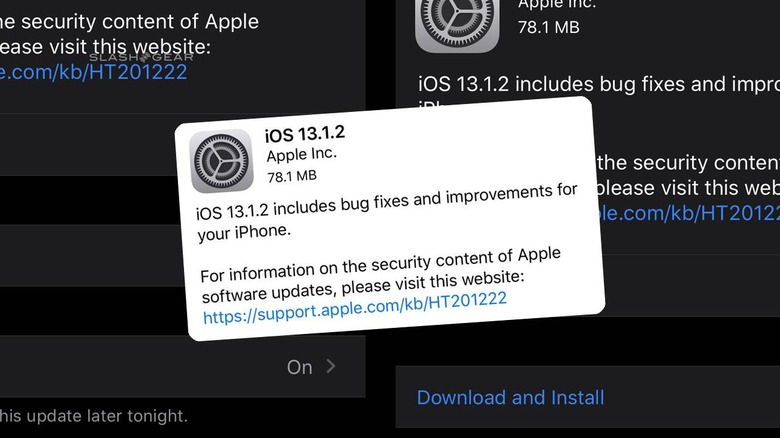 The newest update for iOS on iPhone was released today with camera bug fixes and a fix for an issue with iCloud backups. When you read this article, the update will already be available for iPhone via Settings – Software Update. This update may also appear over the air via a notification from Apple.
This update addresses an issue for devices working with Bluetooth. They've been disconnecting unexpectedly on certain vehicles – and this update aims to make disconnections stop. This update also aims to fix a bug that "could result in a loss of display calibration data."
Apple's notes for the update suggest that a bug was fixed where shortcuts were not able to be run from their HomePod device. Apple also included a fix for "an issue where the Camera may not work." That was probably first on their list of fixes – save the iCloud Backup bit.
A bug was listed as fixed in this newest version of iOS where the progress bar for iCloud Backup would "continue to show" even after a "successful backup" was complete. That should be fixed up and no longer happening with this update – check and see!
This newest update to iOS is the 3rd update since the launch of iOS 13 on September 19. There was the iOS 13.1.1 update on September 27, and before that the iOS 13.1 release on September 24. This was after the iOS 13 release date on September 19, 2019.
The previous most recent update from September 27 (three days ago), fixed "an issue that could cause battery to drain more quickly." It also resolved an issue in which Safari search suggestions would re-enable after their user had them switched off. This update was also joined by its counterpart, iPadOS 13.1.1 this past Friday. You can learn more about these updates in the timeline below or the paragraph above – we've got a bunch!