Intel's former CEO laments lost iPhone opportunity as new leadership vows mobile push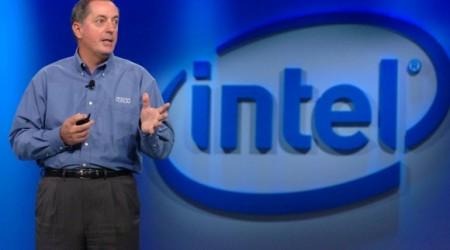 Intel's now-former CEO Paul Otellini, who retired today, discussed the lost opportunities that resulted from passing on providing chips for the iPhone, something that he says would have made the world "a lot different" if he had gone with his gut feeling rather than what the numbers indicated. In the same vein, the company's new CEO Brian Krzanich said at Intel's annual shareholder's meeting that the company will bolster its mobile focus.
Intel's involvement in the mobile market has been limited, although it is both present and growing. ZTE, for example, unveiled an Intel-powered smartphone – the Grand X2 In – yesterday, while its previous Grand X In was dubbed the first Intel-Inside smartphone running Ice Cream Sandwich last August. Likewise, earlier this month Intel revealed an overhauled Atom processor lineup to help it compete with Qualcomm and get a better footing in the smartphone chip market.
There was one area in particular where – in hindsight – the company missed a solid opportunity to become fully entrenched in the mobile industry, however: providing chips for Apple's iPhone. Such was one of the areas discussed by Otellini in an interview with The Atlantic. Said the former Intel CEO about the matter:
"The thing you have to remember is that this was before the iPhone was introduced and no one knew what the iPhone would do... At the end of the day, there was a chip that they were interested in that they wanted to pay a certain price for and not a nickel more and that price was below our forecasted cost. I couldn't see it. It wasn't one of these things you can make up on volume. And in hindsight, the forecasted cost was wrong and the volume was 100x what anyone thought."
The past is the past, however, and new CEO Krzanich is looking to the future. He conceded at the shareholder's meeting today that Intel did, indeed, miss the mark, being slow to enter the mobile industry with "tablets and some of the mobile computing." He says that the company has a solid base, however, and from such a foundation will make a concerted effort towards going up from there.
According to Reuters, the CEO has already met with manufacturers, and is seeking guidance from them on the current state of the market, where its future lies, and what those customers need Intel to do in light of those two things. Such information is aiding Intel in adjustments to its product choices and architecture. Said Intel CFO Stacy Smith: "I think the emphasis is important. A focus on the end-customer, a focus on execution and a really strong focus on the ultra-mobile segment of the business. That's pretty important."
SOURCE: Reuters and The Atlantic