ZTE Grand X2 In Intel-Powered Flagship Smartphone Unveiled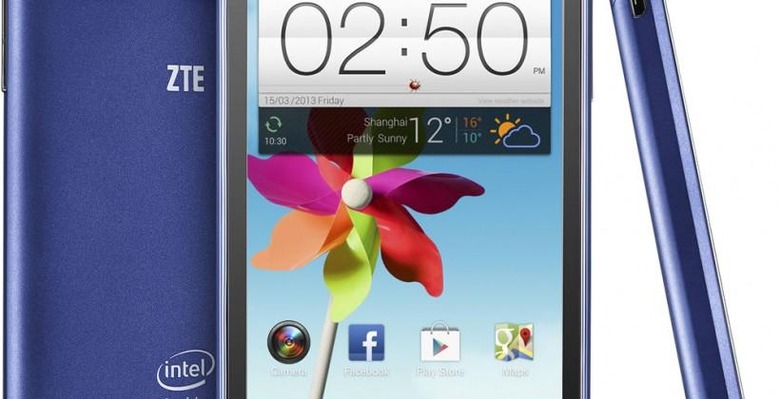 In Monaco earlier today, ZTE officially unveiled its ZTE Grand X2 In Intel-powered flagship smartphone, once again eschewing its stigma of peddling lower-end handsets by offering an all-around high end smartphone slated for release in Europe this autumn for an unspecified amount. There's no word yet whether this handset will make its way to the US.
Perhaps the ZTE Grand X2 In's greatest claim to fame is the hardware found under its hood – a dual-core Intel Atom Z2580 2GHz processor, as well as 8GB of storage and 1GB of RAM (storage expansion available via microSD up to 32GB). The Intel-Inside aspect aside, the handset also has a higher-end display, measuring in at 4.5-inches with an HD 1280 x 720 resolution. The phone runs Android Jelly Bean.
Another notable feature on the Grand X2 In is its 8-megapixel rear camera, which – in addition to offering 1080p recording – also features a rapid-shot mode capable of up to 24-frames-per-second without shutter lag. There's also smart scene and facial recognition, and a real-time x2 axis stabilizer. There's also auto-focus, an automatic flash, and a 1-megapixel front camera for video chatting.
The ZTE Grand X2 In also offers wireless display sharing (WiDi), as well as an unspecified integrated audio enhancement technology said to make the resulting audio of a higher quality. The phone itself is seamless and features a soft-touch finish, which helps keep fingerprints to a minimum. The battery has a decent capacity at 2,000mAh.
ZTE France's Terminal Director William Chhao said: "We are proud to announce the ZTE Grand X2 In smartphone pursuing our multi-year strategic collaboration with Intel. The ZTE Grand X2 In is set to build on the success of the ZTE Grand X In, our first flagship smartphone in Europe to feature Intel Inside, and further increase ZTE's growth in the high-performance smartphone market segment."
SOURCE: Business Wire