Intel Atom N470 1.83GHz Pine Trail chip tipped for Q1 2010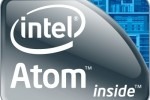 The Intel Atom N450 release date controversy continues, and this time there's a second processor that's apparently being brought along for the ride.  Despite Intel's protestations to the contrary, the 1.66GHz N450 – the replacement for the N270 chip currently found in most netbooks – is still on track for a launch in Q1 2010, where it will apparently be accompanied with a 1.83GHz Atom N470.
The N470 will have a 6.5W TDP – twice what the N270 demands – though that's partially explained by its incorporating the 200MHz IGP.  The memory controller – running at 667MHz with DDR2 support – is also onboard, and the N470 will support hyperthreading.
Of course, Intel are too busy claiming that the N450 is still on course to arrive in late 2009, and at least one manufacturer has expressed their intent to use the Pine Trail chips in a netbook for release this coming December.  This may be one of those situations where we can't call it until 00:01 on January 1st.
[via Liliputing]