Intel Atom N455/N475 CPUs imminent; dual-core N500 in June?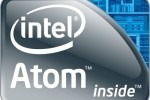 Intel's Atom N455 and N475 processors are apparently due for launch "shortly", according to DigiTimes' sources, after the chips were unofficially previewed back at CeBIT 2010 in March.  They'll supposedly be succeeded by the launch of the dual-core Atom N500 series in June, at which point we're told Intel will spill the beans on their third-gen netbook platform.
In comparison to the existing N450 and N470 processors, their N4x5 counterparts have the same core clock speed and general specifications, but support DDR3 memory rather than just DDR2.  As for the N500, little about the chip is known for sure, but it's expected to show up in the ASUS Eee PC 1215N netbook.
The Atom N455 and N475 chips were seen running in the ASUS Eee PC 1018P, the company's new flagship netbook.  That's been spotted in the wild recently, but we still don't have final confirmation on release dates.