Intel Atom N455 And N475 Quietly Debut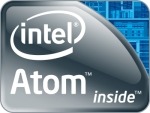 Intel may have officially announced the Atom N470 processor today – well, actually they pulled the trigger early on Saturday – but that isn't the only new CPU at CeBIT 2010 this week.  As we've seen on netbooks like the ASUS Eee PC 1018P Prime, Intel have also launched the Atom N455 and Atom N475.  The two variant chips are obviously based on the 1.66GHz N450 and 1.83GHz N470 processors, but apparently add in support for DDR3 memory.
At time of writing, Intel are yet to even update their Atom site with the N470 so there's unsurprisingly no sign of the N455 or N475.  It's possible that the company didn't intend to make the chips public at this point; it's common for Intel to work with ASUS, Acer, MSI and other manufacturers ahead of launch, and the netbook firms to merely say "Atom powered" until the new chip gets official.
According to the earlier rumors, the first netbooks using the Atom N455 and N475 processors would arrive on the market come Q3 2010.  ASUS didn't attach a release date to their Eee PC 1018P, so we'll be waiting to see exactly when devices using the chips will arrive.