Inbrics MID 1 AMOLED Android handheld makes it to CES 2010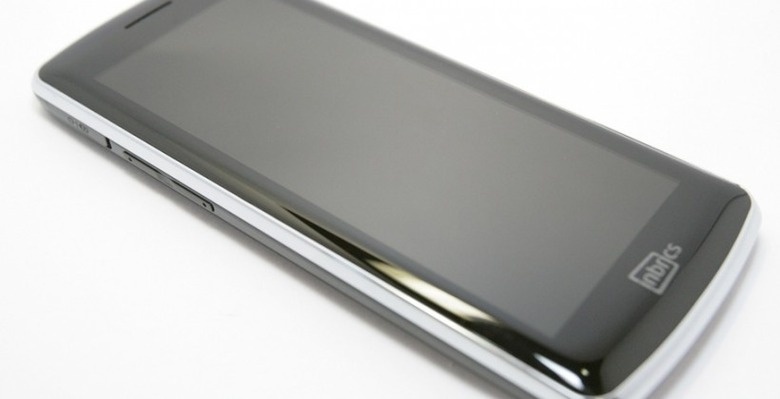 We'll confess to a few fleeting doubts last November when concept footage of Inbrics Android MID was released.  We see so many Android devices announced that are then never heard of again, we're sure Inbrics will forgive us for wondering whether it would be the same with them.  Well, just to prove us wrong Inbrics have been in touch to confirm that they'll be showing working demo units at CES 2010 this week, and they even sent us a sneak preview shot of just what will be on offer.
Reviewing the spec sheet, we're pleasantly surprised at what the Inbrics MID 1 brings to the table.  Up front there's an AMOLED touchscreen, which slides aside to reveal a QWERTY keyboard.  Inside, meanwhile, there's an ARM Cortex A8 processor, WiFi, GPS, Bluetooth and a choice of 3G or WiMAX connectivity, together with 16GB of onboard storage plus a microSD card slot.
Finally there are two cameras – a 3-megapixel snapper on the back and a VGA-resolution webcam up front – and Inbrics are even working on a way to better integrate the MID 1 into their digital media lives.  Called "3 Screen Plus" (or Convergence One), it sounds a little like what ASUS described in their Waveface concept.  Basically, the MID 1 acts as a central controller, allowing you to push your media between TVs, cellphones, computers and DVRs.
Whether it pans out or not depends on whether Inbrics can get the carrier support they need.  The company says it has partnerships with "global carriers and manufacturers including T-Mobile, SK Telecom, Korea Telecom, China Mobile, China Unicom, Celcom, Samsung, LG, and Kyocera" and plans to have the MID 1 on the market in the US in 2010 or early 2011.  We'll hopefully catch up with them to have a hands-on demo soon.
Press Release:
INBRICS UNVEILS ANDROID HAND-HELD DEVICE AT INTERNATIONAL CES, 2010

MID M1 Enables Media Convergence And On-the Go Entertainment Access

LAS VEGAS, NV – January 7, 2010 –Inbrics, a leader in media convergence solutions, will today unveil the MID M1 for the first time ever at International CES, 2010. The MID M1 is an Android-powered smartphone with Wi-Fi 802.11 and an AMOLED touch screen that slides to reveal a full QWERTY keyboard. Other features include GPS, Bluetooth, 3G or WiMAX, a 3-megapixel camera on the back, a VGA camera on the front, 16GB of internal memory and a MicroSD card slot.

Using human-centric technologies, Inbrics is driving the commercialization of the open-source Android platform within an entire ecosystem of connected software and devices including the MID M1, PC, IPTV, Server, and media network, leveraging IP-based devices such as: DMB, VoIP / SoIP, and WiBro / WiMax.

"We believe that the future will dictate seamless single device applications for the consumer, which is why we are committed to the media convergence space," said Bobby Cha, chief marketing officer at Inbrics. "Our goal was to create a more intuitive experience that every consumer could benefit from."

The Convergence One or "3 Screen Plus" Android platform makes it easy for consumers to access and share their digital photos, music, movies and more from any device in their home and outside wireless networks.

Today there is a constant need for data to be pushed to a number of devices at a rapid pace, yet devices cannot talk to each other to streamline the process of sharing and accessing that data. A consumer may have one or more of the following: a TV, a mobile phone, a digital camera, a laptop, a desktop and a DVR. The Inbrics convergence 'controller' acts as a conduit so the data can be pushed to any device the consumer chooses.

Inbrics currently has partnerships with global carriers and manufacturers including T-Mobile, SK Telecom, Korea Telecom, China Mobile, China Unicom, Celcom, Samsung, LG, and Kyocera. The company plans to introduce the MID M1 in the U.S. through cable companies and both fixed and wireless carriers. It will be available in the U.S. in 2010 or early 2011.

About Inbrics

Inbrics is a media convergence solution and device provider facilitating 3 screen services including Convergence Network Solutions, 3-Screen SW Platforms, Multimedia Solutions, Embedded S/W, and IP-based devices, such as DMB, VoIP/SoIP, WiBro/WiMax, and MID devices. Since its inception in 2006, Inbrics has developed partnerships with global carriers and manufacturers helping the company to become a leader in the Korean media convergence marketplace and accelerate international expansion in the Americas, Europe, Asia, etc. Inbrics is a subsidiary of Insprit, a mobile convergence solutions provider, publically traded on the KOSDAQ exchange in Korea. For more information, visit www.inbrics.comor watch our video ad on YouTube.