IKEA welcomes iPhone 8 wireless charging with tribute campaign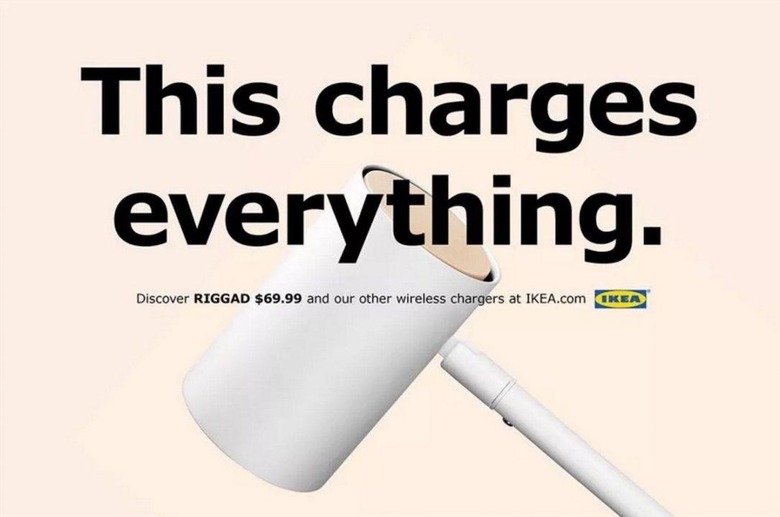 You can credit the iPhone 8 and iPhone X for the recent resurgence in interest in wireless charging, and IKEA isn't letting that opportunity pass it by. The company has offered select versions of its furniture with wireless charging functionality since 2015, but until now iPhone owners have required an adapter in order to take advantage. With the arrival of native support in the iPhone 8 and iPhone 8 Plus, as well as the upcoming iPhone X, IKEA is relaunching its range.
It's part of a new campaign dubbed "This charges everything," one of a number of tongue-in-cheek references to popular taglines that Apple has used previously. The concept is simple: welcoming Apple to the wireless charging fold, and pointing out that IKEA has a selection of products – including lamps, nightstands, and more – which will recharge the newest smartphones without wires.
One of the stars of the adverts is the RIGGAD lamp. For $69.99 you get an LED work lamp with IKEA's usual minimalistic design cues, the base of which is dressed in pale birch wood surrounding a Qi charging pad. Designed by David Wahl, it was the winner of an iF Design Award in 2016.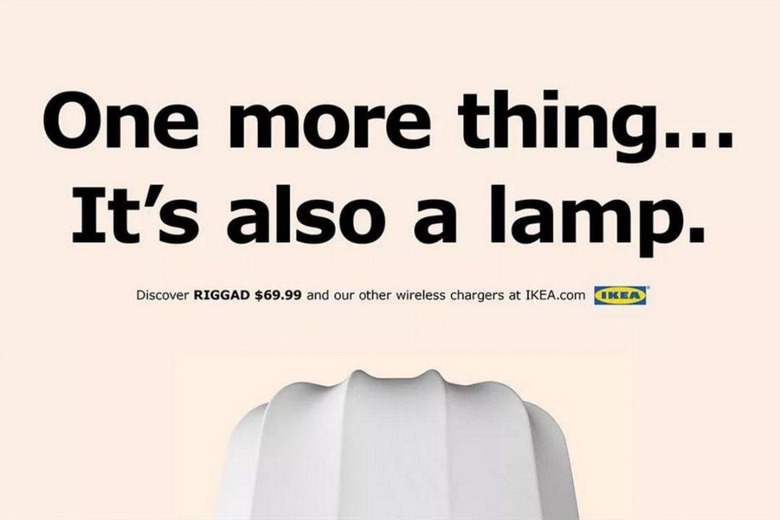 Until now, the lamp would've required interested iPhone users to add a wireless charging case. IKEA offers those, though it would work with third-party options from Mophie and others. Now, though, just dropping an iPhone 8 or iPhone 8 Plus on the base will be enough. There's also a USB port in the side which can be used to power a second charger: that might be handy if you're using RIGGAD on a nightstand, and also want to recharge your Apple Watch.
Still, RIGGAD isn't the only product IKEA offers with Qi onboard. The company has a number of lamps, tables, and other furniture which works with its pads. It also offers the charger units themselves separately; ostensibly that's so that existing furniture can be upgraded, but it also gives DIY enthusiasts a fairly straightforward way to embed a charger into their own projects.
Until Apple's AirPower charger arrives sometime in 2018, meanwhile, IKEA is one of a few places where you can also get a wireless charging pad that handles multiple devices at the same time. The furniture store has a three-device pad, for instance, NORDMÄRKE, which for $69.99 can recharge several phones or other gadgets simultaneously.
It's worth noting, however, that it won't support the Apple's wearable. Even though the new Apple Watch Series 3, like its predecessors, uses wireless charging, it won't work on a regular Qi pad like these. Instead, you'll need to use Apple's own charger.
Nonetheless, it's exciting times for wireless charging in general. With two competing standards – and most Android phones that support the tech opting to include the hardware to work with both – it's arguably been left to Apple to make a decision between PMA and Qi. That's nudged other companies in the process: Powermat, which operates a huge network of public wireless chargers in locations like Starbucks, confirmed to SlashGear recently that it is pushing out an update to make those charging points iPhone-compatible.
MORE DesignTaxi