IFTTT Twitter Triggers return: turn your lamp colors with a Tweet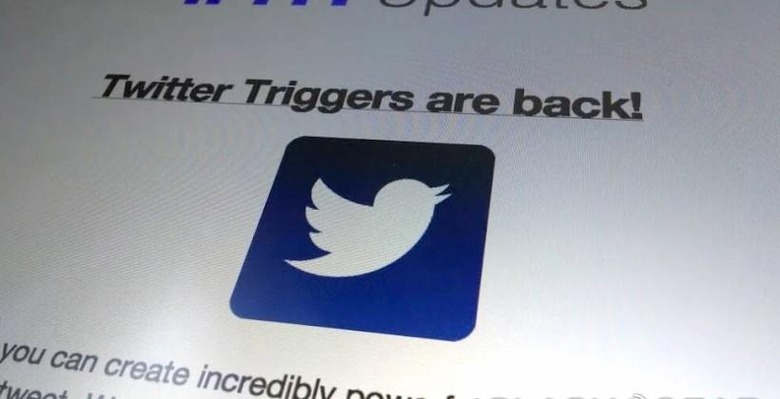 A bit over a year ago, the folks at IFTTT (If This Then That) ran into a problem with Twitter integration: the company changed their API and developers fell like swatted flies. Voluntarily retracting their featured "Triggers" from Twitter interaction, the developers behind IFTTT made clear that they intended to come back into being with Twitter support as soon as they could work with the company to make such a return possible. Here in the summer of 2013, you can once again trigger all the Tweet-happy actions your heart desires.
There are four basic Triggers set up by IFTTT through their service tacked-on to Twitter. The first is a basic "new tweet by you." There's also a slightly more specific Trigger in "new tweet by you with hashtag", one for when you post a new link to Twitter, and another for when you favorite a Tweet.
These triggers have immediately worked to create a wide variety of recipes that can be activated by a user logged in to IFTTT's system. A couple of the strangest ones – notably used just one or no times at all – are developed for use with Philips Hue lightbulbs. With this pair of recipes, whenever you use the hashtag #hue, you'll randomly change the color of your web-connected Hue light collection. This is a bit more on-the-level than the Hue hack we heard about earlier this year.
Have a peek at SlashGear's Philips Hue review as well as our recent Philips Hue LightStrips and Bloom Review for good measure.
Another recipe allows you to save all the links you post to Twitter to your connected Pocket account. A similar recipe saves all of your Tweets to a Google Spreadsheet in Google Drive. You can have Tweets tagged with #fb sent to your Facebook account, have Tweets with links in them sent to Tumblr, and more.
At the moment there's a total of 65 recipes using this new set of Twitter triggers (reinstated from last year). Have at em!