iFixit iPhone 11 Pro teardown developing: Battery answers and new questions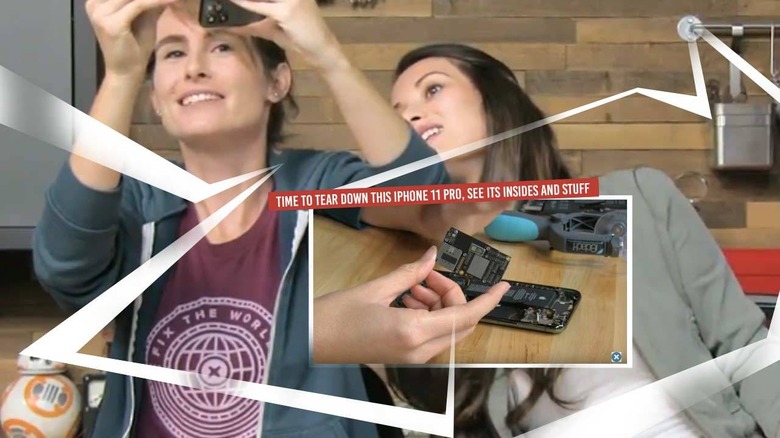 Today the folks at iFixit picked up an iPhone 11 Pro in Midnight Green and took it took the teardown bench. Inside this piece of hardware we'll be interested to see how Apple's decided to handle the various new technologies – and re-arrangements of technologies – for the next generation of iPhone hardware. We're particularly keen on figuring out if there are any bits of tech that lie dormant in this smartphone, since we've heard a couple rumors about not-yet-activated pieces of tech already.
The first part of the iFixit teardown live feed features iFixit's Director of Things Kay-Kay Clapp, and Sam Goldheart, iFixit's Lead Teardown Engineer. Right out the box, both teardown experts commented on the color – they got that GREEN. "That's fairly green, it looked really gray in the promo materials," said Goldheart.
As the teardown develops, we'll be adding to our list of discovered or otherwise newly relevant pieces of information on the iPhone 11 Pro. This is part of an ongoing series of articles on the insides and outsides of the iPhone 11 family, the rest of which you can find by heading down the rabbit hole with iPhone 11 Pro Max battery size: a closer look!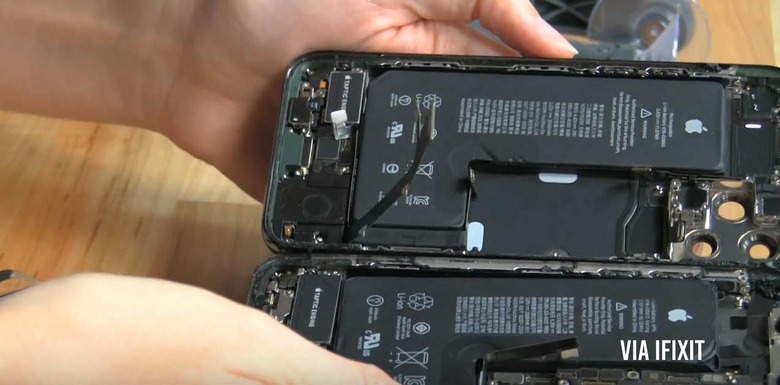 The battery is connected to the iPhone 11 Pro insides by a set of three adhesive strips. This is a significant amount of adhesive for a single piece of hardware, especially when the hardware is the largest single piece of hardware in the device – but it IS possible to remove without breaking. Just gotta be extra careful.
The battery is also connected to the iPhone 11 Pro with two different battery connectors. This may well be the first sign of the phantom, disappearing feature two-way (bilateral) battery charging.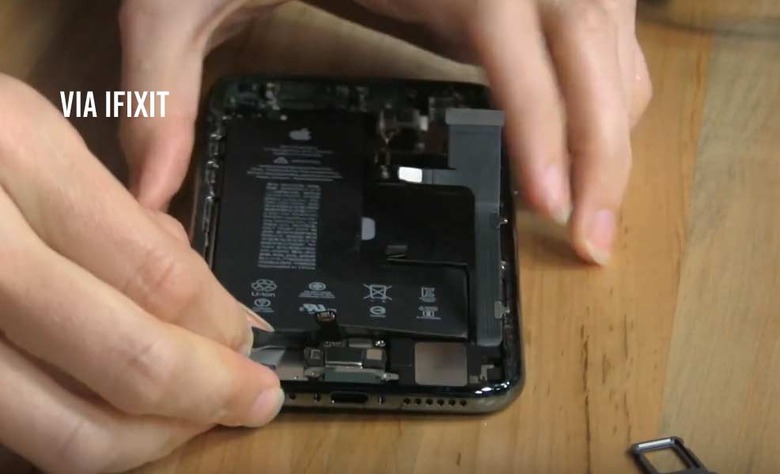 UPDATE: The iPhone 11 has similar waterproofing hardware – gaskets and whatnot – to this phone's most recent predecessor. But this phone has an improved water resistance rating (IP68) over the iPhone XS Max, from 2 meters to 4 meters for 30 minutes underwater. The hardware methodology seems the same, but may be different in some ways not immediately apparent.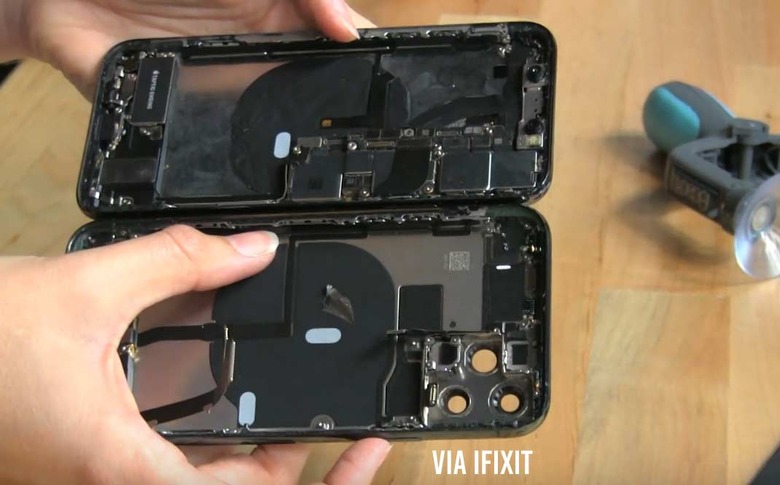 UPDATE: It would appear that the iPhone 11 Pro's wireless charging coil is very, very similar, if not nearly identical to that of the iPhone XS. It's unlikely any sort of modification was made between generations – not in this part of the hardware, anyway.
Stay tuned as we learn more about the insides and outsides of this smartphone lineup. We'll be bringing you our own in-depth reviews of the iPhone 11 series extremely soon!