IdeaPad U1 Hybrid "coming soon" reiterates Lenovo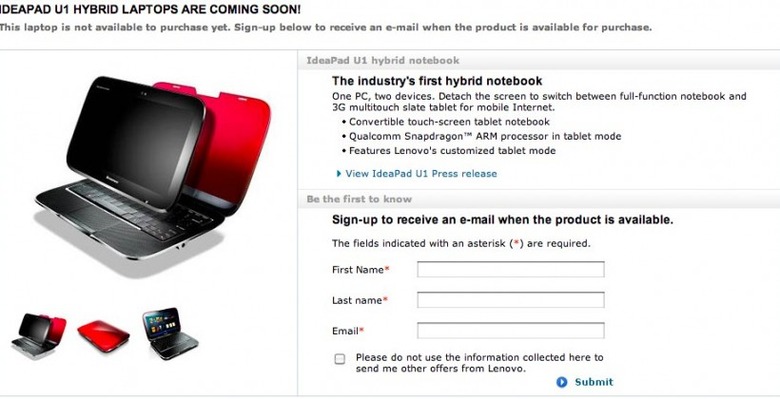 We may receive a commission on purchases made from links.
Having confirmed yesterday that only their Skylight smartbook launch was delayed, and that the IdeaPad U1 Hybrid is still on track, Lenovo have quietly put up a pre-information page for the distinctive notebook.  The page doesn't confirm anything we don't already know about the U1 Hybrid, aside from reiterating that it's "coming soon".
Last we heard, that "soon" translated into a June 2010 release, with a price tag of around $999.  While that might sound a little on the expensive side, you have to remember that you're in effect getting two machines in one: a Snapdragon-based capacitive touchscreen tablet and a regular notebook.
The main notebook packs an Intel Core 2 Duo CULV processor and 128GB SSD, and runs Windows 7 Home Premium, while the slate section has its own Linux-based OS and a 16GB SSD.  The U1 Hybrid turned out to be one of the more interesting devices at CES 2010, and even with the iPad on the market we're still keen to get our hands on a production model.
Lenovo IdeaPad U1 Hybrid hands-on:
[vms 3e22e03d3076f98d83cb]
[Thanks Riccardo!]