Lenovo IdeaPad U1 Hybrid notebook/tablet hands-on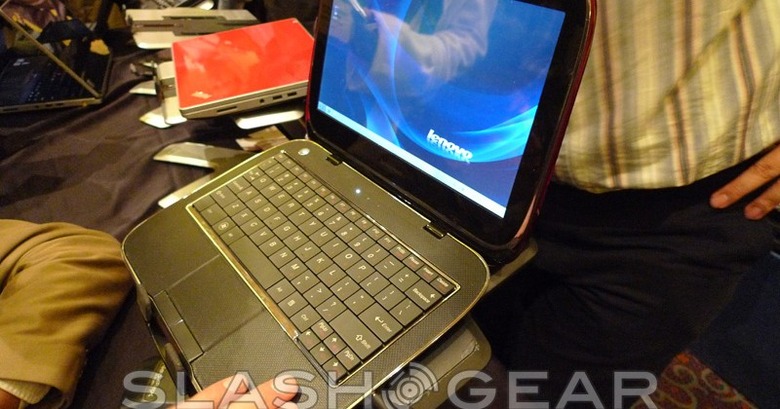 Out of everything Lenovo have announced at CES 2010, the IdeaPad U1 Hybrid Notebook is perhaps the most eye-catching. Already being compared by some to the much-loved HP tc1x00, the IdeaPad U1 features a removable multitouch-touchscreen slate which can be docked into a notebook form-factor. We grabbed some hands-on time with the Lenovo IdeaPad U1 Hybrid at CES Unplugged this evening; check out our first-impressions and video after the cut.
With the screen in place, you'd be hard-pressed to tell the U1 Hybrid apart from a regular notebook. In the traditional configuration power is courtesy of an Intel Core 2 Duo CULV processor running Windows 7 Home Premium; you also get a 128GB SSD for speedy storage. We obviously couldn't run benchmarks, but it certainly felt like one of the more nippy CULV notebooks we've tested, only let down by some patchy response from the 11.6-inch touchscreen. This is a pre-production prototype, mind, and we're hoping Lenovo work some magic in the meantime.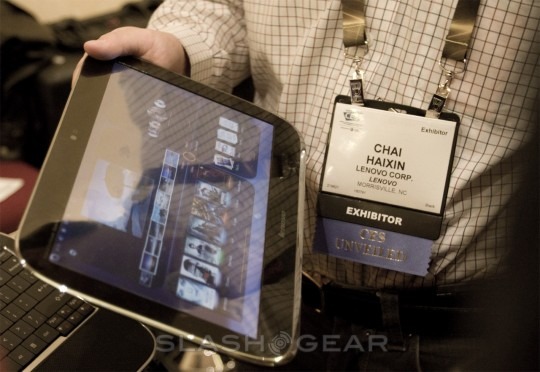 Pulling out the slate flips the IdeaPad U1 into its Smartbook mode, with a similar panel-based interface to the Lenovo Skylight. Both use the same processor, too, Qualcomm's 1GHz Snapdragon; there's a noticeable difference in navigation speed compared to the regular CPU on the U1, but it's certainly usable. An accelerometer automatically controls portrait/landscape screen rotation, and does so quickly and with minimal screen-redraw fuss. Similarly the switch between notebook and tablet modes is rapid, with Lenovo aiming for sub-3-second times.
There are going to be some usability issues, of course. Since the 128GB SSD is in the base section – the slate gets its own 16GB of separate flash memory – you'll need to make sure that any files or media you want to access in tablet-mode are duplicated across the two. Since the ARM-based slate runs a custom Linux build, too, your regular Windows 7 apps won't work either. Lenovo are positioning the IdeaPad U1 Hybrid as an entertainment/internet tablet when the screen is detached, rather than a full Tablet PC, but it'll still require a little thinking ahead to make sure that files are available and all media codecs are supported.
[vms 3e22e03d3076f98d83cb]
Still, we're left intrigued and looking forward to the production model's arrival on June 1st. It won't be cheap for a CULV notebook – Lenovo are saying the IdeaPad U1 Hybrid will start at $999 – but if you add up an 11.6-inch web-slate and a laptop then the price seems a little more reasonable. We've got video of the IdeaPad U1 processing; until then, enjoy our hands-on gallery.