Ice Cream Sandwich on a fifth of Android devices Google reveals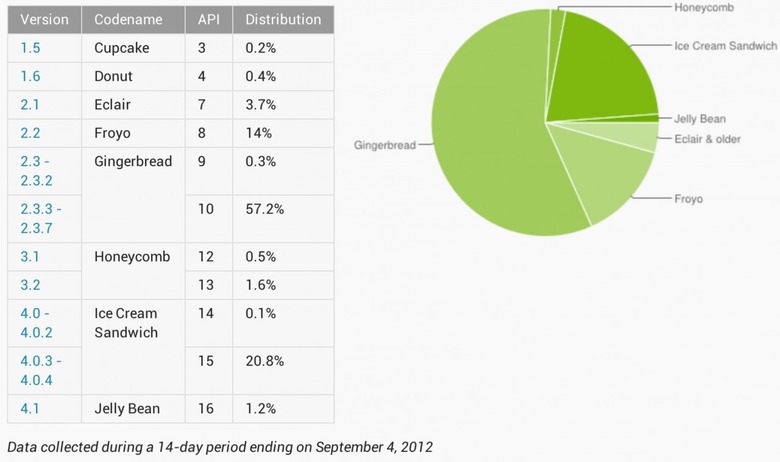 Ice Cream Sandwich is now found on over a fifth of active Android devices, Google has revealed, gradually squeezing out Froyo and Gingerbread. According to Google's own distribution stats, Android 4.0.x is currently found on 20.9-percent of active phones and tablets running the platform, while Jelly Bean (4.1) is on 1.2-percent. For the latter, it's a slow rise from the 0.8-percent penetration at the top end of August.
Google bases its numbers on which devices access the Play download store within a two week period, in this particular case the days leading up to September 4, 2012. Honeycomb – Android's tablet-specific version of the OS, since eclipsed by Ice Cream Sandwich and Jelly Bean – also decreased in use slightly.
Gingerbread remains the significant hurdle for Android to overcome in terms of fragmentation, however, though that might not be something Google itself can address. Many manufacturers and carriers have opted to leave older devices running 2.3, out of either a shortage of development time to devote to an upgrade ROM, or concerns about the performance of ICS or Jelly Bean.
Still, the balance will shift, even if it takes new users buying Android phones (rather than existing users upgrading them) to do it. Yesterday, Google's Eric Schmidt revealed that the company was seeing 1.3m Android activations every day, with more than 500m Android devices worldwide.