Huawei UltraStick SD card brings 3G internet to laptops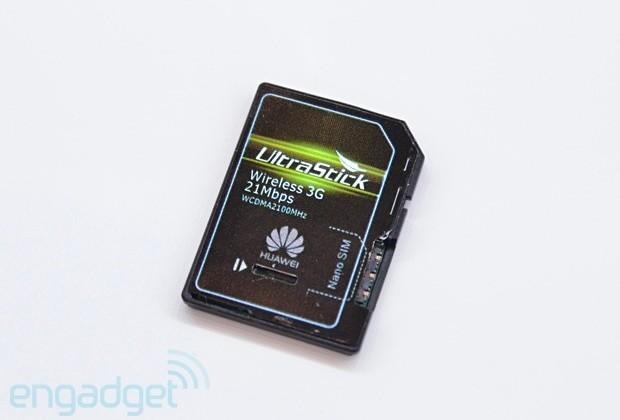 It would appear that the engineers at Huawei have decided that you need your USB ports open more than you need that SD card reader free as they've created a 3G-capable SD card for the masses. This device is able to connect to your laptop the same way you'd plug in a USB "MiFi dongle", but it does so through a standard full-sized SD card slot. No more worrying about every passerby cracking your web with a simple karate chop – this web fits all the way in.
Found almost undercover at CEATEC this year, the folks at Engadget Chinese have found this low-key device at the Huawei booth. At the moment there's little to be said about the device other than it's almost certainly one of a series of devices that'll be created by a variety of manufacturers. If Huawei can do it, you can bet that others will attempt to follow suit.
This device supports 3G internet, 21Mbps with WCDMA 2100MHz and is not currently on the global market. We're expecting to see this device released in parts of China, but are unsure of any global plans for distribution. It's the idea that counts.
This should be a fine addition to a market where the likes of Apple refuse to add WWAN to devices like the MacBoook Air and the notebooks on the market today with wireless connectivity are few and far between. With a card like this, it'd only mean popping the microSIM card out of your smartphone and into your laptop – easy as pie! Or you could always go with a Chromebook Pixel with 4G LTE.