Huawei P30 Pro first look: 2019's quad-camera heavyweight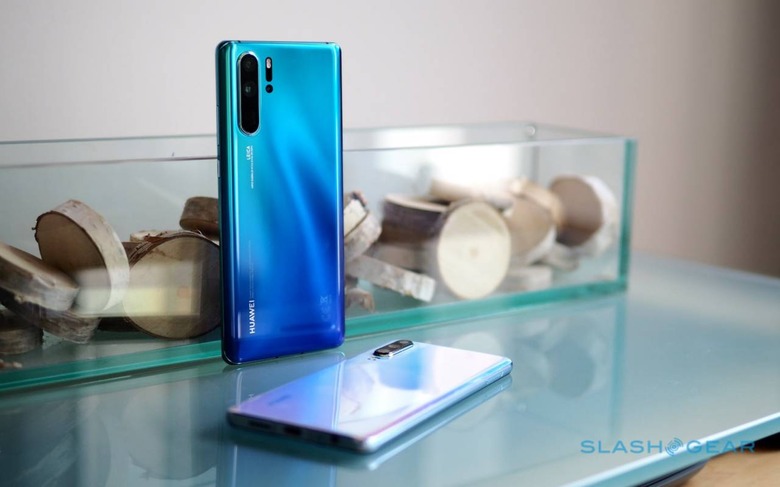 The Huawei P30 Pro and P30 have a lot to live up to. 2018's P20 Pro proved the Chinese phone-maker was a key player in the mobile space, with photographic talents that put rival devices from Apple, Samsung, and others to shame. Now, unveiled in Paris, France today, the new P30 Pro and P30 promise to take those halo features and make them even more compelling.
The P30 Pro is all about the camera
Huawei makes no bones about it: the P30 Series puts photography first and foremost. In the case of the P30 Pro, that means cutting-edge cameras that have seen Huawei squeeze a periscope into its smartphone, create a new sensor technology, and break records in terms of light sensitivity. Of course, working with Leica means some of the kudos does need to be shared.
The P30 Pro gets four sensors on the rear. First, there's a 40-megapixel Huawei SuperSensing (aka SuperSpectrum) lens, which is the primary camera. It's joined by a 20-megapixel ultra-wide angle lens, and a new 8-megapixel 5x optical periscope zoom. Finally, there's a time-of-flight (ToF) sensor underneath them. Huawei uses a hybrid autofocus system, which combines depth, contrast, and laser focusing.
The 1/1.7-inch SuperSensing sensor is the star of the show. Rather than use a traditional Bayer RGB color filter, Huawei has switched to a sensor that uses yellow instead of green (RYYB). That's based on the principle that the yellow light spectrum is far wider than that of green, and so around 40-percent more light reaches the camera. While that decision might be obvious, actually making such a sensor wasn't. Indeed, Huawei had to change the ISP, the DSP, the camera software, and more, just so it could all handle seeing in yellows rather than greens.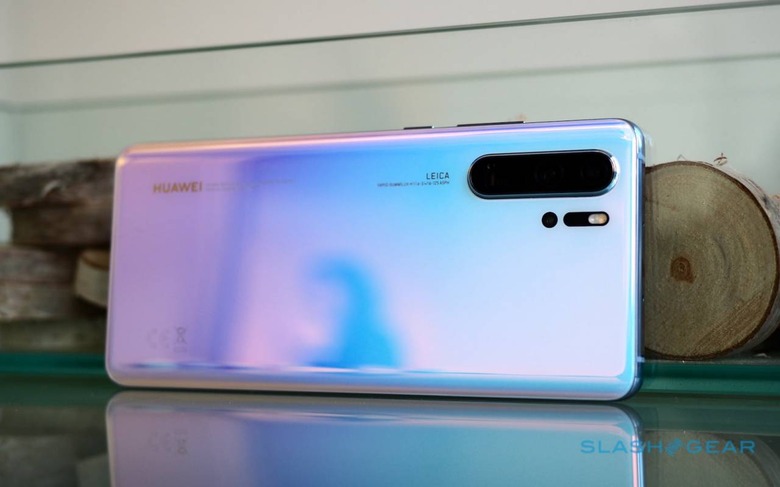 Given the P30 Pro's incredible light sensitivity, though, that effort was probably worth it. The P30 Pro is rated for ISO 409,600, four times what the P20 Pro could manage last year, and setting a record in the process. Huawei pairs it with a 27mm, f/1.6 lens with optical image stabilization.
Then there's the periscope zoom. Optical zoom lenses on phones aren't new, but the P30 Pro's 5x zoom is bigger than most. To fit it all in, Huawei used a prism – for that reason the zoom camera is square, next to its circular siblings on the rear of the handset – that redirects the light by 90-degrees and into an array of fixed lenses that run across the P30 Pro horizontally. At the other end, they meet an 8-megapixel sensor with optical image stabilization, a 125mm focal length, and f/3.4 optics.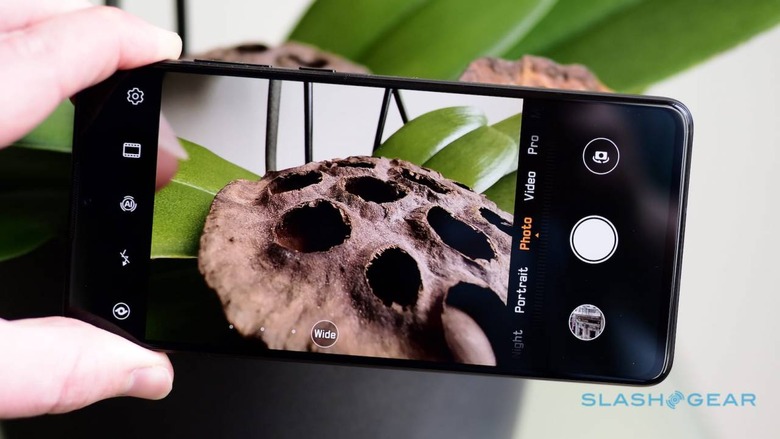 With a hybrid zoom system, meanwhile, Huawei is promising 10x near-lossless images, or the equivalent of a 270mm focal length. If you can handle some quality loss – though far less than you might expect – there's a 50x digital zoom that combines OIS and AI-powered image stabilization (AIS) to get you even closer.
In-between them is the ultra-wide angle lens. That has more than a 120-degree field of view, with a 16mm focal length and f/2.2 optics. It replaces the monochrome sensor on the P20 Pro – Huawei says the SuperSensing lens is good enough to deliver great black & white shots as well as color – and also doubles as a macro lens too. That has an impressive 2.5cm minimum focusing distance.
AI plays a key role in the P30 Pro
Huawei used plenty of AI in its earlier smartphones, and the P30 Pro is no different. AIS, for example, has been expanded from Night Mode – which promises noticeably better, brighter shots with less color fading than the P20 Pro could deliver – to things like silk water effects. That can turn a waterfall or river into a sinuous, smooth blur, in 4-5 seconds.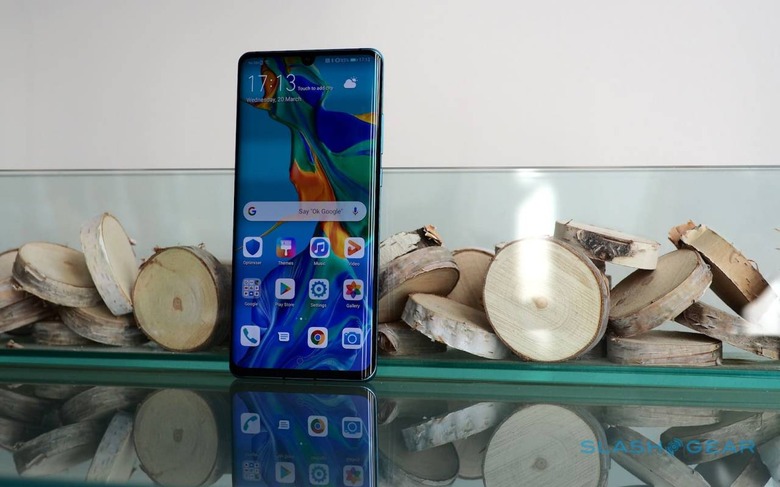 Portrait mode, too, has gained from AIS. Here, it's used to better distinguish between foreground and background details, such as strands of moving hair being blown by the wind. A new AI HDR+ mode for portrait shots can create an exposure map of the scene in real-time, and then apply different levels of HDR processing to the sections where they're most of use. That way, darker subjects in front of brighter backgrounds can be lifted, without over-blowing what's behind them. Impressively, you can see it happen in the preview; you don't have to wait for the P30 Pro to post-process after you've captured the shot.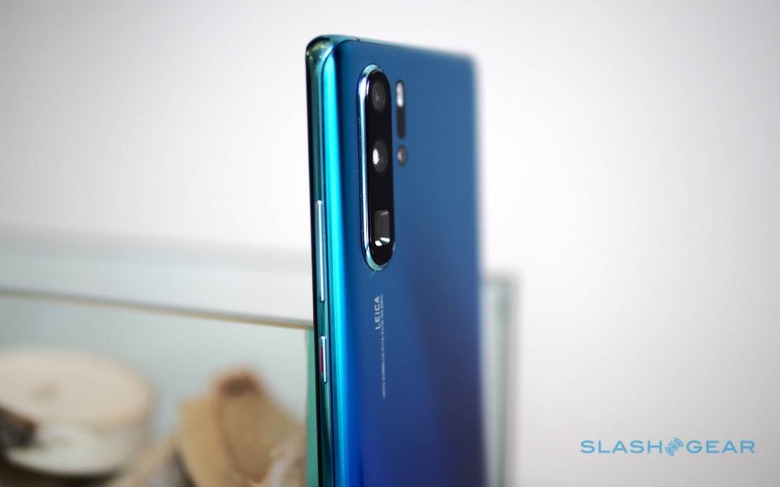 Finally, there's the ToF sensor. Huawei uses that for depth perception, particularly to improve the bokeh in its background deblur mode. Rather than a crude depth map with software interpolation to figure out the gradations from one extreme to the other, the ToF sensor works more like an optical lens. That way, things in the distance are more blurred, while things up-close are crisper. Huawei has also cooked up an AR Measure app which uses the ToF sensor to show length, width, and height of objects in the real-world, in real-time.
On the video side, meanwhile, Huawei uses both AIS and OIS for video stabilization. Low-light performance has improved, too, using the same SuperSensing technology. Impressively, even P30 Pro's 10x hybrid zoom works while you're recording video.
The Huawei P30 is a little less impressive
While at first glance you might mistake the P30 for the P30 Pro, photographers will find a few key differences. The smaller, more affordable P30 still use the SuperSensing camera technology, but there's no optical image stabilization, and the maximum ISO drops to 204,800. The ultra-wide camera clocks in at 16-megapixels and f/2.2.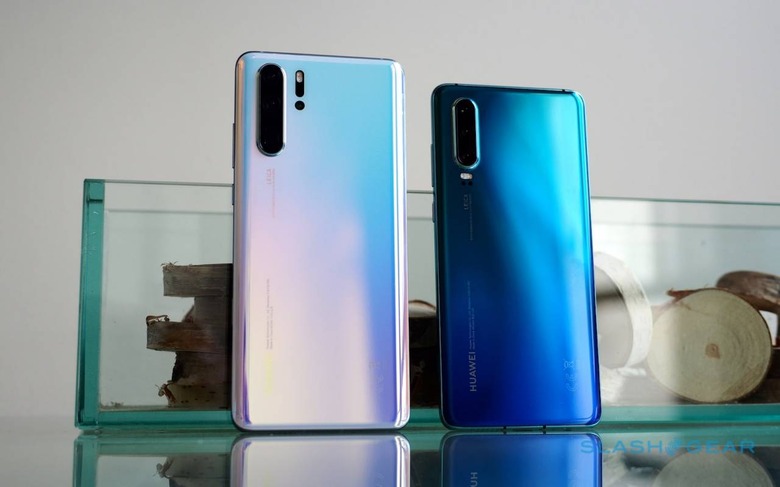 Maybe the biggest difference, though, is that you don't get the clever periscope zoom. Instead, the Huawei P30 has a 3x optical zoom with a more traditional stack of f/2.4 lenses. There's a 5x hybrid zoom, and 30x digital zoom. You also lose out on the time-of-flight sensor.
Colorful outside, powerful inside
In a sea of black, silver, and sometimes gold smartphones, Huawei's colorful P20 Series was a Pantone splash. The P30 Series promises to be even more dramatic, courtesy of new color gradient finishes for 2019. The P30 and P30 Pro are fairly squared off and almost conservative in their shape, but their colors lift them.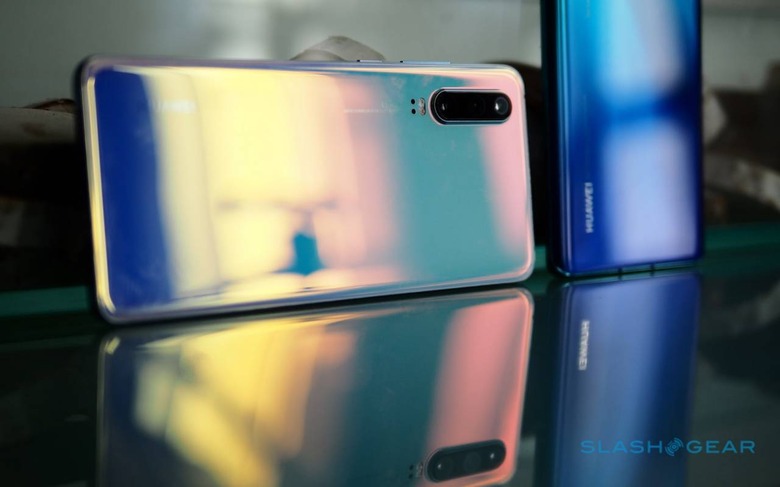 There's Amber Sunrise, for instance, a pearlescent red-infused orange, or Aurora, with greens and blue hues shifting as the light hits the glass back panel. Breathing Crystal promises to replicate the way light refracts through a crystalline surface, while Pearl White borrows a finish familiar from mother-of-pearl to create striking yellow and pink hues. Then there's black, which is, well, black. The P30 is IP53 water and dust resistant, while the P30 Pro steps up to IP68.
Both phones use an OLED screen running at 2340 x 1080 FHD+ resolution. The P30 has a 6.1-inch, flat screen, while the P30 Pro's display is 6.47-inches and curves at the sides. By slimming the bezels, the size increase over last year's P20 Series is relatively minor. Dipping into the top of each display is a teardrop notch, with a 32-megapixel, f/2.0 selfie camera. That has AI HDR+ support and scene detection, though is fixed focus and lacks stabilization.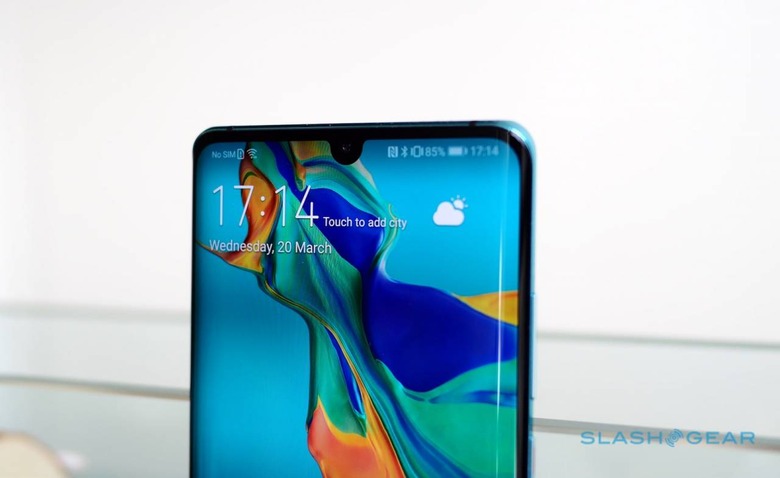 Gone is the fingerprint sensor integrated into the home button. Instead, both handsets have an in-screen fingerprint scanner. They use an optical sensor, and Huawei promises performance is "highly improved" over the Mate 20 Pro. Having had only a short amount of time with it, the fingerprint scanner seemed decent, though we'll have to live with it for a longer period to see how it holds up over day to day use.
Huawei's Kirin 980 chipset is running Android 9 Pie and the EMUI 9.1 interface. That means a Mali-G76 GPU, 1.4 Gbps Cat-21 LTE modem on the P30 Pro (up to 1 Gbps Cat.16 on the P30), and 2133MHz LPDDR4X memory support: the P30 gets 6GB of memory and 128GB of storage, while the P30 Pro has 8GB and up to 512GB, respectively. Both have a slot for Huawei's proprietary NM memory cards.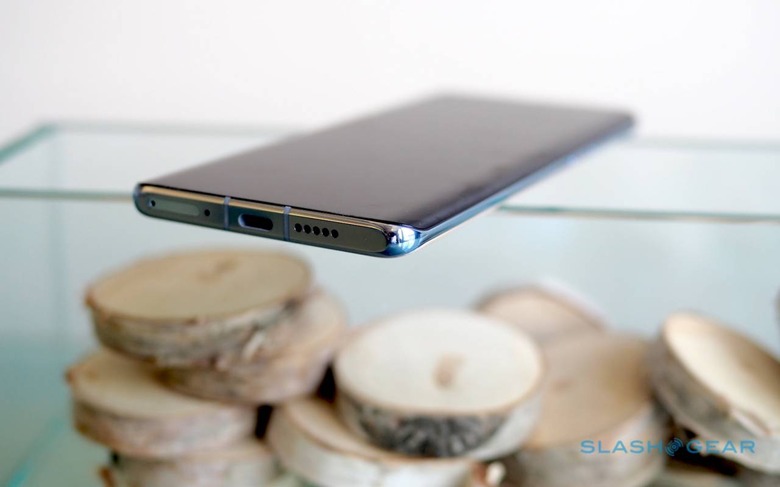 It's not the only homegrown technology. Huawei has switched EROFS, its own memory system, for a promised 20-percent faster read performance. It also claims the phones should see "almost no degradation" in performance over their lifespan. EMUI 9.1 promises faster tap responses, quicker app start-up times, and more in-app smoothness. Indeed, in Huawei's testing, popular apps – like Instagram, WhatsApp, Facebook, Gmail, and Facebook Messenger – start 1,000 ms faster, on average, than they do on an iPhone XS.
As for the battery, the P30 Pro packs a 4,200 mAh li-ion, with 40W Huawei SuperCharge support, and 15W Wireless Quick Charge. There's also the useful Reverse Wireless feature, which turns the P30 Pro into a portable Qi charging pad. The P30, sadly, does without wireless charging at all, however. Its 3,650 mAh battery relies solely on 22.5W Quick Charge.
Ports and Partnerships
If you want a headphone jack, you need the Huawei P30. That's the only phone out of the two with a 3.5mm socket. Both get USB Type-C ports, and the P30 Pro uses its display as the earpiece transducer for a cleaner fascia. Dolby Atmos support, with headphones, is offered on both, as is aptX HD.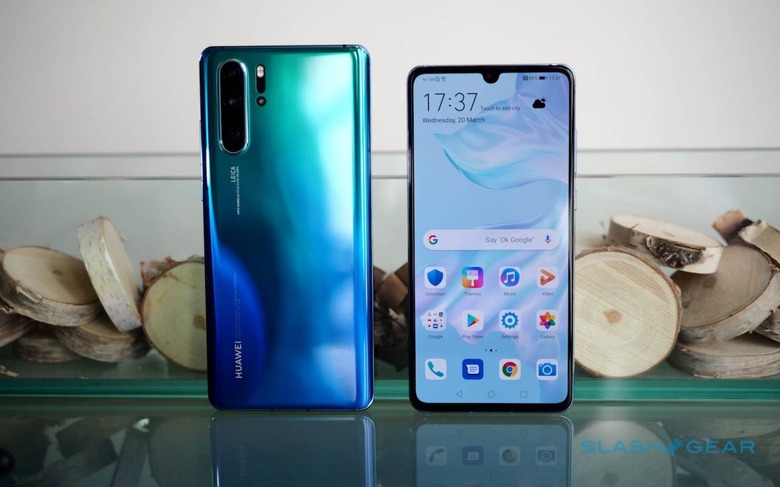 Meanwhile, Huawei is working with Audi on turning the P30 Series into digital keys for the automaker's recent models. If you have a compatible Audi, you'll be able to use the phone to unlock and start your car, using the Car Connectivity Consortium-compliant standard. It's based on NFC, so you'll need to tap the phone – or at least bring it near – to the car.
On the fitness side, Huawei is partnering with a number of exercise equipment manufacturers. That will synchronize data from hardware like treadmills and the Huawei Health app, using Bluetooth LE after being paired via an NFC tap.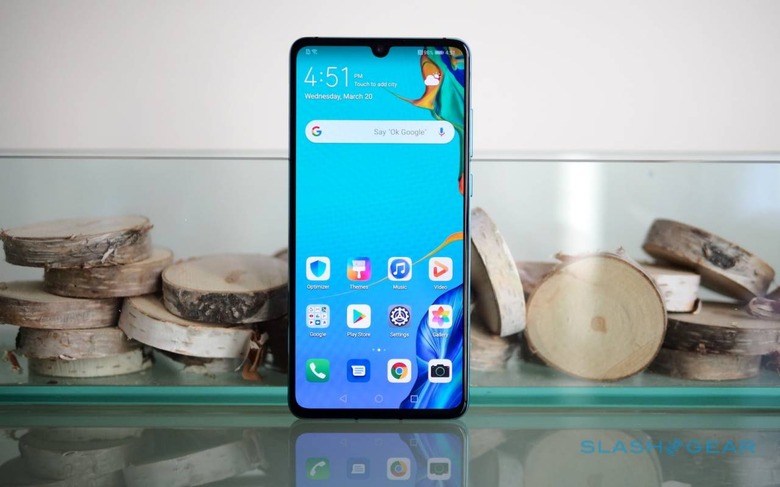 If you're a Huawei laptop user, meanwhile, the Onehop features we saw previewed at the MateBook Pro X launch are also carried across to the P30 Series. That includes scan and edit, PC screen recording on your phone, and seamless copy/paste between devices, and in both directions. There's also now OCR on text from photos snapped with your phone and then pasted into a document on your notebook.
Now for the bad news...
Like the P20 and P20 Pro before it, arguably the P30 Series' biggest problem is availability. Huawei simply isn't planning to officially launch the new phones in the US, meaning would-be American buyers will have to find unofficial routes to get their hands on the phones. We'd expect to see various third-party resellers spring up to fill that gap, but without Huawei or carrier support it's fair to say they're likely to be expensive devices.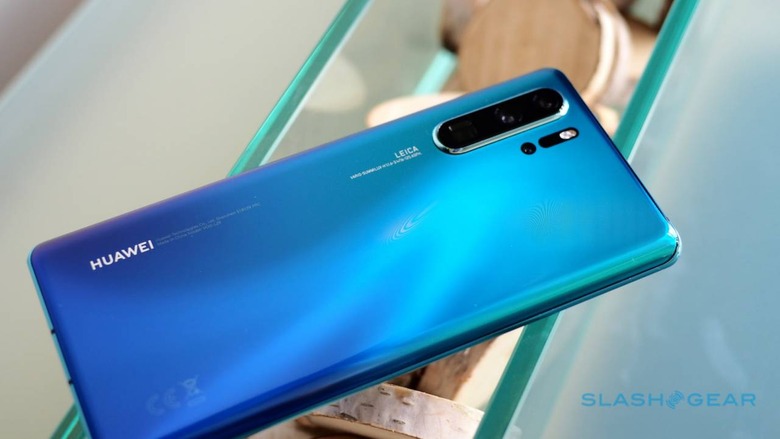 That's a huge shame, because it's hard to argue that Huawei has created something genuinely impressive here. The phone-maker may have its critics, yes, but one accusation you can't really level at it is that it doesn't know how to put together a compelling Android phone. We'll be putting the Huawei P30 Pro through its paces for a full review, to see if it's worth an import.
UPDATE: Pricing released – The Huawei P30 Pro will be available in three versions, each with a different amount of internal storage space. It'll be 128GB, 256GB, and 512GB editions, each with 8GB RAM, available for the following prices respectively: 999, 1,099, and 1,249 EUR. There's also the Huawei P30 (non-pro) with 6GB RAM and 128GB internal storage for EUR 799. All versions are available immediately.