Huawei MateBook X Pro (2019) hands-on: Same style, faster tech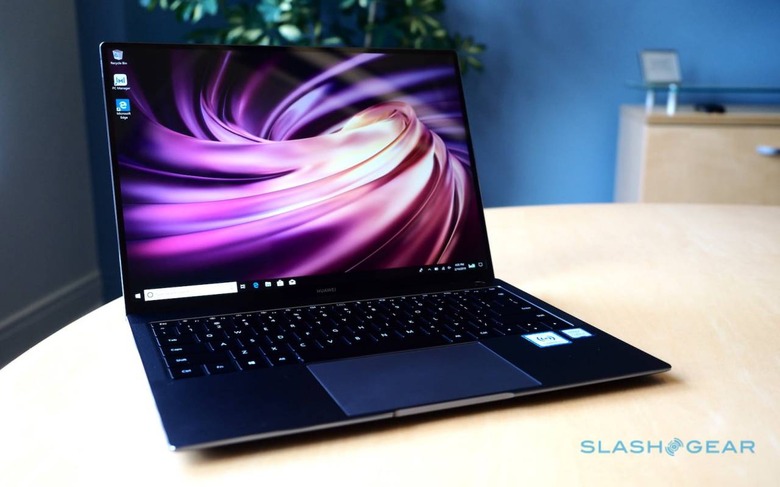 Few expected the Huawei MateBook X Pro to be quite as good as the ultraportable notebook turned out to be. With a design that was, let's say, strongly reminiscent of Apple's MacBook Pro, Huawei's Windows 10 notebook was easy to dismiss at first as a mere clone. In reality, it proved to be one of the bargains of 2018, and now Huawei is looking to crank up its competitiveness with the new MateBook X Pro 2019.
Same design, different logo
Take a glance at the 2019 model, and you'd be forgiven for not noticing anything different compared to 2018's laptop. That's because Huawei has opted not to mess with a good thing. The metal unibody – with diamond-cut edges and sandblast finishing – remains, and the MateBook X Pro is still 0.57-inches thick while weighing in at 2.93 pounds.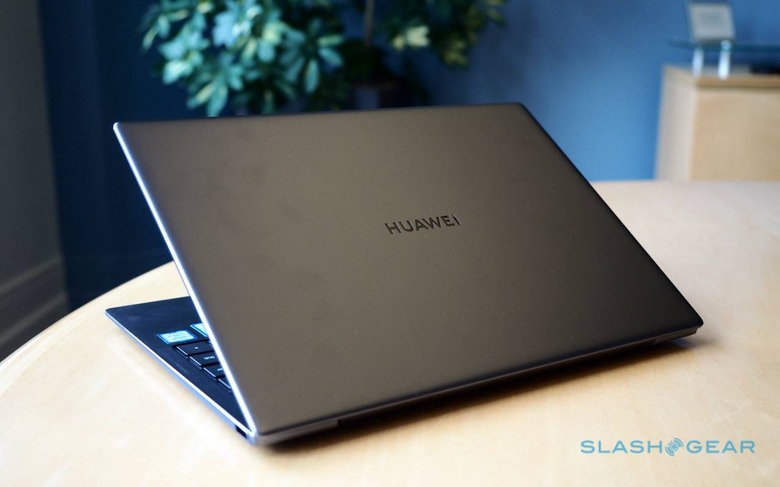 Indeed the only outward difference you're likely to register is the logo. Gone are the Huawei "flowers" on the lid, with only the company name remaining. It's a more subtle look, and one I suspect buyers will prefer.
Lift that lid, and you'll still find a 13.9-inch 3,000 x 2,000 FullView 3:2 aspect display, occupying 91-percent of the space. It's a 450 nits brightness panel with a 1,500:1 contrast ratio, and it looks incredible. Bright, color-rich, and – courtesy of a touchscreen – responsive to the finger.
A stronger heart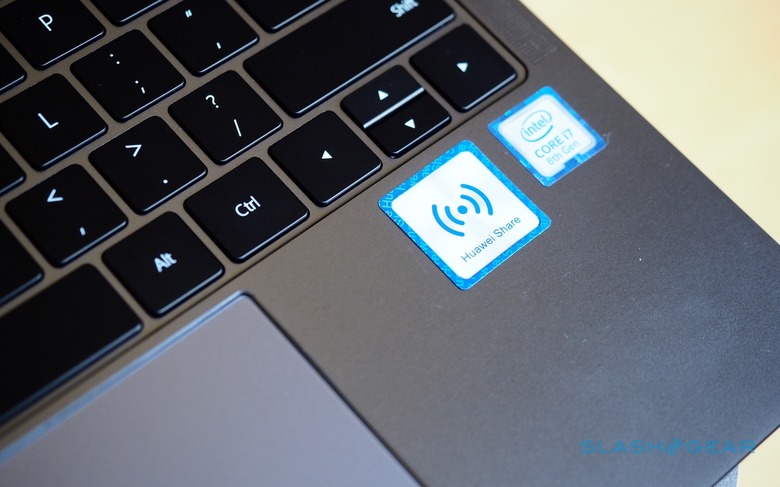 New year, new chips. The MateBook X Pro (2019) packs up to an 8th Generation Intel Core i7-8565U, 10-percent faster than the Core i7-8550U in the old model. There's also a Core i5-8265U model. Either way, they're paired with up to 16GB of memory and up to a 1TB SSD; the old notebook topped out at 512GB.
Intel's latest Core i7 is paired with NVIDIA's GeForce MX250 GPU, with 2GB of dedicated GDDR5 memory. It's NVIDIA's 25W version, too, which Huawei says makes it 3.5x faster than integrated graphics. Since that can produce a lot of heat, there's a new Huawei Shark Fin Fan 2.0 design, which is 20-percent more efficient at cooling the notebook. The Core i5 model gets Intel UHD Graphics 620.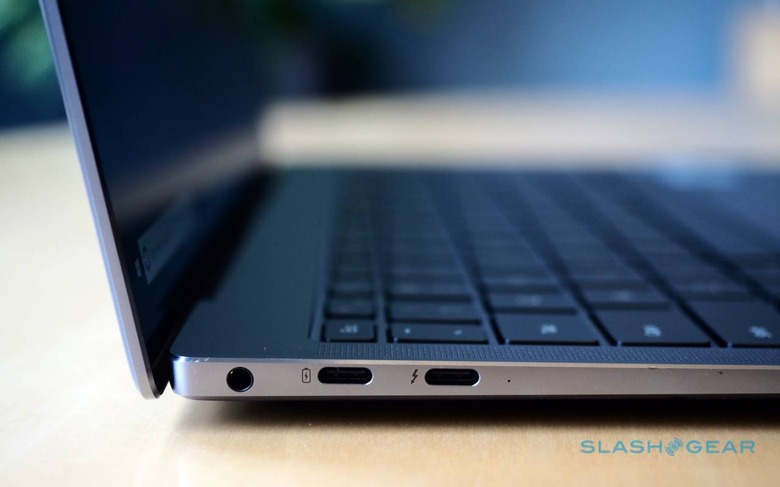 WiFi has seen an upgrade, too, with peak data speeds of 1,733 Mbps (versus the old notebook's 867 Mbps), and there's now Bluetooth 5.0 and NFC. Ports consist of a USB-A on the right and two USB-C on the left, one of which is a Thunderbolt 3 supporting up to 40 Gb/s. You can plug in up to a GeForce GTX 2080 external graphics card, or run a 4K display from the MateBook X Pro alone.
Battery, sound, and security
Huawei has opted for a 57.4 Wh battery for the MateBook X Pro. That, the company says, is good for up to 13 hours of video playback, up to 14 hours of office apps, or up to 12 hours of web browsing. The notebook charges via USB-C, and there's a super-compact charger included.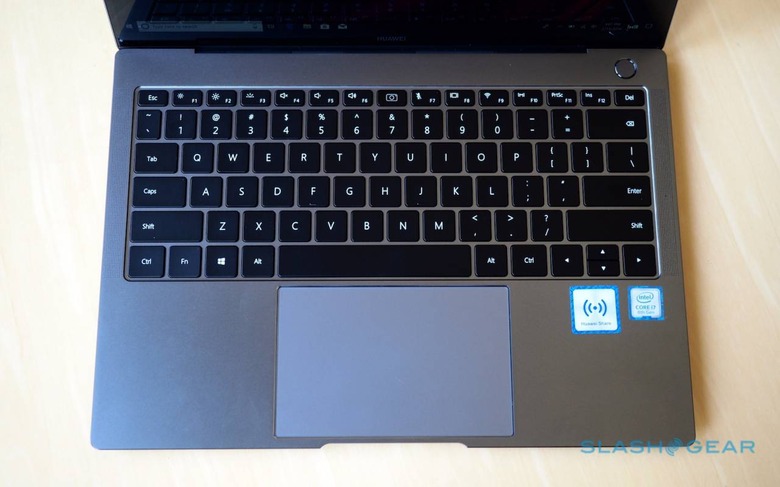 As for audio, there are four speakers and Dolby Atmos sound. Quad microphones have been included, too, which Huawei says will be able to hear you from over 13 feet away.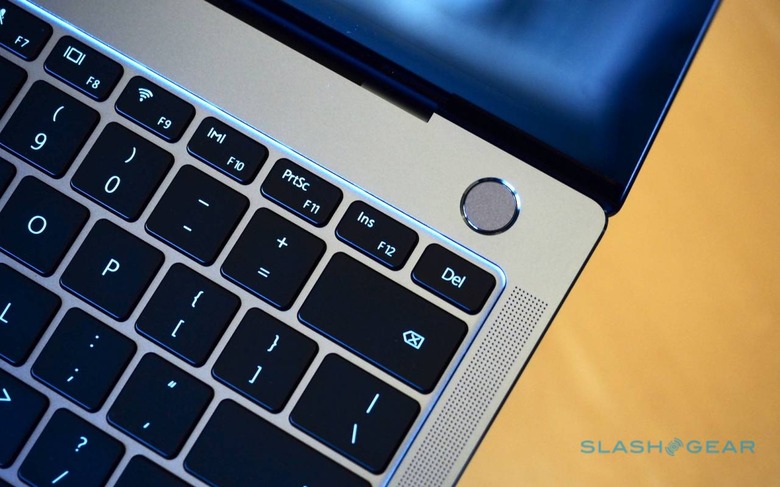 The power button doubles as a fingerprint sensor, and Huawei says that with a registered print you can go from the login screen to the desktop in under eight seconds. It works with an independent security chip. The webcam, meanwhile, is still recessed in the F-row of the keyboard, both helping keep the screen bezels slim, and proving a boon for privacy.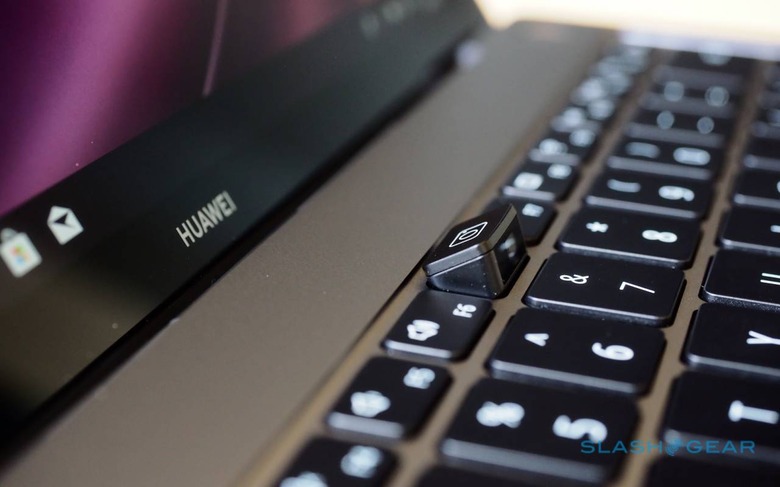 A more intelligent experience
Along with the new hardware comes a new software experience, with Huawei trying to tackle multi-device management. If you have the MateBook X Pro (2019) and a recent Huawei smartphone running the latest EMUI, you'll get stronger integration between the two.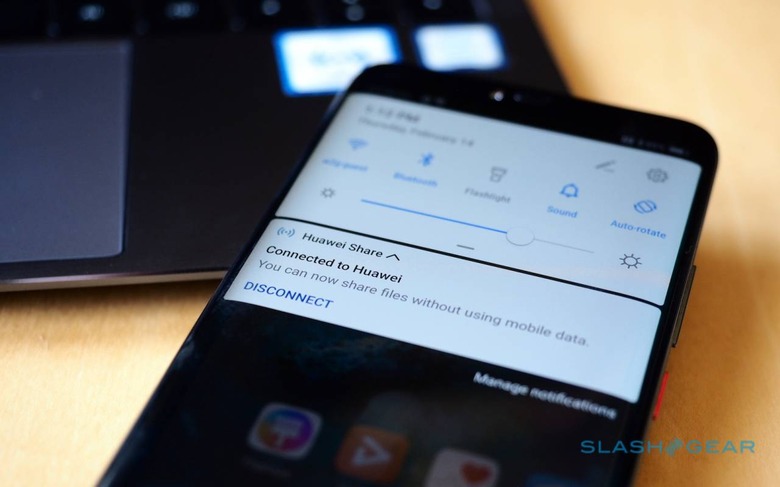 Huawei Share 3.0, for instance, makes passing files from laptop to smartphone – or vice-versa – far easier. Lightly tap the phone against the MateBook X Pro's palmrest and you can swap photos, videos, and documents at up to 30 Mbps. Huawei says that you could exchange up to 500 times in a minute. It uses WiFi Direct, so there's no cloud security to be concerned about.
It works well with the new Finger Gesture Screenshot feature that Huawei has also added. Swiping down with three fingers on the touchscreen captures what's on the screen. Huawei's app does text recognition, or you can share the image with Huawei Share 3.0.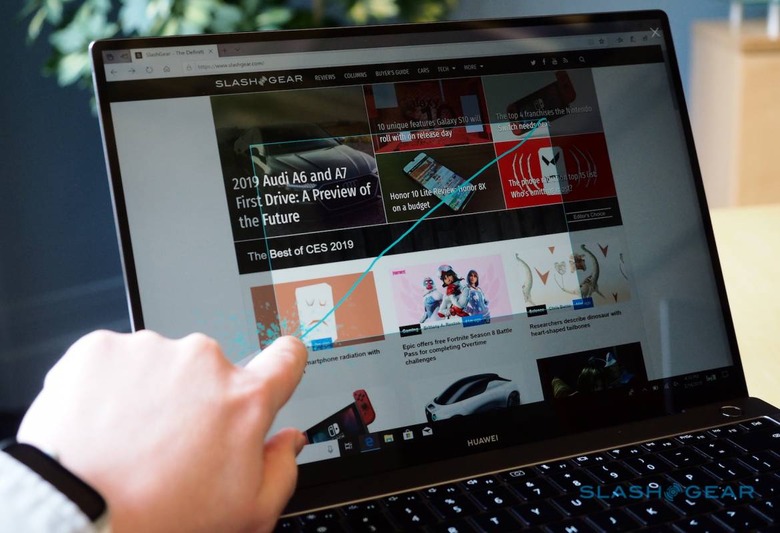 OneHop to Record, meanwhile, turns the phone into a screen capture device. Shake the phone and tap it agains the notebook to start recording what's on-screen, Huawei says, with the resulting video saved on the phone for quick sharing.
Finally, there's clipboard sharing. As the name suggests, it allows you to quickly paste what's been copied on the other device. It works between Huawei phones, tablets, and PCs, and it's bi-directional: you can share the clipboard from phone to laptop, or vice-versa.
Huawei MateBook X Pro (2019) price
The bad news is that the 2019 MateBook X Pro may not be quite the bargain that its predecessor was. Huawei is yet to confirm US pricing for the ultraportable, but the company admitted to me that it had priced itself into a corner with the 2018 MateBook X Pro. Starting out at $1,200, that notebook ended up leaving little room for the subsequent MateBook 13.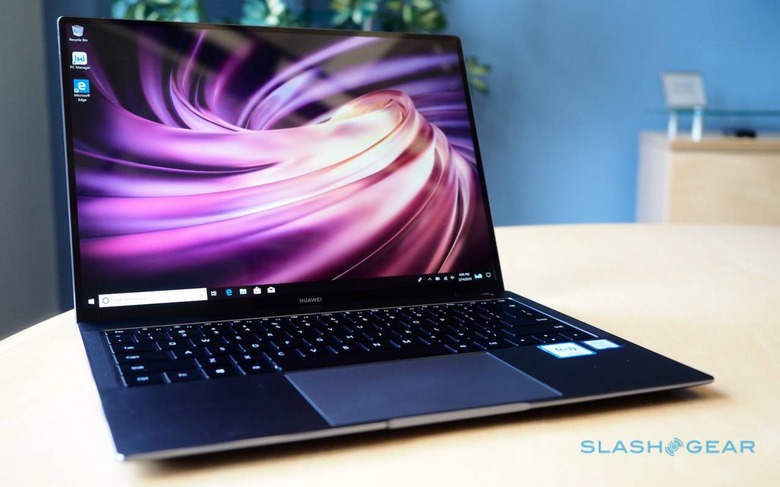 As a result, I'm told, we can expect this year's machine to be a little more expensive. Still fiercely competitive, Huawei reps reassure me, but not quite as much of a bargain as the old model was. I'd guess that means a starting price a couple hundred dollars more, though we'll find that out close to the new MateBook X Pro's US release, which is likely to be in late May.