Huawei MateBook Review: Two big deal-breakers for this iPad Pro rival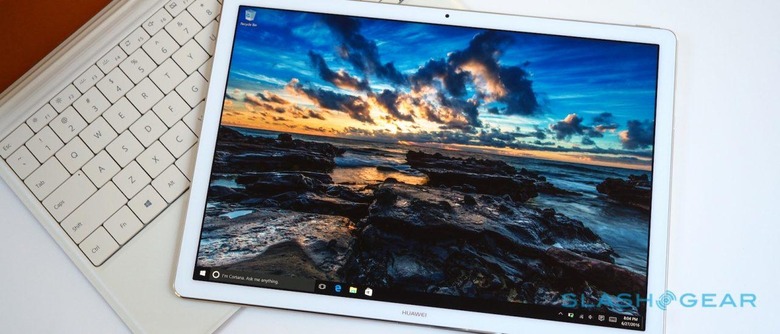 For years, Apple has cornered the market in stylish tablets, but Huawei's MateBook has arrived to steal the iPad's crown. Announced to no shortage of fanfare at Mobile World Congress in February, the MateBook pieces together the style of an iPad Pro, the connectivity of a MacBook, and the flexibility of full Windows 10. Question is, does Huawei's math add up, or is the MateBook too ambitious for its own good?
A competitive tablet needs a great display, and Huawei's screen on the MateBook is very good, just as long as you're indoors. For a start the 12-inch panel is running at a healthy 2160 x 1440 resolution, so everything is pleasingly detailed, but it's also bright, with punchy colors.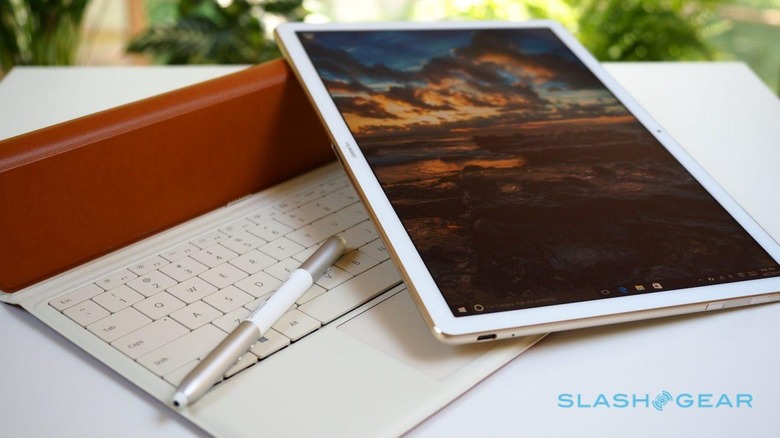 In fact, I double-checked to make sure Huawei hadn't switched to an AMOLED screen, since it had all the eye-catching hallmarks of such a panel. Instead, it's just a very good IPS TFT LCD. Unfortunately, outdoor visibility simply isn't as strong as something like the AMOLED on Samsung's Galaxy Tab Pro S, and it suffers from a lot of sun glare.
Some of the skinnier bezels we've seen on a 2-in-1 tablet surround it, and then you get to Huawei's crisp metal construction.
If you've played with any of the Huawei-made Android devices, Nexus or otherwise, over the past months, you'll know that the Chinese company doesn't lack in manufacturing or design ability. The MateBook is more of the same, with sleek brushed metal and precise chamfering that, while reminiscent from many angles of Apple's style with the iPad Pro, at least pairs that with build quality on a par with the iOS tablet.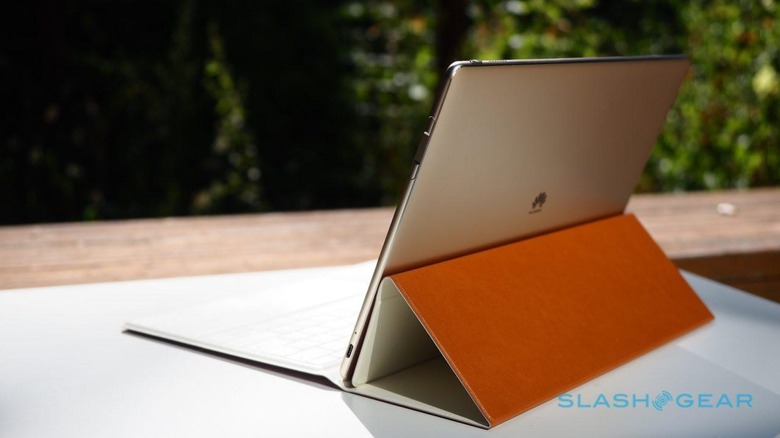 It's lighter than the 12.9-inch iPad Pro – at 1.41 pounds versus 1.57 pounds – and, at 0.27-inches, matches it on thickness. Unfortunately, where Apple offers an LTE modem as an option, the MateBook will have to tether with its WiFi a/b/g/n/ac and Bluetooth 4.1.
You don't get a rear camera, either. Now, I'm no fan of tablet photography, but the camera on the back of the iPad Pro makes for a surprisingly useful impromptu document scanner, particularly when you need to sign a document with a digital pen.
Ports, meanwhile, echo those of the Retina MacBook, with a 3.5mm headphone jack on one edge and a USB-C on the other. Physical volume buttons flank a small fingerprint sensor; the latter works with Windows Hello for one-touch unlocking. I've had much better results with it than I have facial recognition using the same Windows feature, though sadly – unlike Touch ID on iOS – apps and services can't tap into the biometrics for swifter logins.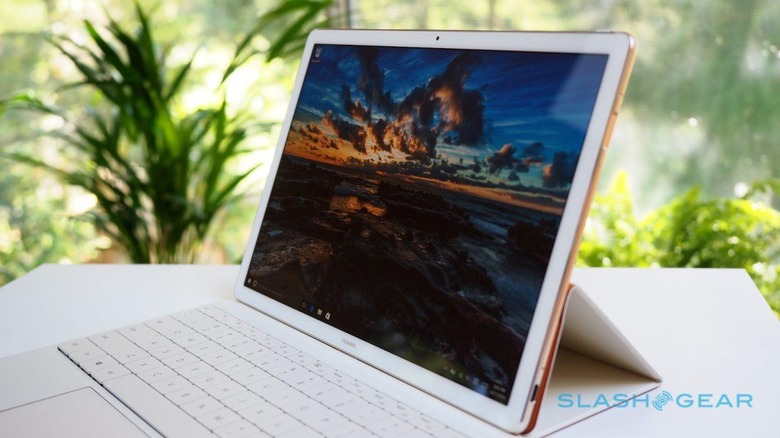 Unlike Microsoft with the Surface Pro 4, Huawei opted for a fanless design. That forced the MateBook into Intel's sixth-generation Core m processors, with a choice of m3 or m5 chips paired with either 4GB or 8GB of memory and between 128 GB and 512 GB of SSD storage. Prices start at $699 tablet-only, rising to $1,199.
Power frugality rather than blistering performance is the order of the day. My $849 review MateBook has a Core m5-6Y54 processor running at 1.1 GHz and 4GB of memory, and scores 2,832 in Geekbench 3's single-core test and 5,526 in its multi-core test.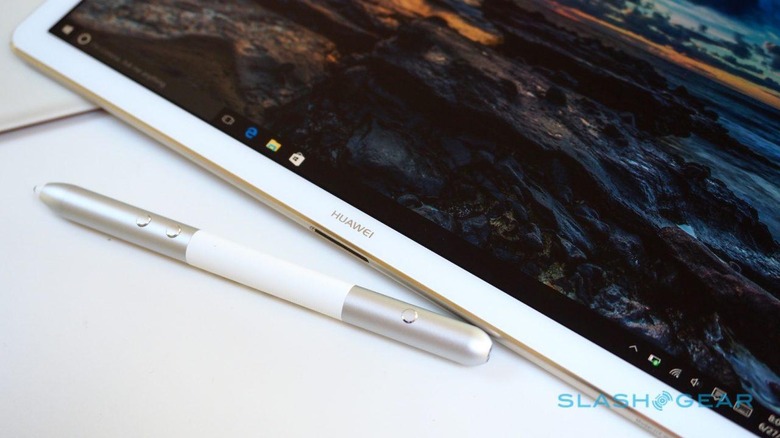 In practice, while it's fast enough dealing with several browser tabs open, Spotify in the background, and Word running, this is not the machine I'd reach for if I wanted to do video editing or, heaven forbid, gaming. Indeed, it can get uncomfortably hot to the touch on the back after doing anything intensive.
Still, that's not Huawei's goal either, and instead the company is pushing the idea of battery life. The 4,430 mAh li-ion pack is rated for up to nine hours of use, but I'm not quite sure in which world Huawei achieved that.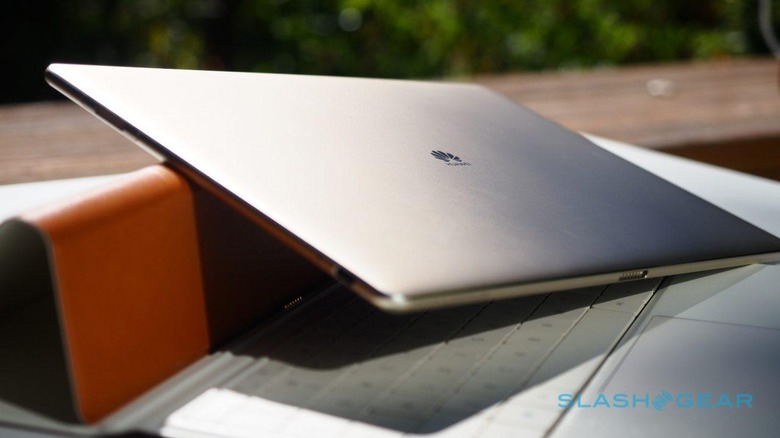 Indeed, after about four hours of web browsing the MateBook was gasping. Scaling back my expectations to just playing video squeezed a couple hours more from it, but it's a woeful showing compared to the long-lasting iPad Pro.
Videos look, unsurprisingly, great, and audio can keep up too with a fair amount of bass despite the dimensions. That's assuming you're content with landscape orientation, mind; flip the MateBook vertically and you stand a good job of covering one of the speaker cut-outs that run along the top edge of the tablet. Unlike Apple, Huawei opted against fitting four speakers.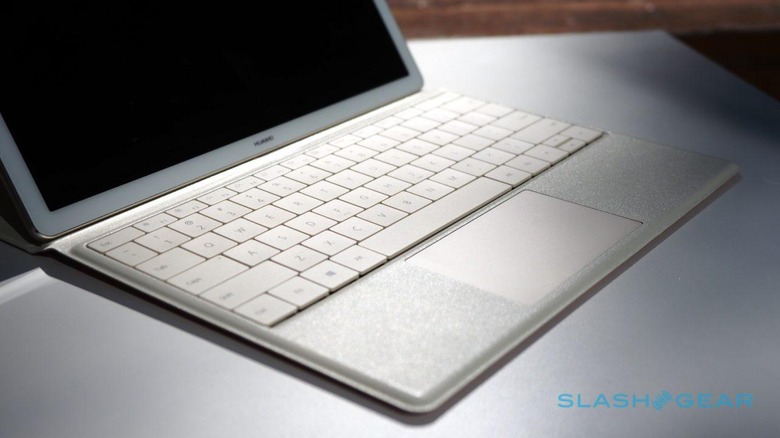 Huawei's Portfolio Keyboard for the MateBook works much in the same way that Apple's Smart Keyboard does for the iPad Pro. The tablet grabs onto the faux-leather case magnetically – it makes its connection with a row of pins, which means no using the tablet in portrait orientation – and then can be propped up at one of two angles by folding the rear into a triangle.
NOW READ: Surface Pro 4 Review
Cripplingly, the magnets are severely lacking in grip. Microsoft has a demo where it picks up the Surface Pro 4 by its Type Cover and shows the tablet can safely dangle; in contrast, even the slightest jolt of the MateBook on my lap was enough to unsettle it. Couple that with the stand's tendency to collapse when nudged, and you have a precarious setup when on anything less than a proper desk or table.
Unlike Apple's keyboard, the $129 Huawei accessory has a touchpad. It makes a fairly noticeable click, which is nice from a tactile perspective, but it's nowhere near flush with the wrist rest. and, at times, can be fairly jumpy in Windows 10.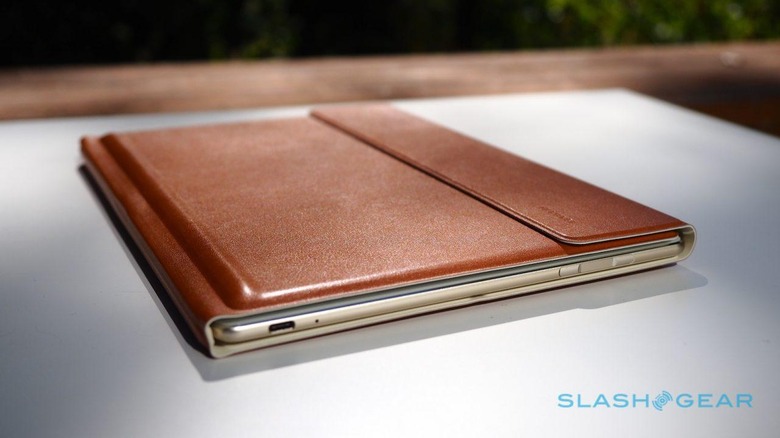 As for the backlit keys, they're more akin to older versions of the Type Cover for Microsoft's Surface, individual buttons rather than the splash-proof, molded bumps of the Apple version. They're fairly wobbly under the fingertip, mind, with sponginess at the extent of their travel; I prefer how Microsoft does things now, and found that even after extended use I kept making typos with the Huawei 'board.
One thing I won't criticize Huawei for is how it has implemented USB-C. Yes, the new port helps the MateBook to be thinner, but Huawei hasn't forgotten about legacy peripherals in the process.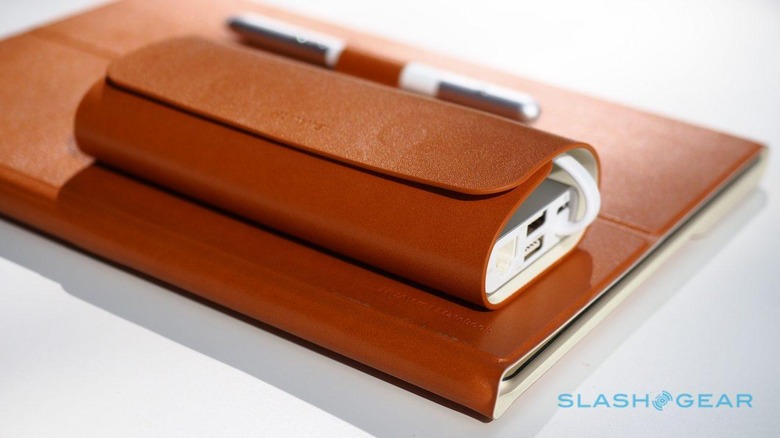 So, as well as a USB-C power adapter and a USB-C cable for power and data, you also get a short USB-C to microUSB cable in the box, plus a microUSB to USB-A dongle. That way, you can still charge and sync your phone or plug in USB memory sticks, without coughing up extra for adapters. Yes, Apple, I'm looking at you and the Retina MacBook.
Even better is Huawei's USB-C MateDock. It'll set you back an extra $89, yes, but it gets you two USB 3.0 ports, ethernet, HDMI, and VGA, along with pass-through USB-C power. It magnetically clings to a neat little leather case, within which there are useful spaces for the USB-C to microUSB cable and USB-A dongle that come with the MateBook itself.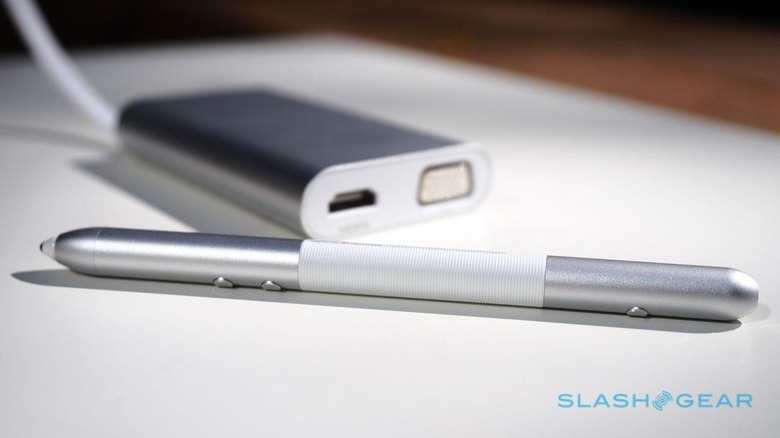 NOW READ: MacBook 2016 Review
Frankly I'm still astonished that Apple doesn't have something similar for the MacBook, but Cupertino's omission is Huawei's gain. The good thing about USB-C is that it's a standard, and I'd highly recommend other MacBook owners go out and pick up the MateDock as it's one of the better such hubs I've tried. Only an SD slot would improve it.
Finally, there's the MatePen, Huawei's stylus for the MateBook. Unlike Microsoft, but like Apple, Huawei charges extra for the pen – $59, in fact – though you do get not only stylus functionality but a laser pointer too.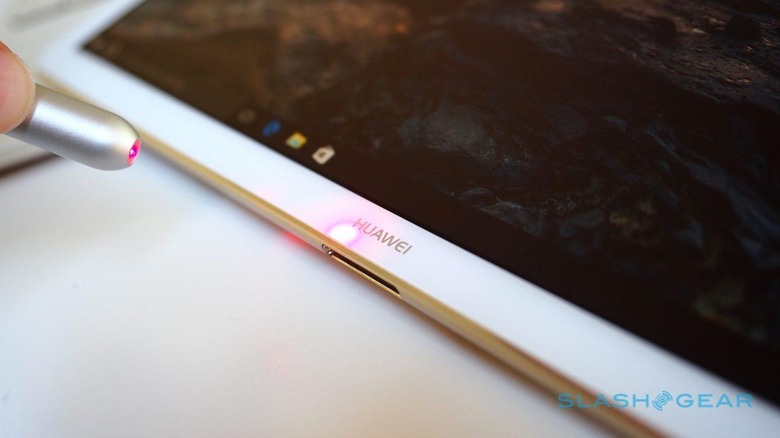 It charges via a microUSB port revealed when you pull off the end, and supports 2,048 levels of pressure sensitivity.
Unfortunately there's no dock or silo for the MatePen in the tablet itself. If you have the Portfolio Keyboard, Huawei throws a small pen-loop in matching leather in the box; that magnetically attaches to the rear of the case, which is fairly ingenious aside from the fact that it was repeatedly knocked off while the MateBook was being pulled in and out of my bag.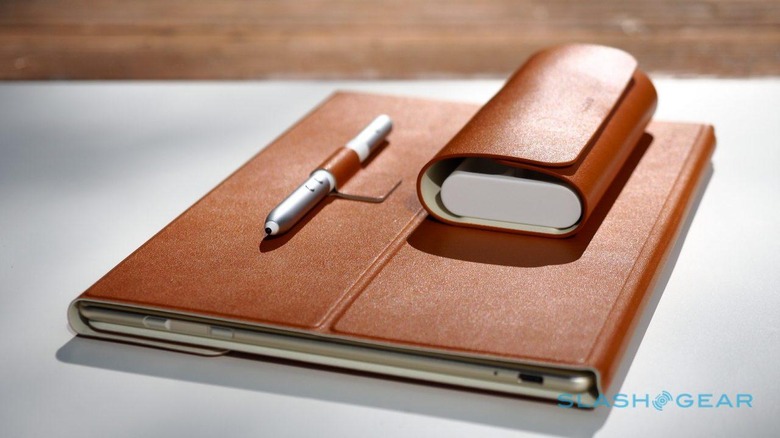 The MateBook is certainly cheaper than the 12.9-inch iPad Pro, not to mention it comes with a "full" desktop OS. Battery life is nowhere near as convincing as Apple's tablet, though, Apple Pencil's digital ink is smoother than that of the MatePen, and the iPad Pro has that useful LTE option too.
Meanwhile, Huawei's tablet is cheaper than the Surface Pro 4, too, though Microsoft does offer full-power Core i5 and i7 chip options. More importantly, Microsoft's keyboard for the Surface is both comfortable to type on and works at multiple angles, neither of which is true for the MateBook.
Huawei got the style right with its first 2-in-1 Windows 10 tablet, but dropped the ball on usability. I could stomach the lackluster performance had it lasted anywhere close to Huawei's runtime promises, but the MateBook's dire battery life means its core audience – space-conscious mobile workers – won't be able to rely on it to make it through anywhere near a full day. Factor in the flawed keyboard, and it's not hard to see that Huawei's ambitions were too much, too soon.