Huawei "Beauty" event set for June 18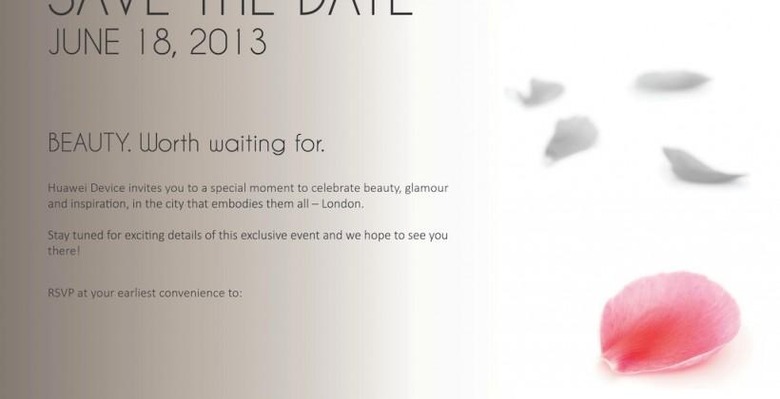 Huawei has sent out invitations to what looks to be the revealing of a new device that's worth the "Beauty" name. The company also uses words like "glamour" and "inspiration," so it looks like we're in for a very classy event where we'll see Huawei reveal what it's been cooking recently.
As far as what we'll see, Huawei has always been the company to release the first of things, and they're never afraid of publicly experimenting with different sizes and shapes. That said, we could see Huawei reveal a device with an 8-core processor that could also be the next world's thinnest phone, dubbed the P6-U06.
Back during CES 2013, the company revealed two new phones that came with some new features that we haven't seen before. The Ascend D2 came with the densest display at the time, and the Ascend Mate was revealed as the world's largest smartphone with a gigantic 6.1-inch display (yet it only came with a 720p resolution).
Either way, we'll be reporting during the event to see what Huawei has up their sleeves. The company has been pretty busy lately, and just announced that their first Windows Phone 8 device, the W1, is heading to the US later this month exclusively at Walmart, where it will release amongst a large crowd of other WP8 devices.