HTC XV6175 Verizon smartphone spotted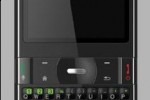 A render of the HTC XV6175 A has emerged, prior to its Verizon branding.  The QWERTY handset is particularly interesting because it's believed to incorporate both CDMA and GSM connectivity.  The GSM Global Certification Forum have already confirmed that the XV6175 has quadband GSM support, but no UMTS/HSPA.
Given that Verizon have an EVDO Rev.A network, not an HSDPA/HSUPA one, that's no great hardship, and we'd expect to see the high-speed CDMA data connection in there too (though obviously of no interest to the GCF).  The hope is that this comes through the pipe as a Verizon World Phone – a handset which can be used to make calls and – albeit slowly – access data when outside the US.
Unsurprisingly there's no comment from Verizon Wireless or HTC themselves, and the smartphone is yet to be officially confirmed.  It was spotted – as the HTC Cedar – in the manufacturers leaked 2009 device roadmap, and is seemingly the CDMA answer to the HTC Snap.  No word on launch date or pricing, but we wouldn't be surprised if it followed the same summer launch schedule as the Snap.
[via SlashPhone]