New HTC smartphone tipped for Verizon spotted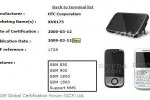 Suggestions of a new Verizon Wireless smartphone made by HTC have been spotted at the GSM Global Certification Forum.  The device, listed as the HTC XV6175, is unusual because it supports the GSM 850, 900, 1800 and 1900MHz bands.
The HTC XV6175 has been linked with Verizon because of the "XV" prefix, which the carrier uses for all of their HTC-sourced smartphones.  However Verizon is obviously a CDMA network, not GSM, suggesting that this is some sort of worldphone.
Of the handsets spotted in the leaked HTC 2009 line-up, the three possible candidates are the HTC Twin, HTC Whitestone W, and HTC Cedar.  The Twin is a CDMA/GSM device but was not tipped for Verizon; the Whitestone W is not expected to arrive on Verizon until September 2009; finally, the Cedar seems the most likely device, being a basic Windows Mobile handset.
[via WMPoweruser]