HTC Wildfire S Review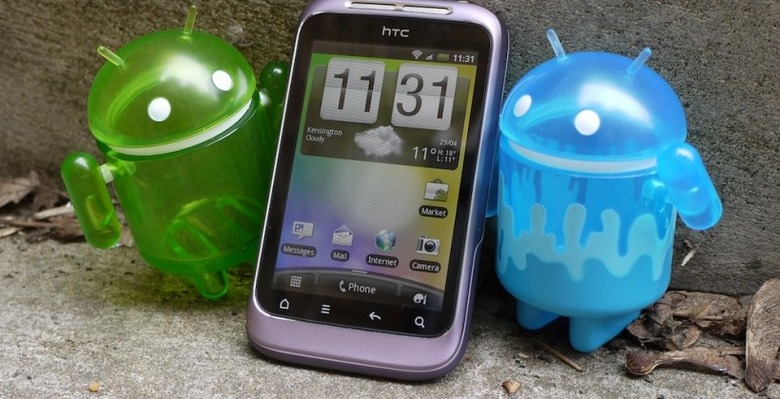 Expectations around the HTC Wildfire S are, a little surprisingly, high. The third of HTC's new Android devices from MWC 2011 in February, the entry-level smartphone replaces the Wildfire, a device which managed to carve itself quite the niche among pre-pay users and the budget or bulk conscious. Now the S-variant comes to further refine the lineage: we're a long way from the Tattoo, but has HTC done enough to keep the Wildfire S relevant today? Check out the full SlashGear review after the cut.
Hardware
As HTC found with the Tattoo, making a budget device is arguably far harder than making a new flagship. While the company could throw the latest kit at the HTC Sensation's spec sheet and then attach a price to match, the Wildfire S has to be cheap enough to lure those considering a first-time upgrade from increasingly capable featurephones. Meanwhile, with smartphones getting more powerful all the time, it also had to ensure the handset could keep up with the latest in apps: no point in having a "smart" device if it plays dumb when it comes to running half of what's in the Android Market.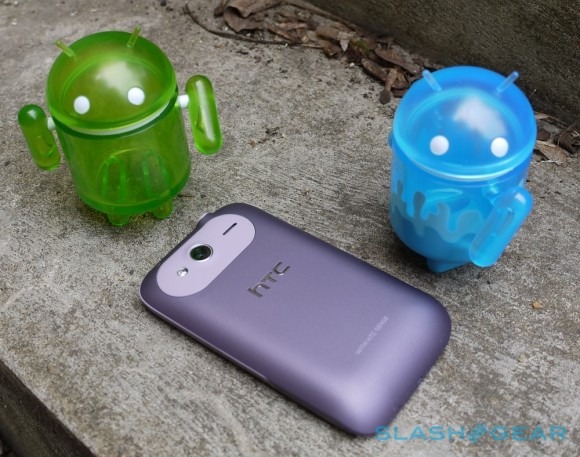 The result is a 600MHz Qualcomm MSM7227 processor, a faster and more refined update to the Wildfire's 528MHz MSM7225, paired with 512MB of RAM (up from 384MB) and 512MB of ROM. More noticeable, perhaps, is the better display: a 3.2-inch HVGA 320 x 480 panel versus the QVGA 240 x 320 of the old phone. Unfortunately you can still easily make out the individual pixels, but it's a considerable improvement nonetheless.
On the back is a 5-megapixel camera with autofocus and an LED flash, while inside there's WiFi b/g/n, Bluetooth 3.0, GPS, dualband HSPA/WCDMA (900/2100) and quadband GSM/EDGE. There's also the usual g-sensor, digital compass and proximity/ambient light sensors, a 3.5mm headphone jack and a microUSB port, as well as a microSD card slot under the battery cover. An LED indicator hides behind the speaker grill.
HTC Wildfire S overview:
[vms a2095230e8e14993d398]
It's a better constructed, more handsome device than before, as well as being a little smaller and lighter at 3.99 x 2.34 x 0.49 inches and 3.7 oz. The family resemblance to the Desire S is unmistakable, with the Wildfire S looking like a palm-scale mini-me handset in comparison. The slight chin has lost the optical trackpad of before but keeps the four touch-sensitive buttons; unlike the Desire S there's no front-facing camera above the screen. Rather than HTC's unibody style, the whole back panel is a single piece of plastic. It feels sturdy, though obviously not as "premium" in the hand as the Desire S, but we're more disappointed by the somewhat sharp edges; the ridge around the edge is a design choice rather than poor fit, but we'd prefer smoother sides. At least the volume and power/lock buttons don't follow in the diminutive theme, being large and easy to press.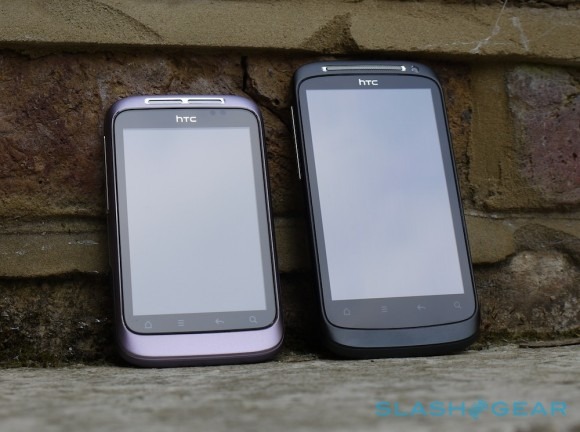 Software and Performance
Android 2.3.3 Gingerbread is HTC's OS of choice for the Wildfire S, with the familiar widgety goodness of HTC Sense 2.1 layered on top. There's HTCSense.com integration, too, so that you can remotely access content on your phone, track its location, lock it and more. The HTC Hub download store is also present, and WiFi Hotspot functionality to turn the Wildfire S into a 3G MiFi.
The UI scales well on the compact display, and we had no problems with the touchscreen recognizing our taps on the smaller icons or on-screen keyboard. Unfortunately the pixel shortage does mean there's more zooming to be done if you want to read webpages: whereas we could make out legible words at the default zoom level when viewing SlashGear on the Desire S, we had to zoom in closer to do the same on the Wildfire S.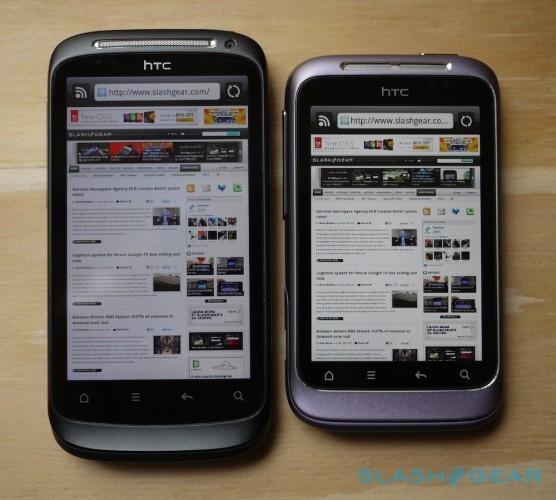 Performance is reasonable, though this isn't the handset for speed-freaks. The browser rendered the SlashGear homepage more slowly than side-by-side with a Desire S (both on the same WiFi network) while apps load with less haste. Gmail messages can take a couple of seconds or more to open, and rendering in Google Maps is noticeably slower than on other recent Android devices, and while there's Flash Player 10.2 support this isn't the phone to tackle anything more than the odd animation.
Raw benchmarks help tell the story, with the Wildfire S scoring a conservative 756 in Quadrant Pro – better than the original HTC Desire, but short of the Samsung Galaxy S – and 7.272 MFLOPS in Linpack Pro. JavaScript testing tool SunSpider regularly crashed the Wildfire S' browser, proving unable to complete its benchmarking.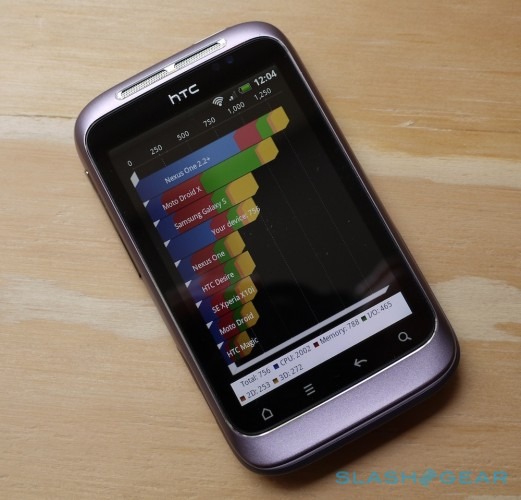 Camera
The camera app is carried over from HTC's other recent Sense devices, though with a couple of tweaks. Since there's no front-facing lens, you get an automatic self-portrait mode that waits until it spots a face and then gives you a beeping countdown to shape your mouth into as close a smile as you can manage. With no mirror on the back, though, it's tricky to line things up without resorting to trial-and-error.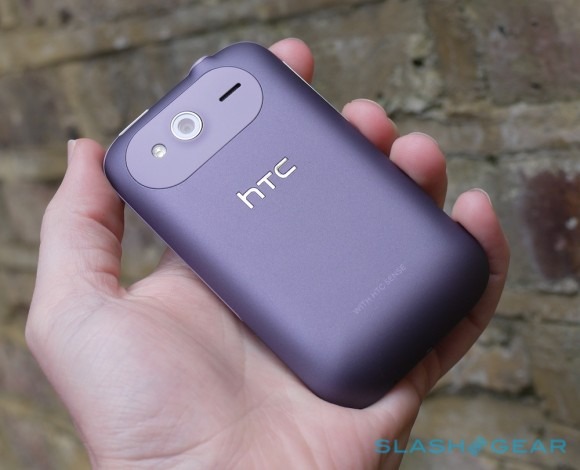 Regular photography is better, and the camera app loads and is ready to shoot surprisingly quickly. Expect sub-5s from tapping the homescreen shortcut to shutter release. There are a handful of manual settings, including ISO, white balance, flash mode, sharpness, saturation, contrast and exposure, though we found the menu for the latter four was unusually slow open. HTC's regular array of effects – including sepia, negative and solarize – are present, each with real-time previews.
The end results are average at best. On a fairly overcast day, colors proved dull and, like the hue of our test unit, unusually purple-tinted. The crisp limes, power blues and reds in the scene below come through muted and uninspiring in the Wildfire S' photo. Close-ups are better, with some decent detail, though we wouldn't suggest anybody should replace their point-and-shoot with the HTC.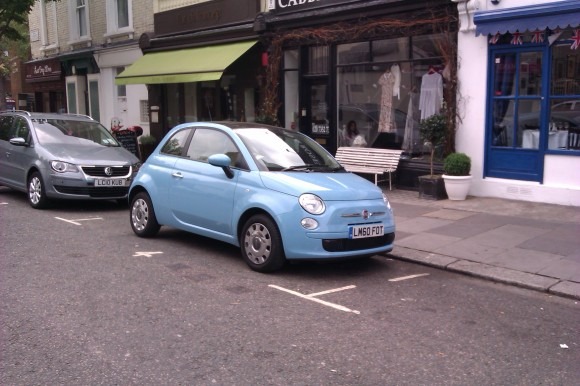 Video can be shot at up to 640 x 480 VGA resolution – no 720p HD here – and the ensuring footage is jerky and with the same flat colors as photos. Sound pickup is good. Of course there's no HDMI output – it would be wasted, frankly – but you do get easy one-touch upload to YouTube.
Phone and Battery
Small it may be, but the Wildfire S did a good job grabbing and keeping hold of a signal for voice calls. The earpiece is clear and ramps up to a decent volume, while the speakerphone performance also belies the HTC's scale. There's no fancy noise cancellation or dual-microphone processing, but we had no complaints from callers.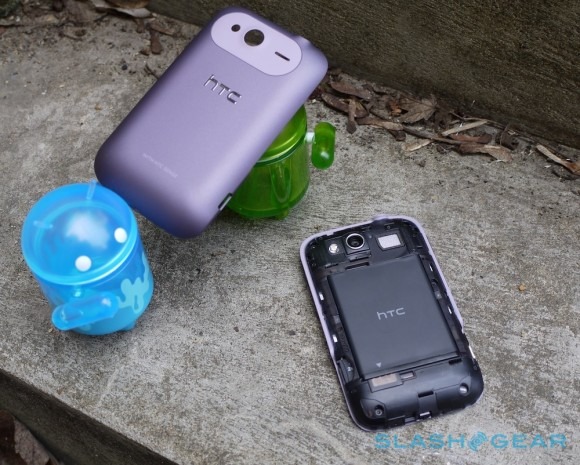 HTC quotes up to 350 minutes 3G talktime (430 minutes GSM) or up to 570 hours 3G standby (360 hours GSM) from the 1230 mAh battery (down 70 mAh on the Wildfire's). In practice, you'll get a solid day out of the Wildfire S, likely more. That's probably in no small part down to the display, which is obviously less demanding than a bigger screen, but we also found ourselves using the phone less than with other, larger handsets. Browsing on the 3.2-inch panel is workable, certainly, but less enjoyable than on, say, a Desire S.
Price and Value
Price is obviously a key obsession for HTC in building the Wildfire S, and it has resulted in a comparatively cheap smartphone. On contract in the UK, the Wildfire S is offered "free" on a new, two year £20 ($33) per month agreement; that's the same as the original Wildfire was offered. SIM-free and unlocked, and the Wildfire S comes in at around £240 ($400) with tax.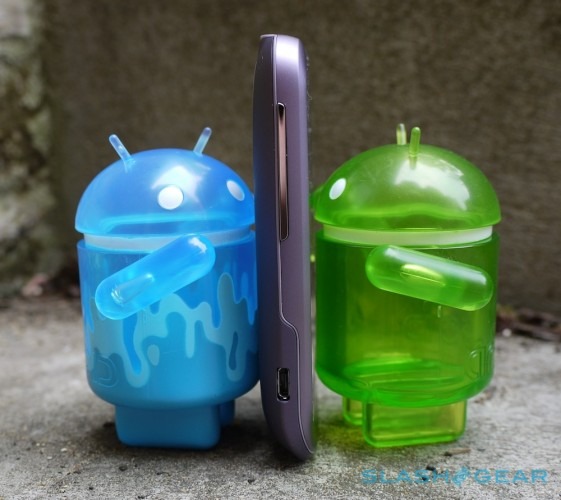 That's cheap for a new phone, though price-conscious buyers should also consider that they can pick up the original HTC Desire – with a bigger screen, faster processor and HD video recording, among other advantages – for free on an £18.50 ($31) per month. A Samsung Galaxy S is free for the same £20 per month. As with the original Wildfire, the competition isn't so much today's new smartphones but yesterday's; still, in most cases, excellent devices, simply superseded by even higher-specified models.
Wrap-Up
Back in our original Wildfire review, we concluded by praising the phone but saying we'd still opt for an HTC Legend. That didn't seem to stop the Wildfire from selling well nonetheless, helped no doubt by a strong carrier push. The HTC Wildfire S has a similar balance to make: it may be new but its specs aren't, and it may be cheap but other smartphones match it, older perhaps but, thanks to aiming higher in the first place, still outclassing it on paper at least.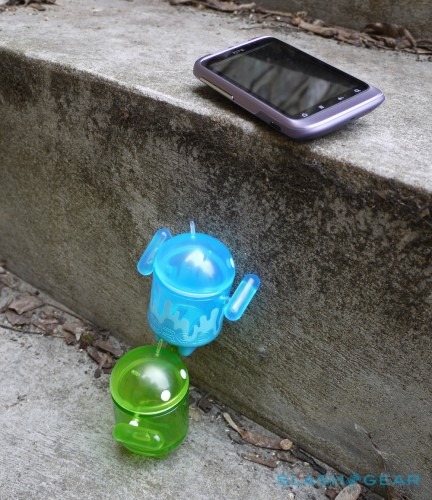 In daily use, the off-the-boil performance is less of an issue. HTC isn't positioning the Wildfire S at the advanced Android hacking crowd, for whom CPU potency is a key element in squeezing out the very last drop from their phone. Instead the target is a more average user, and for them there's plenty of appeal in the combination of compact form-factor and the allure of a handset fresh to the market. Although smartphones with huge displays – like the 4.3-inch panels we've seen on the Galaxy S II, Sensation and others – are popular with some, others prefer more pocketable devices, and the Wildfire S certainly fits into that niche.
Those users are less likely to be concerned whether the Wildfire S' low-end processor will scupper its chances for further Android updates, or indeed whether it will run the increasingly system-intensive games we're seeing arrive on the platform. As a gateway drug into HTC's compelling combination of local apps and cloud services, however, it makes good sense, and while most SlashGear readers will probably find more to their liking with the Incredible S or Sensation, their less cellularly-obsessed friends and family may well discover the HTC Wildfire S does everything they need.