HTC Wildfire Review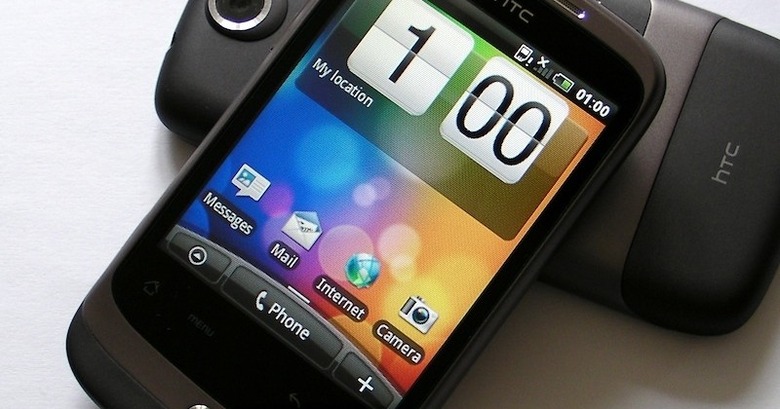 The HTC Wildfire is the company's second attempt at a budget Android device, its predecessor being the underspecified and relatively unloved Tattoo. Packing the same Sense UI as more expensive siblings like the Legend and Desire, together with a 5-megapixel camera and a multitouch-capable display, does the Wildfire manage to be both affordable and feature-rich? Check out the full SlashGear review after the cut.
It's hard to argue with the specifications, certainly. At the launch of the Wildfire, HTC told us they'd pushed their engineers – and suppliers – hard to pack as much as possible into the smartphone without driving up the price. To that end, you get a 3.2-inch display, like the Legend, only using a QVGA resolution LCD panel rather than the aluminum phone's HVGA AMOLED; you also get a capacitive touchscreen, rather than the resistive touchscreen of the Tattoo. There's also 384MB of RAM paired with a 528MHz Qualcomm processor; well below the 1GHz chips we're seeing on many new Android devices, but – HTC reckon – comfortably enough for the sort of non-3D activities the Wildfire will be doing.
HTC Wildfire unboxing:
[vms 8e41c89689f54970bb35]
There's also a 5-megapixel autofocus camera complete with an LED flash, dualband HSDPA (900/2100), quadband GSM/EDGE, WiFi b/g and Bluetooth 2.1+EDR. GPS, an accelerometer, digital compass, proximity and ambient light sensors and a 3.5mm headphone jack are all standard, as is the microUSB port and FM radio. The WIldfire only gets 512MB of ROM but there's a microSD slot that supports up to 32GB cards.
It's a deceptively small phone if you've only seen photos, not least because of its strong resemblance to the HTC Desire and Google Nexus One. Like the former it has an optical joystick, while like the latter it gets touch-sensitive buttons for home, menu, back and search under the display. Happily these are more responsive than those on the Nexus One can be, and require less precision in your aim to hit correctly. Overall the Wildfire measures 4.2 x 2.4 x 0.48 inches and tips the scales at 4.16oz complete with the 1,300mAh battery.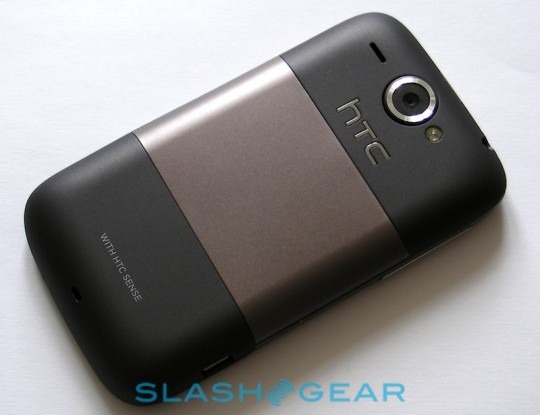 HTC Sense continues to be the company's differentiator from other Android devices, and the Wildfire shares the usual straightforward start-up process and general ease of use. The sort of entry-level owners tempted in by the Wildfire's affordability shouldn't have any great trouble following the initial setup wizard, which walks through adding in (or creating) your Google account, inputing Facebook, Twitter and email settings, and then drops handy tips about how to use the seven homescreen panes. That includes the "helicopter view" – a zoomed-out overview of all seven of those panes, triggered by a pinch-zoom gesture on the homescreen – and HTC's various preloaded widgets.
Widgets are perhaps what Sense is best known for, and they turn what could be a bargain basement smartphone into a well-connected performer out of the box. Friend Stream, as we've seen on the Desire, EVO 4G and other HTC devices, pulls in all recent Twitter and Facebook updates from your contacts, which the Wildfire automatically goes through and pairs up from each network. Any overlooked or mistakenly connected individuals can be quickly linked up or separated. It's a system that works far better than rival social networking apps on other Android devices we've tried, though it does lack some of the scope of MOTOBLUR which covers more online networks (like MySpace, for instance).
With Android 2.1 underneath you get screenshots in the Android Market, Google Maps Navigation with free turn-by-turn directions and – in the most recent update – public transport scheduling for some transit providers, and all the usual Google apps like Gmail and the YouTube player. HTC also weave their magic over the browser, which gets Flash Lite support for in-page video streaming, though as before we found heavier pages could get bogged down and frame rates suffer. HTC's Exchange support is also better than bare Android's, including Calendar sync – which otherwise you'd need 2.2 Froyo for – together with neater handling of Mail and Contacts.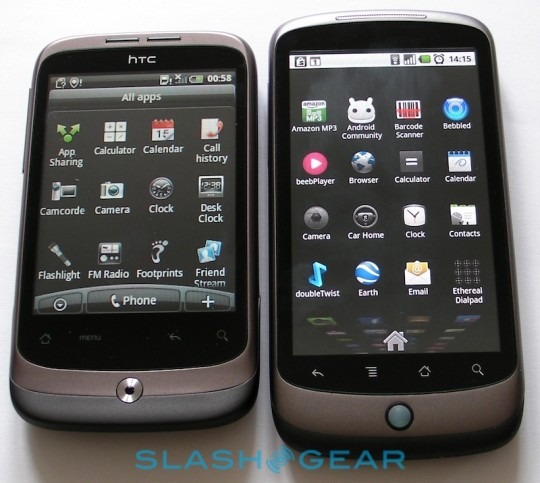 Of course, the flip side of Sense – or indeed any third-party customization to an Android device – is that it can significantly delay firmware updates to the latest version of the OS. HTC Hero owners are only this month getting the Android 2.1 update they've been long promised, and while the company has confirmed it will be updating this year's devices to Android 2.2 there's no definitive timescale for that to take place. Froyo brings with it improved overall performance and neat additions like wireless connection sharing, though arguably the Wildfire's target audience may not require the latter.
As for performance as it stands, despite the 528MHz processor the Wildfire doesn't feel particularly sluggish. Browsing through homescreen panes or flipping between apps is generally lag-free, and the smartphone only began to suffer when we tried some of the more demanding games from the Android Market. If you've stepped to the Wildfire from the Desire, you'll notice a lack of immediacy, but in general it wasn't too frustrating. HTC's big change on the Wildfire is the new App Sharing tool, though it's not exactly the most dramatic of applications. Basically, it allows you to pick any third-party software you've downloaded from the Android Market and send a Twitter, SMS or other message to a friend suggesting they download it.
Our biggest problem with the Wildfire is the resolution of its display. While at 3.2-inches it's the same size as the HTC Legend's panel, that handset uses an HVGA display; in contrast, the Wildfire's QVGA is significantly shorter on pixels, and the end result is significantly blocky text. It's most noticeable in the photo gallery and the browser, the latter being a less pleasant place to review your images than normal – despite HTC's multitouch controls – and the latter requiring significant zooming and panning in order to deal with smaller website text. Pages that, on the Legend, can be read with minimal zooming require more effort on the Wildfire, and the end result is a less pleasant browsing experience.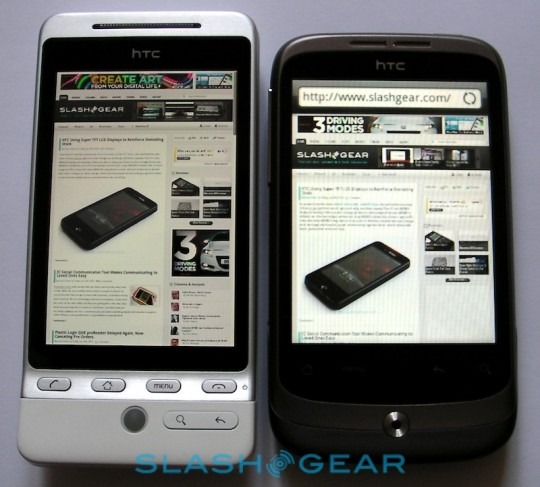 Cameras have never been HTC's biggest strength, and the Wildfire's 5-megapixel shooter sadly doesn't break the mould. As ever, low light results in grainy, poorly-focused shots and the LED flash does little to lighten the scene unless your subject is within its relatively narrow sweet-spot. Outdoors and during the day, however, and results are more impressive; the Wildfire seems to handle colors better than some of its predecessors, and HTC's modifications to the camera UI do at least allow for a little tweaking should the defaults not suit. Video, meanwhile, is captured at a diminutive 352 x 288 and at around 15fps, with the resulting footage being as mediocre as you can probably predict. Still, if you're looking for 720p HD capture then HTC will happily introduce you to higher level models in its range.
In a way, it's a compliment to the Wildfire that we found ourselves dwelling on these particular shortcomings: the handset has more than just the basics catered for, and with the exception of the display there are times when it overlaps considerably with HTC's more expensive handsets. The QVGA resolution, however, could prove the biggest stumbling block; Sense is a visually rich UI, and the Wildfire's screen simply doesn't show it off at its best. There's an argument to be made for waiting for the Hero Android 2.1 update to go live and then picking up the older device – which nonetheless has basically the same specifications – and enjoying its higher-resolution HVGA display.
Nonetheless, the HTC Wildfire is a strong budget phone and a worthy entry-level model in HTC's line-up. The key will be pricing: SIM-free and unlocked it comes in at around £200 ($300), which is in fact less than a similarly unlocked Hero, while at least one UK carrier is offering it "free" with a new, £20-per-month agreement. Impressive stuff, but the same carrier also offers the HTC Legend – complete with its brilliant AMOLED display and gorgeous unibody aluminum chassis – on the same priced contract. There's a bigger price difference SIM-free, but we're guessing most among the Wildfire's target audience would be looking for a contract handset. Despite the Wildfire's charms we'd still plump for the Legend in preference.