HTC Vivid Review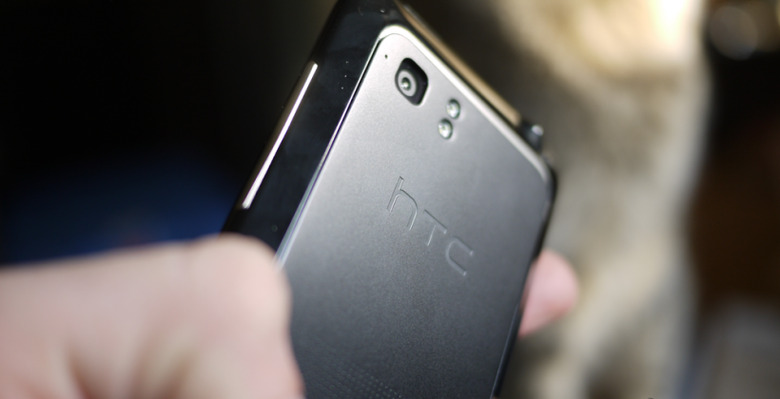 This month AT&T have revealed their first two 4G LTE devices, the Samsung Skyrocket and the HTC Vivid, the latter device being the one we're having a look at here today. This device is the next step in the HTC smartphone design evolution, and as you'll see in the video portion of the review below, it's almost as if they asked someone on the 3D mockup crew to cut off all the edges and make something sharp! We've already got AT&T 4G LTE speed tests from one of the few areas AT&T has its LTE network deployed (in Texas,) now it's time to see if the phone stands up to the pressure of the rest of the HTC family (and the rest of the AT&T family as well.)
Hardware
This device is certainly part of this year's HTC device design family, but hold it up next to any one of the other HTC smartphones released in the last 11 months and you'll find yourself wondering if the crew is thinking about going in new directions. There's flat edges! There's a single flat metal slide-out panel on the back! It's almost as if someone from Motorola came over and slid a few pages of their smartphone ethos into the HTC packet. That said, it's a refreshing cut from the pack, and said panel does make the whole package feel extra high-quality.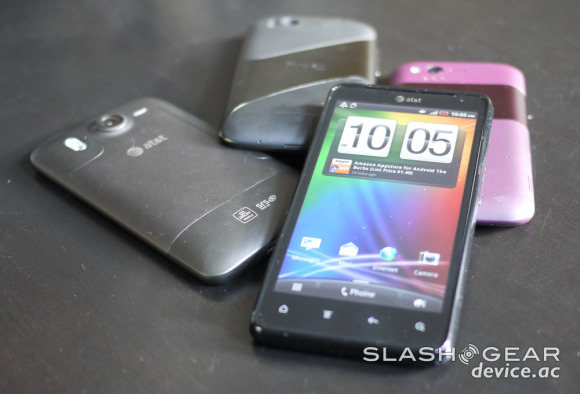 I'm not entirely sold on diverging from the soft-plastic setup HTC devices have had throughout 2011 and continue to have on smartphones such as the recently revealed HTC Rezound. Of the devices you'll see in the video review below, it's the HTC Sensation that feels the most naturally confortable in the hand, while the HTC Vivid feels like a more stark set of panels made to look reduced and perhaps even bauhaus-esque. This device is made to look different, that's for certain.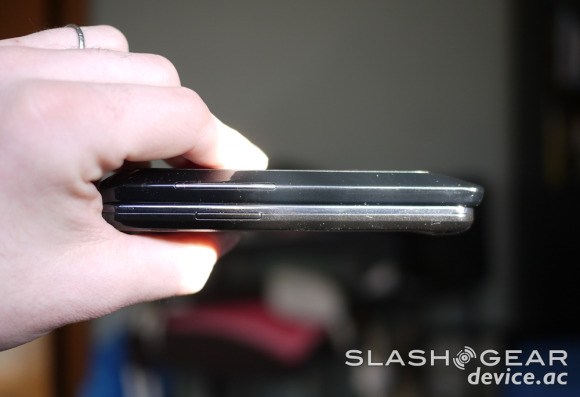 The device feels light but substantial enough that you won't feel like it's going to float away on you, and though its not nearly the thinnest device on the market, it's certainly not fat either. On the front is a 4.5-inch S-LCD 540 x 960 pixel resolution display, this meaning you'll have some awesome detail, this beating out the 480 x 800 Super AMOLED Plus 480 x 800 pixel resolution display on the Samsung Skyrocket (also a Galaxy S II device, mind you) in amount of pixels but not necessarily in brightness. Unless you're holding both devices together, you'll not notice the difference.
Software
Inside you'll find Android 2.3.4 out of the box and Sense 3.0, here having the ring unlock screen (with app shortcuts) and all the custom HTC-made widgets your heart desires. HTC for those of you that don't know have one of the most lovely looking yet deeply integrated custom user interfaces of all the Android device manufacturers – this means two things: one, that you might not have Ice Cream Sandwich until later in the year 2012, and two, that you've got an interface that HTC created to work and function exactly as they intend. If you've never owned an Android device before, be sure to check out both an HTC device and a device made by a different manufacturer just to see the big difference.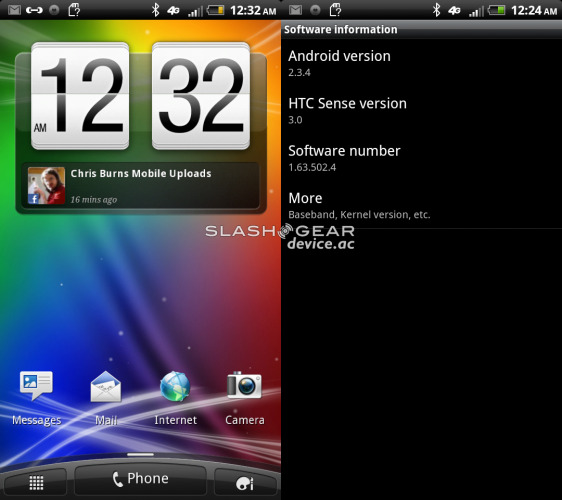 Apps consist of your regular AT&T added apps and your HTC added apps which include several media-purchase libraries for things like full-length movies, and Google of course has their full range of apps like the Android Market, maps, and Gmail. Essentially what you've got here is an HTC device that's not unlike the rest of the HTC devices that've been released recently, no real surprises.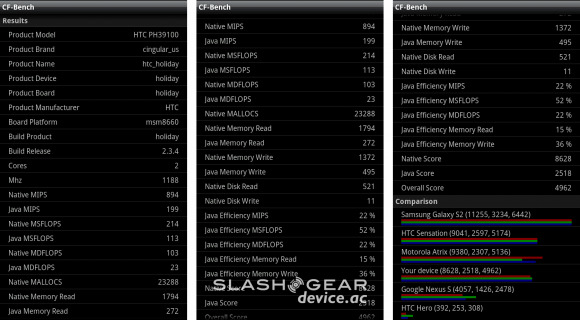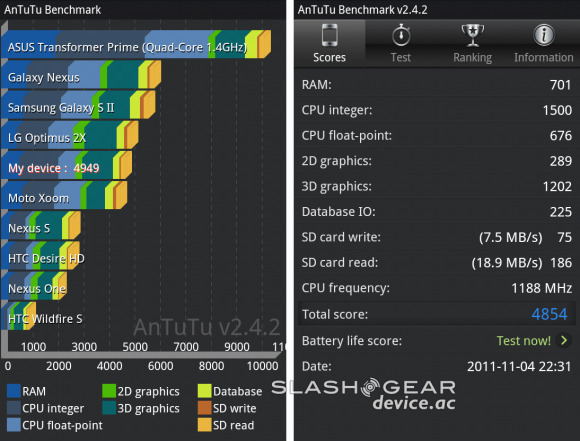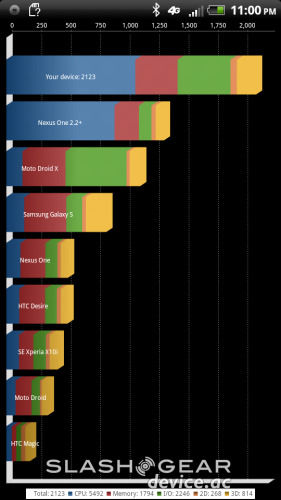 Camera
The camera is pretty awesome. HTC has stepped up their game in recent devices and isn't letting go of the idea that image quality in their on-board shooters is as important as any other element on the device. In the review video you'll see how quickly the camera snaps a shot – less than a second by my reckoning. And have a peek at the results here and in the gallery below as well.
Battery
The battery on this device does not seem to be all that fantastic. Have a peek at the battery usage screenshot and note how we're not doing all that fantastic for under 8 hours of usage, and it's not from heavy use, I assure you. Note in the hands-on video looking at the battery as well, not looking too fantastic. NOTE that this is after having made no adjustments to the settings right out of the box.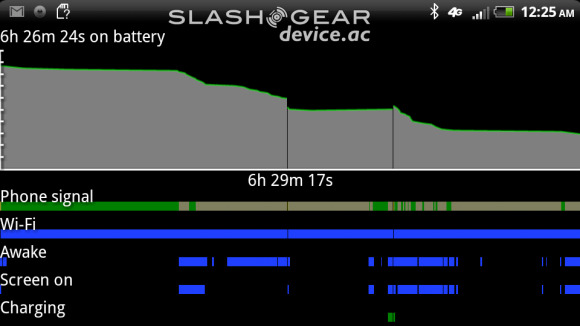 Wrap-Up
The real bang for your buck in this device is that you're getting an 8-megapixel camera with HTC's camera software that has many different filters, scenes, and an ultra-quick tap-to-shoot speed, LTE connectivity (if you live in one of the few places in the USA where this network is deployed), and the unique physical form of the handset. This device is made to push AT&T's new LTE network and is HTC's first stab at AT&T's new network, and like their first attempt at an LTE device for Verizon, they've created a smartphone that's certainly up to the task of downloading media quick (again, if you're in one of AT&T's already deployed LTE areas), and working nicely with a dual-core processor.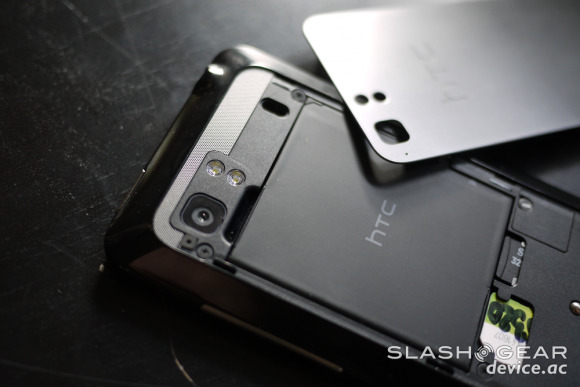 If you want an LTE device on AT&T's network that's made by HTC, you've got one other choice, that being the HTC Jetstream tablet we had a look at a few weeks ago. If you want an LTE device on AT&T's network that ISN'T HTC, you'll be going with the Samsung Skyrocket, another device which you'll be able to find a review of here on SlashGear immediately if not soon!