HTC Rezound Official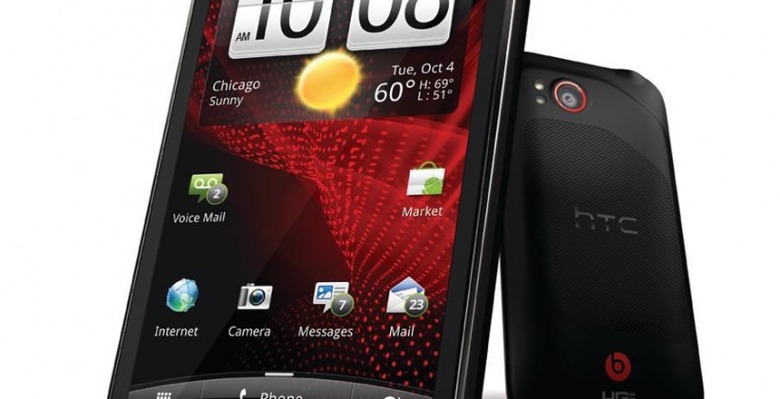 This week HTC has revealed its next step in the 4G LTE game with the HTC Rezound, a device that not only has a 1.5GHz dual-core processor, it's enabled with Beats for high quality audio as well. This device is the first HTC device with a 720p display, its 4.3-inch display showing off a monstrous 1280 x 720 pixels for HD action across its entire Gingerbread Android environment. This device was previously code-named HTC Vigor and will be the first device to usher in the Beats / HTC collaboration here in the United States.
Inside the device you'll find Beats software that'll work with your brand new Beats earbuds that come with the device. There's a big fat "B" on the back of the device that lets you know you're working with nothing less than the official Beats software and hardware, and there are some lovely red capacitive buttons on the front of the device to drive the point home. There's also a red speaker grille, a red camera ring, and two cameras: one 2 megapixel camera on the front for video chat, and another 8 megapixel camera on the back capable of 1080p video.
"It's a phone that brings you closer and brings best combined the sights and sound and experience of any smartphone on the market." -Peter Chou, HTC
Inside you'll find Sense 3.5, a 1620mAh battery, and the bulk of the back of the device is made of soft plastic with a ribbed center for optimal grip and comfort. What we've got to think about how is if the dual-core and the Beats are enough to get those ThunderBolt users to switch up to a higher-grade device. Given that the display is MUCH higher class and the power under the hood should blow the ThunderBolt away easily, our thoughts are yes, it's top to trade up.
Of course then there's also the DROID RAZR to consider as well. Will the kevlar and the metal body be enough to bring HTC users over to the Motorola side?
We'll of course let you know once we review the device in full soon! ALSO be sure to check the device out in our device directory at device.ac for a full listing of its specs.
UPDATE: This device is set to get an update to Ice Cream Sandwich in early 2012, and pricing is set to be $299 with a 2-year contract attached.