HTC Vive Cosmos (2019) details updated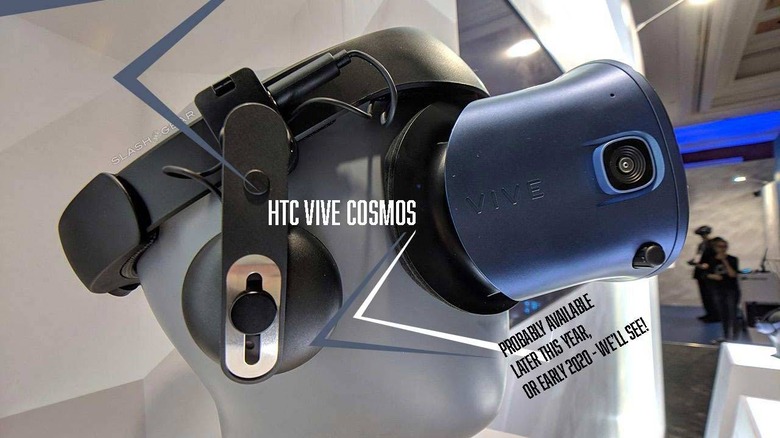 This week the folks at HTC revealed more details on the release model for HTC Vive Cosmos, their newest VR headset. This machine has a "flip-up halo design" so users can pop in and out of VR without removing the entire unit. It's also got a new vented front design that "keeps air flowing so users can stay in VR for longer without fatigue and stay cooler."
HTC's VIVE Cosmos is capable of delivering video at 90 FPS with an LCD display with combined resolution of 2880 x 1700 pixels. That's approximately 88% more pixels than the original VIVE, and 100 more pixels than the HTC Vive Pro. Yes, the HTC VIVE Pro has 2880 x 1600 pixels between its two eye panels (also 90Hz, but with AMOLED panels instead of LCD).
HTC suggested today that there are "increased subpixels" and a "40% improved lens clarity over the original VIVE." Again, the experience probably ends up being pretty close to that of the HTC VIVE Pro – we shall see! See our HTC VIVE Cosmos first look from CES 2019 as well – it didn't yet have its plug-and-play faceplate back then.
The newest iteration of the HTC VIVE Cosmos has a total of 6 cameras, allowing users what HTC calls a "premier inside-out tracking experience." This means room-scale tracking as well as controller tracking. Two of these cameras are in the front facing forward, one on each side, left and right, and another couple at the top and bottom front side of the headset, one facing upward, another facing downward.
The front side of the machine has a removable face plate – this plate includes two of the six cameras (facing upward and facing downward), but will be able to allow expansion in the future. According to HTC, "Cosmos can grow with you over time due to swappable face plate that can be updated for different XR needs in the future.
Price and availability are not yet out – HTC will reveal these points in the near future. For now we're expecting either late 2019 or early 2020 – we shall see!