HTC Shift gets UK price cut; replacement or retirement imminent?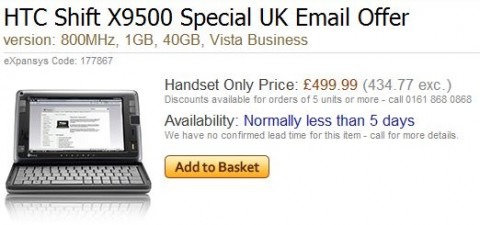 Is HTC planning the imminent demise of the Shift UMPC?  Retailer Expansys has slashed the cost of the compact touchscreen device by £450 ($656), bringing it down to $499.99 ($731), as part of a promotion through their email newsletter.  The Shift has a 7-inch touchscreen, runs Windows Vista, and has integrated tri-band UMTS/HSDPA; it's based on a low-power 800MHz Intel processor that's looking pretty tired compared to the chip company's latest silicon offerings.
Nothing with the exact Shift form-factor was seen among the HTC 2009 renders leaked on Monday, although the device has never been categorized as a smartphone.  An almost 50-percent price cut, and Expansys' suggestion that stock is limited, lends weight to the idea that the Shift is either being phased out or replaced at some point in the future.
We reviewed the CDMA version of the HTC Shift back in March 2008; it was first announced all the way back in March 2007 at CTIA Wireless.  Two years is a long lifespan for a device; HTC have never revealed sales performance, but a combination of high prices and the scarcity of carrier-subsidized data deals suggest it was not the strongest seller in their range.