HTC Ruby To Be Named HTC Amaze 4G On T-Mobile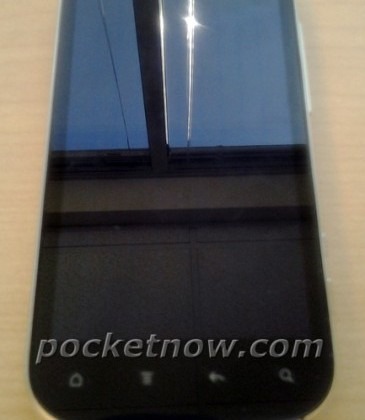 As you may or may not know, every device has at least two names – one that its manufacturer gives it, this name sometimes never seeing the light of day, and a second name which a carrier may give it. In the case of the HTC Ruby, we may never see the device be released with the lovely jewel name attached to it – instead today we've got news that this cool futuristic mother of a smartphone will be dubbed "HTC Amaze 4G" for its release on USA carrier T-Mobile, and may well be released right alongside the Samsung Hercules relatively soonish. Sound like a done deal to you?
The name Amaze 4G is amongst several that HTC has filed trademarks for recently, it also being apparently one of two flagship devices headed for T-Mobile soon. The device you see above is what we do indeed suspect the HTC Ruby aka HTC Amaze 4G to look like, it toting an impressive set of "leaked" specs: 1.5 Ghz dual-core processor, 4.3-inch display, and the same (or an improved) camera app as your humble narrator's favorite camera phone in the world: the myTouch 4G Slide. Looks rather like the HTC Sensation but does have clear markings making it a whole new device.
Last night our sister site Android Community found some rather tragic news, that being the release dates of both the Samsung Hercules (aka the T-Mobile variant of the Samsung Galaxy S II) as well as the HTC Amaze 4G: a late October release date. Specifically October 26th, right as we're going to have to be thinking of Halloween costumes again – seems like it was just yesterday when this time was here last year, but also seems like an eternity until it's going to pop up again. Ruby! GSII! Where are you!?
Check out our HTC Ruby leak post for more details on this upcoming monster.
[via Android Community]