HTC Puccini Called Jetstream on AT&T, Additional Screenshots Leaked

We certainly know a lot about the 10-inch tablet known as the HTC Puccini considering it's not yet truly officially announced by its manufacturer or its US carrier. We've seen screenshots, bits of hardware, release dates, and specs all along the way. What we've gathered thus far and what we're to understand from these newest two screenshots revealed today is that this tablet will be called the HTC Jetstream as it flies in to the USA on AT&T's 4G network, be it what AT&T calls 4G at the moment or LTE in the distant future. An AT&T 10-inch Android tablet made by HTC, sound like a winning ticket to you?
Another bit of information we've learned recently is that this device will likely go by the name HTC Skyrocket internationally. There's always several names for a device such as this, one from the manufacturer to identify it before its ready for release, another from the carrier if it has mobile network capabilities, and another for each carrier its on. Plus there's another possibility of there being a name for the device outside of the USA. That's a lot of potential names for a simple device whose names then signify the network bands more than anything.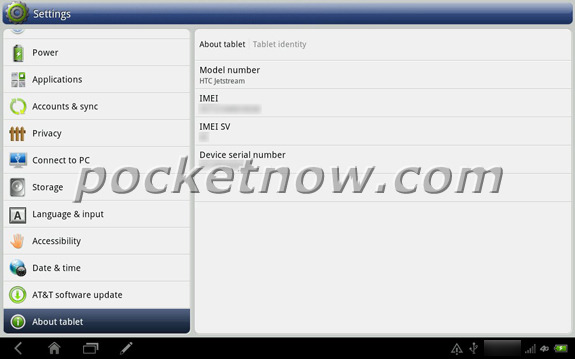 We can also see here that HTC will be using a relatively new interface for its Settings panel, and from what we've seen in past screenshots, we know this tablet will be the first to have an HTC Sense look at Android 3.0 (or 3.2+ by the time it's released), something we've been waiting for since our hopes for an HTC Flyer Honeycomb experience were dashed several weeks ago. This tablet will more than likely land inside 2011, and you can bet we'll have our hands on it for review right at the start!
[via PocketNow]