It appears that HTC's newest effort in the Android business has been revealed in real live photo form. That or there's a rather talented mock-up artist amongst us creating a masterpiece when they should be working for HTC. This tablet takes a step away from their previous tablet, the HTC Flyer, in that it's not White (though it's HTC EVO View brother certainly isn't either), and that it's got one solid piece covering the entirety of its back instead of the EVO-ish three piece situation. This tablet will almost certainly be released before the dropping of Androids 4.0 Ice Cream Sandwich this fall, and will therefor be running something along the lines of Android 3.1 or 3.2 Honeycomb upon release.
This tablet also appears to have three speaker grilles on the back, this a bit odd for a mobile device, most mobile devices such as this only featuring two (and in some cases none at all. There's a gigantic 8-megapixel camera sitting on the back of this device, the norm for recent smartphones, but a giant leap ahead for tablet devices thus far. Also note that this device appears to have a front-facing cameras (likely along the lines of 2-megapixels) and is carried by AT&T by the looks of it.
We've had several looks at this tablet thus far, this being the first actual couple of mockups for the casing.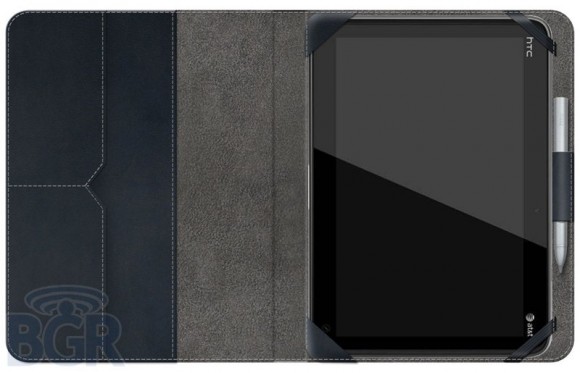 Furthermore, this tablet DOES seem to follow in the footsteps of its smaller tablet relation in that it's got a Scribe pen. The HTC Flyer is known for its Scribe pen in that it's the only Android tablet to come with one standard, this update to the HTC lineup being just the second. This device will more than likely be released in the next couple months, BGR getting their hands on these photos only moments ago. This tablet will likely be in the mid-range for thickness and weight amongst similar tablets.
What do you think? Look like the 10-inch tablet for you?
[via OnlyGizmos]