HTC pins hopes on Q2 after dire opening quarter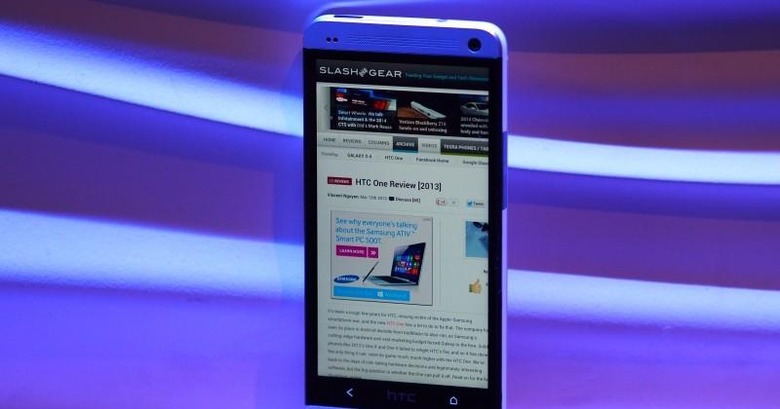 HTC has released its Q1 2013 financial results, and as the unaudited figures in April previewed, things didn't go so well for the One-maker, with quarterly profit slumping dramatically year-on-year. Nonetheless, despite revenues down to just NT$42.8bn ($1.45bn), HTC is adamant that a turnaround is imminent, pegging the HTC One as the company's savior.
"This was a pivotal quarter for HTC" CEO Peter Chou said of the opening period of 2013. The company had hoped to have the One on sale in as many as 80 countries before the end of March, but component and manufacturing issues meant that customers in only a handful of locations could actually pick up the new phone.
The result is dire revenues, with HTC seeing just NT$8.7bn ($290m) in gross profit, and operating profit diving from NT$5.1bn a year ago to a meager NT$0.04bn ($13.5m) in Q1 2013. That was slightly offset by HTC shaving away at its sales marketing spend, more than halving the amount it spent compared to the previous quarter.
Nonetheless, despite the poor showing, HTC is confident of a turnaround in Q2 2013, now that buyers in more locations can find the One in stores. Revenue for the quarter is expected to be around NT$70bn ($2.4bn), an increase of almost a billion US dollars.
Whether it can achieve that will depend in no small part on how well it can market the One in the face of the coming Samsung Galaxy S 4 onslaught. HTC's phone does have some advantages, such as its UltraPixel camera giving better low-light performance, but the strength of Samsung's promotional budget has already been demonstrated in the case of the Galaxy S III. Our review of the HTC One is here, and the phone launched on multiple networks in the UK in mid-April.