HTC One X+ benchmarked vs Jelly Bean Galaxy S III: Fight!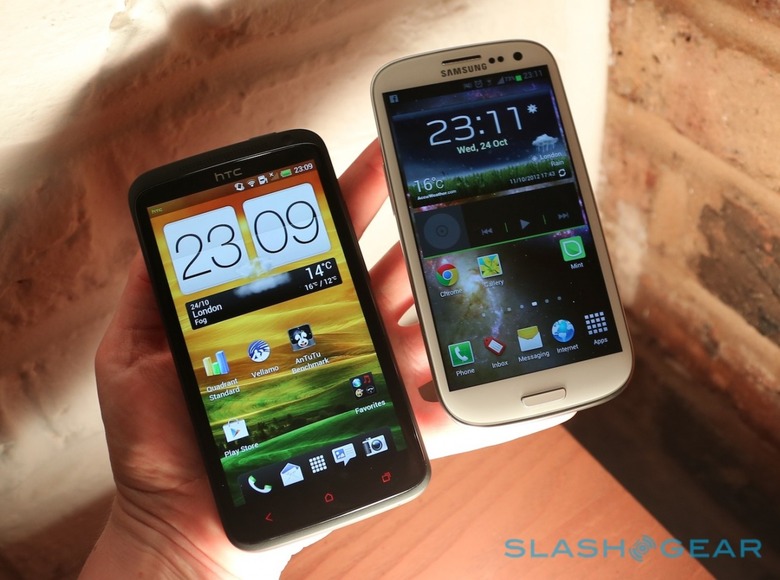 The new HTC One X+ has landed on the SlashGear test bench, and with HTC so especially proud of the performance tune-up its given its Android flagship, we were keen to see how it fared. Day-to-day speed we'll have to test awhile ahead of our full review, but some early benchmarks should help identify where the Tegra 3 smartphone has been particularly polished. Plus, with the official Android 4.1 Jelly Bean update for Samsung's unlocked Galaxy S III dropping in the UK just earlier today, it seemed rude not to run some comparative scores.
Compared to the One X we reviewed back in April, HTC's new top-end Android phone steps up to the latest version of Tegra 3, a quadcore running at 1.7GHz. It's paired with 1GB of RAM and Android 4.1 Jelly Bean with HTC Sense 4+; our review model is European-spec, which means no LTE.
We focused on some basic benchmarking tools most Android users are familiar with. First up, Quadrant Standard, which tests CPU, I/O, and 3D graphics performance; next SunSpider, a test of browser JavaScript performance, which gives a good idea of how web surfing compares to other phones, tablets, and even desktops; then Qualcomm's Vellamo, which focuses on mobile web performance, examining HTML5 crunching abilities and CPU subsystem performance; and finally, AnTuTu, which looks at CPU, GPU, RAM, and I/O performance.
In Quadrant, the One X+ pulled ahead with a score of 6068, over 800 points more than the Galaxy S III, at 5207. The HTC did particularly well in the CPU and I/O subcategories, though the Samsung did much better in memory performance and 3D graphics. HTC's phone put in a better showing in SunSpider, too, scoring 1082.2ms (lower is better) against the Samsung's 1215.4ms. Neither managed to quite match the results we saw from the iPhone 5, however, which nipped underneath the 1,000ms boundary with a score of 914.7ms.
Quadrant and SunSpider benchmarks:
As for Vellamo, the scores here were mixed. In the HTML5 side of testing, the One X+ did better, edging ahead with 1894 against the Galaxy S III's 1615. However, the tables were turned in the Metal tests, with the One X+ managing 491 against the Galaxy S III's 558.
Vellamo benchmarks:
Finally, AnTuTu. The HTC pulled ahead once more, though again not in all of the categories. In total, it scored 12,945, besting the Samsung in CPU, RAM, and I/O testing. The Galaxy S III, however, scored 12,082 overall, with better performance in the GPU category.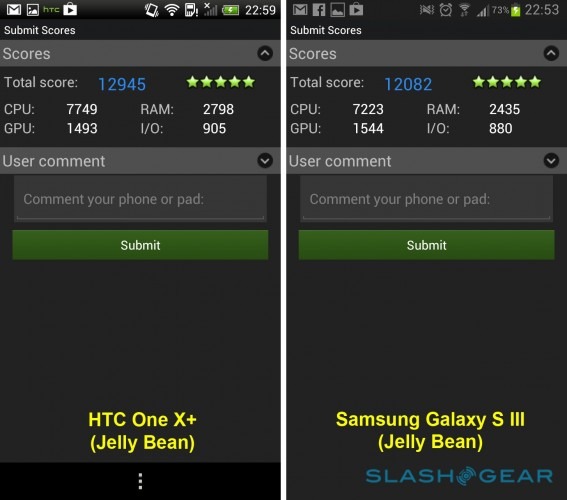 Synthetic tests of smartphone performance don't tell anywhere near the full story; you can't say from benchmark results whether a phone will necessarily lag in multitasking, or suffer frustrating pauses in keyboard responsiveness or when trying to open up a well-stocked inbox. They're a good indicator of the raw potential of the smartphone, however: what well-written apps will be able to call upon to achieve great performance.
We'll be running the One X+ through real-world testing ahead of the full SlashGear review, but already HTC's new powerhouse has shown its mettle.