iPhone 5: All hail the browser power hero!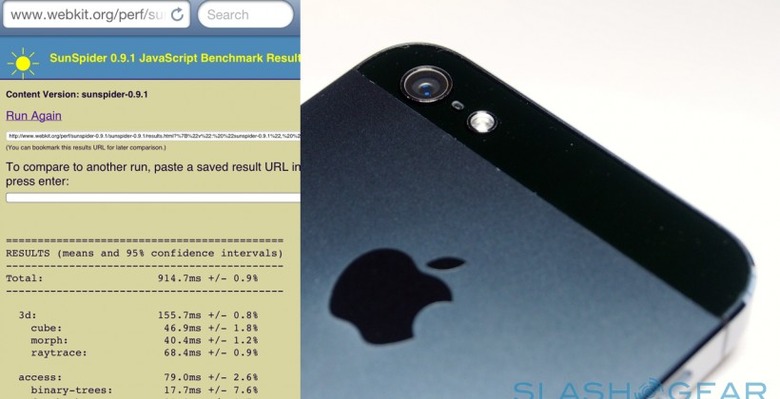 Apple was pretty confident the iPhone 5 would outperform its predecessors overall with the new A6 chipset, and Sunspider benchmarks suggest the new iOS 6 smartphone now takes the top spot for mobile browsing. SlashGear ran the browser test as part of our full iPhone 5 review, and the Apple handset breaks a new record for phones in coming in under the 1,000ms mark.
Sunspider is a test of JavaScript performance, and a good indication of how a browser will hold up when it comes to real-world surfing the web. Faster scores are better, suggesting that your webpages will render more rapidly and be more responsive.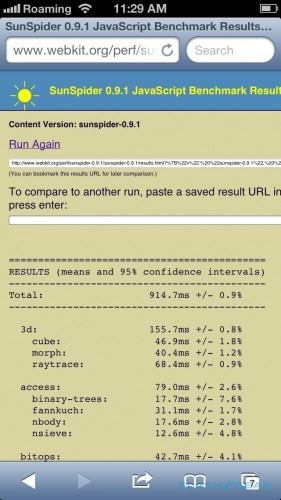 With a score of 914.7ms, the iPhone 5 squeezes in under the 1,000ms point. That's faster than rival Android handsets such as the Galaxy S III – which scored 1,441.7ms in our testing - and the new LG Optimus G which managed 2,417.3ms with its Snapdragon S4 Pro chipset.
Considering how often we rely on web apps or services, or indeed how many local apps on the iPhone rely on the underlying browser engine, this extra jolt of performance is a welcome one. For more on the iPhone 5, check out our review.
[polldaddy poll=6531422]