HTC One Max toys with fingerprint sensor in leaked images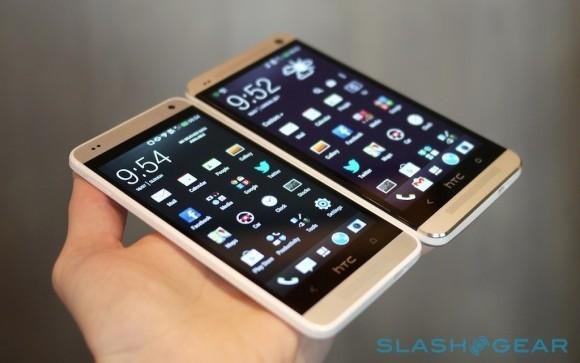 While it's not entirely unlikely that the HTC One Max (still not confirmed to exist in and of itself) would be delivered with a fingerprint scanner aboard, images appearing today appear slightly less finalized than past iterations. What we're seeing in the HTC One Max thus far is a test phone, one aimed at the "phablet" range of devices also being attacked at the moment by the Samsung Galaxy Note, Sony Xperia Z Ultra, and the Samsung Galaxy Mega – a 6.3-inch phone released internationally and just today confirmed for several USA-based carriers. Today's HTC One Max leak includes several pogo-pins for docked charging and a black block suggested by photo source ePrice as a fingerprint reading sensor.
The HTC One Max has been rumored for several weeks, each rumor suggesting its size to be well and above the 5-inch display range, occasionally reaching up toward 5.9-inches across its massive front-facing display panel. This device would be the largest in the HTC One family, the HTC One Mini coming in at 4.5-inches, the original HTC One appearing with 4.7-inches of display, and the Max coming in with nearly 6-inches of pixels in all.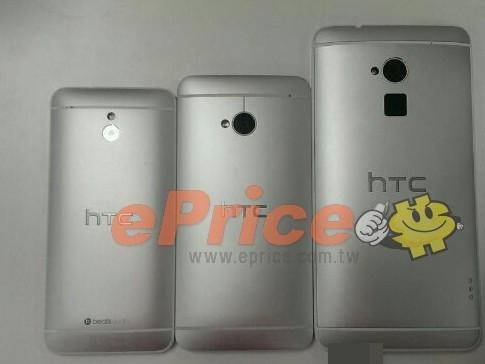 Earlier looks at the HTC One Max only showed the front of the device, making the back-facing features here just a bit more likely than if a backside photo had appeared.
Meanwhile the oncoming collection of Robert Downey Jr-headed "Big Things Ahead" HTC One advertisements have been suggested to herald the HTC One Max for an international launch. This slightly more massive device has been shown to take on HTC One Mini features such the slightly more protruding plastic rim – plastic on the HTC One, but a whole lot more fitting than in either of the other releases.
The HTC One Max may launch in the UK in October with the HTC Mini+, a device that's made to be a physical phone companion to the Max, allowing users to make and take calls without retrieving the massive handset from their pocket. All signs point toward an IFA 2013 launch – stay tuned!