HTC One M8 GPe hands-on: That Duo Camera compromise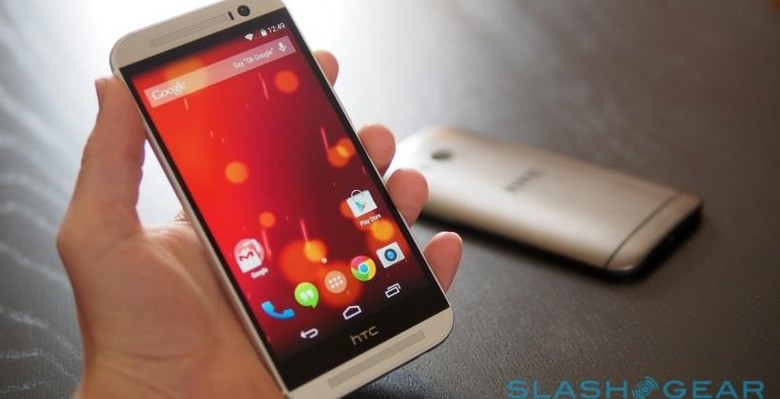 HTC was taking no chances with the HTC One M8, confirming not only versions of its new flagship for the key US carriers but a Google Play edition right at launch, and that's what's landed on the SlashGear test bench. Google's approach with GPe phones is generally straightforward: get the best hardware from manufacturers like Samsung, HTC, and LG, only with unmodified Android rather than whatever tweaks and changes would normally be present. Problem is, HTC has spent no small amount of time with the One M8's Duo Camera system, and so there was work to be done to get that up and running even without HTC Sense 6.
On the regular HTC One M8, the Duo Camera functionality is baked right into the HTC gallery app. From there, you can use the UFocus selective-focus tool – which stores depth data about different aspects of the image, and allows you to tap to set the focus with artificial bokeh on the rest of the frame – as well as the pseudo-3D Dimension Plus tool, which allows you to glimpse around the edges of what's in the image.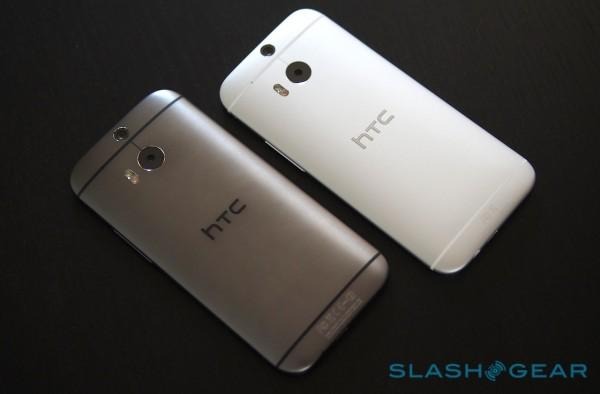 That's required a compromise of sorts on what comes preloaded on the GPe version. Google was apparently unwilling to modify its own core Android gallery app, presumably so as to make updating the One M8 GPe with future versions of Android more straightforward – getting away from a customized OS being the whole point of the Google Play edition – so instead you get a new HTC Photo Edit tool.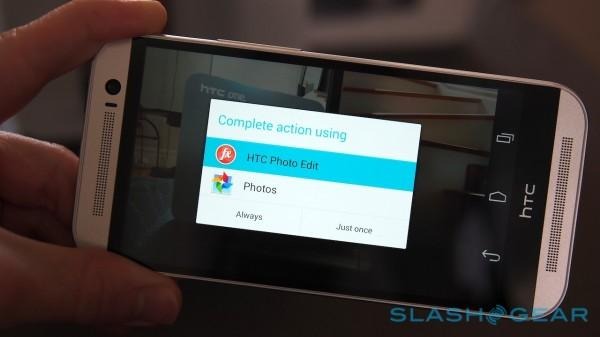 Take a photo and then tap the preview button in the upper right corner, then "Edit" from the menu, and you'll get the option to choose between HTC Photo Edit and Android's native Photos app. Pick the former and you get the UFocus, Dimension Plus, and Touch Up options, as well as HTC's frames, filters, and editing tools like crop.
HTC One M8 Duo Camera effects:
However, you don't get the Foregrounder effect, which helps the subject of the frame stand out against a stylized background, or the Seasons effect, which puts animated snow, leaves, or other objects on top of a color-filtered image. They're both exclusive to the regular HTC One M8, as is the "Zoe" photography which captures both burst-stills and video simultaneously.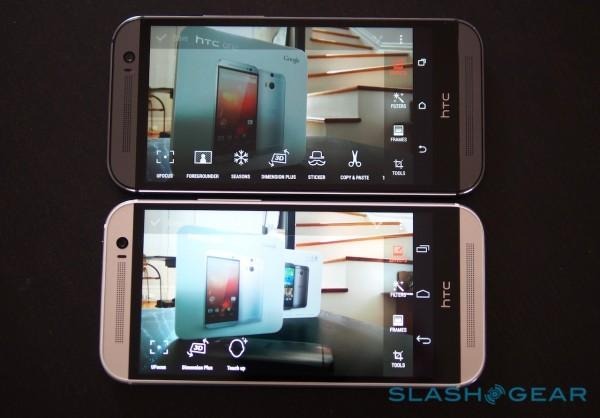 In practice, neither of the missing Duo effects is a great loss, and with HTC opening up the Duo Camera technology to third-party developers thanks to an SDK for camera, we'll presumably see other effects and apps that take advantage of depth data over time.
One annoyance is in how you actually access the HTC Photo Edit app. It's not listed in the launcher, and in fact the only way to load it is from the camera UI. Choosing "Edit" in the Gallery merely takes you to Android's regular tools.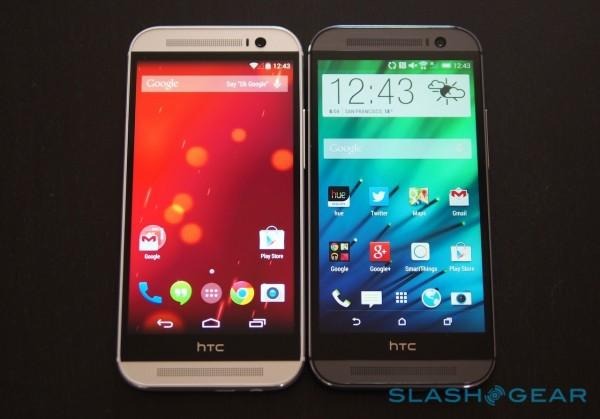 Beyond the camera implementation, there are no hardware differences between the two versions. The One M8 GPe has quadband GSM/EDGE as well as quadband HSPA/UMTS (850/AWS/1900/2100 MHz) and triband 2G (850, 1900, 2100 MHz). There's also 4G LTE, though only with support for AT&T at this stage (700 MHz, AWS), not T-Mobile USA or Verizon.
Out of the box, our Google Play edition phone had 26GB of its 32GB of storage available; there's no 16GB version, unlike from HTC. You still get a microSD card slot, however, to expand it. In the hand, it's still as solid and slightly-slippery as before, and arguably remains the most premium-feeling of recent Android devices.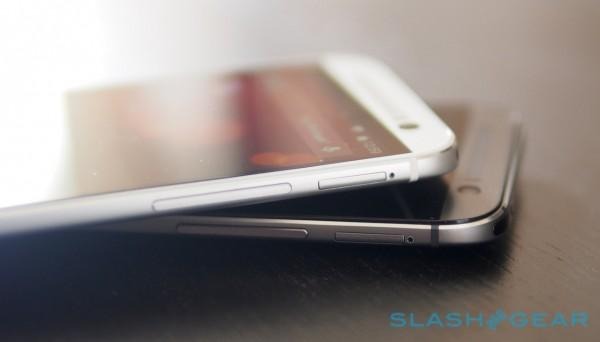 It's too soon to say how the One M8 GPe's non-removable 2,600 mAh battery handles raw Android; we'll be running battery tests over the coming days. A nice extra is that, even with the GPe version, you still get six months of HTC Advantage cover for cracked screen mishaps.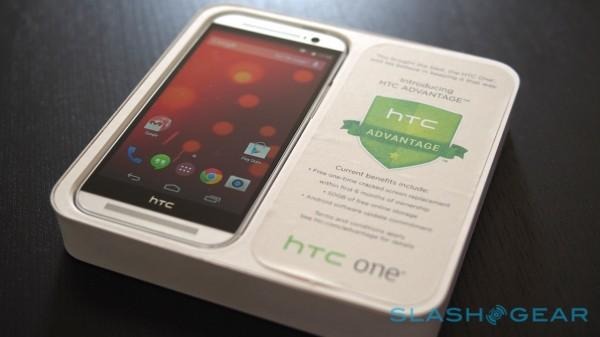 The biggest drawback to the HTC One M8 Google Play edition remains the price. For the privilege of pure Android on a metal-bodied phone, you're paying Google $699. In contrast, you can have a 32GB Nexus 5 for $399, still one of the bargains of the smartphone world.
Having spent time with HTC Sense 6, and given HTC's own efforts to separate the Gallery, TV Sense app, BlinkFeed, and the upcoming new Zoe app from the underlying platform so that it can be more responsive to updates, we're not convinced it's a clean-cut decision either way; let us know where you stand in the comments.
Check out our full HTC One M8 (2014) review for all the details on the new flagship phone