HTC One M8 Google Play Edition detailed: duo camera intact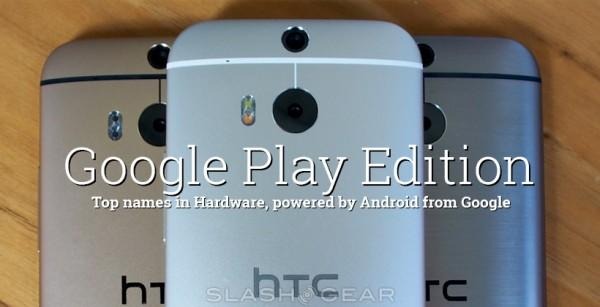 Right on top of the HTC One M8 being revealed this week in full, officially, the company has made clear they intend to continue releasing Google Play Edition devices. What's unique about this release – as opposed to the HTC One code-named M7 from 2013 – is that it's got some API code HTC is providing Google to make its camera setup work in Google's vanilla Android build. The camera, as you may already know, is not one, but a set of two on the HTC One M8's back.
While we're not certain when the device will be shipped, the HTC One M8 Google Play Edition will be available on March 25th (the same day this article is published). This is the same day the device is announced, and appears to mark a point at which HTC is continuing work with the Google Play Edition program while Samsung is notably not. The Samsung Galaxy S5, that is to say, has not been announced as a Google Play Edition.
The HTC One M8's Duo Camera will be able to be used in full by Google as Google leverages HTC's unique APIs. While we're waiting on final details on how Google will integrate the use of both cameras, we must assume that it'll be either inside the official Google Android camera app or inside a separate app that works uniquely with this device – either way, it is unprecedented.
- GSM/GPRS/EDGE: 850/900/1800/1900

- WCDMA: 850/AWS/1900/2100 with HSPA+ up to 21Mbps

- LTE: 700/850/AWS/1900 (B17/B5/B4/B2, carrier aggregation B4+17;B2+17), + roaming 2600/1800 (B7/B3)
Above you'll see the full cross-section of wireless bands supported by the Google Play Edition of the HTC One M8. As with the Google Play Edition of the HTC One M7 from 2013, expect to be able to use this device with 4G LTE with AT&T and T-Mobile, while Verizon's own model will be working with Verizon's 4G LTE.
Have a peek at the rest of our HTC One M8 news this week through our HTC One tag portal, and stick around as we bring the full device to you in review form sooner than later!