HTC One E8 leaked to have its own EYE variant coming soon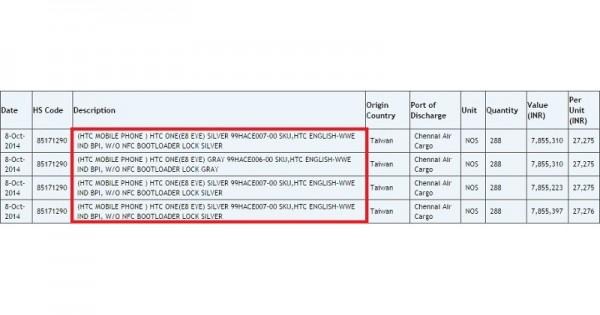 When companies stumble on a winning formula, they usually squeeze out everything they can out of it to the death. HTC might have just stumbled upon such a winning formula when it revealed its new EYE brand, showing the world that it can go beyond just smartphones and dabble in digital imaging as well. And now, we're starting to see a pattern that would yield a series of device variants that have nothing different from their originals aside from having EYE software pre-installed, like this HTC One E8 EYE just sighted.
Proof of the existence of this model comes from everyone's favorite import/export tracking website Zauba, though it gives no other details aside from the name, the color, and the price. But if we use as a basis the HTC One M8 EYE that was just revealed in China without much fuss or fanfare, we can probably presume that the HTC One E8 and its EYE counterpart would be similar except for some pre-installed software features. True, the One M8 EYE does have a different camera than the original, but the One E8 never had an ultrapixel shooter to begin with, so there should be no differences in that regard.
We've taken the HTC One E8 for a spin and practically called it HTC's iPhone 5c, almost the same capabilities as the One M8 flagship but also clad in plastic instead of one with a metallic sheen. That meant a Qualcomm Snapdragon 801, 2 GB of RAM, a starting storage offering of 16 GB, and a 5-inch 1080p display. It does have a 13 megapixel camera like the new One M8 EYE, but no duo camera setup in this one. Zauba's entry for the One E8 is devoid of such information other than the fact that it will come in Silver and Gray color options and that it will cost around $450.
What will be different about this model, then, would be the new camera-related features that will arrive under the blanket of the new HTC EYE Experience. These range from silly but fun camera effects to functional additions like split capture to a bit obscure ones like multiple face tracking. Compatibility with the new HTC Re camera as well as the new Zoe collaborative video editing app might also be there as part of the EYE package.
The rather puzzling thing here is that HTC has already promised that the EYE would eventually be rolled out to 9 of its most latest devices, which, of course, include the original One E8. These two new One models might just be targeted at those who still don't own one and want to get a new One M8 or One E8 without waiting for the EYE updates to arrive. It does however, make one wonder what HTC plans to do with its non-EYE models, whether it plans to eventually phase them out. There is also the fact that, aside from the One M8 and the One E8, there are seven other HTC devices bound to have the EYE update, and it also makes one wonder if HTC will be outing EYE variants for those as well.
VIA: GadgetzArena