HTC RE hands-on: WiFi action camera or pointless oddity?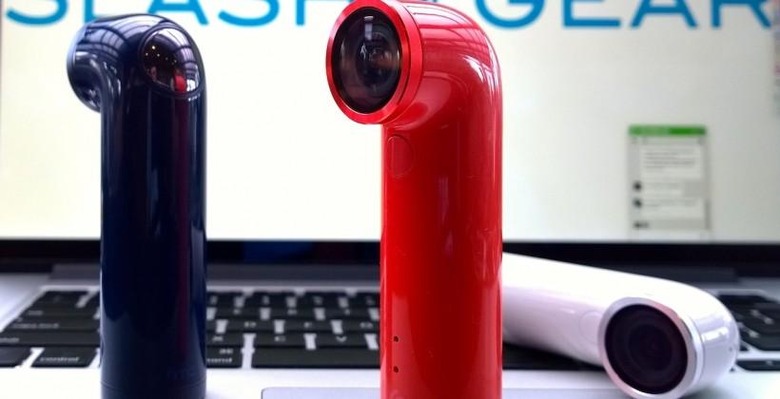 Of all the things you'd think could save HTC's fortunes, an action camera which looks like a tiny submarine periscope probably isn't the first thing to jump to mind, but the company's hopes are high for the HTC RE. The stubby WiFi-enabled camera borrows ideas both from smartphone photography and more specialist shooters like GoPro, with a 16-megapixel sensor, Full HD video recording, and automatic clip curation using HTC Zoe. Most curious of all, it's not just for HTC's own phones: the RE will work with Android devices and iPhones in general. Read on for some first impressions.
It's certainly distinctive. A curved tube 96.7 mm tall and 26.5 mm in diameter, it's a pocket-friendly 65.5 grams and made of tough plastic. Water and dust proof, too, to IP57, as well as meeting IPx7 for the body and IPx8 if you put on the cap.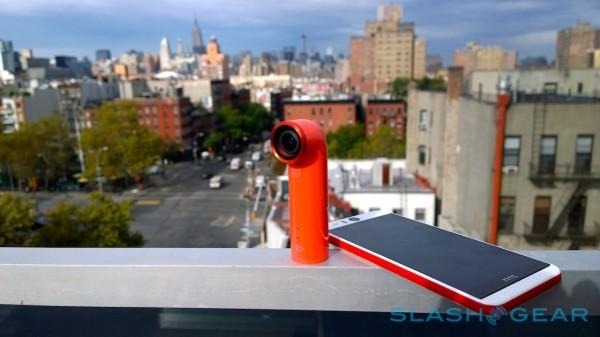 The twisted shape fits the hand neatly, with a grip sensor automatically powering the RE on. Controls are limited to a big silver button that falls under your thumb: tap it to snap a photo; hold it down to start recording video.
You don't get any integrated way to accurately frame the shot, since there's no screen or even a viewfinder, but the 146-degree f/2.8 lens means you're more likely than not to capture what you were interested in. A g-sensor automatically figures out which way up you're holding it, and flips the final footage accordingly.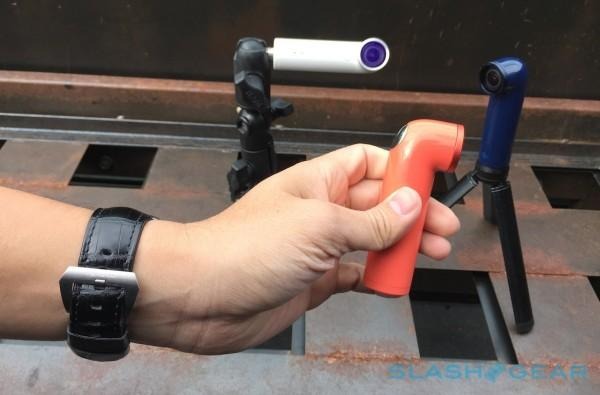 Along with regular stills and 1080/30p video, there's support for 720p 4x slow-motion footage capture, and time-lapse video. Audio capture gets a single HD microphone, and there's a speaker built-in too.
If you want to actually review any of the footage, you'll need to turn to your smartphone or tablet though. There's WiFi a/b/g/n and Bluetooth 4.0 to send it across to the companion RE app (which can also be used to remotely control the camera, acting as a wireless viewfinder), along with microUSB and a microSD card slot to add up to 128GB of storage (HTC will preload an 8GB card).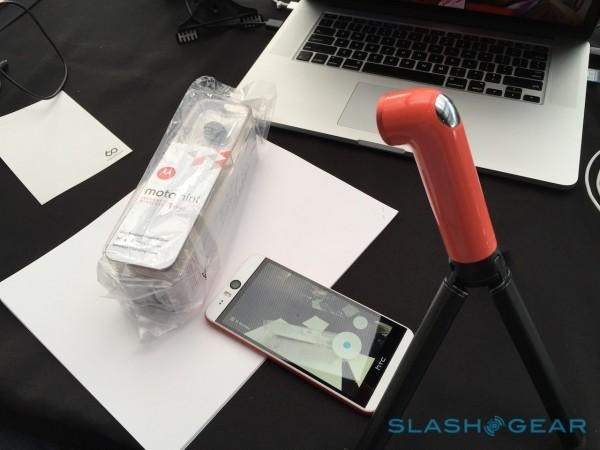 HTC has built in support for its Zoe app – available for Android now, and for iPhone later in the year – which will automagically curate highlight videos from stills and footage recorded with RE, and then upload them all into the cloud.
HTC insists to me that the RE isn't a direct GoPro competitor, but like the popular action camera there are a wide range of accessories and mounts to suit sports and other purposes. A 1/4-inch tripod screw is on the bottom, and HTC will have a handlebar mount, a headband mount, lanyards and neck-straps, a snap-on clip, and a windshield suction mount.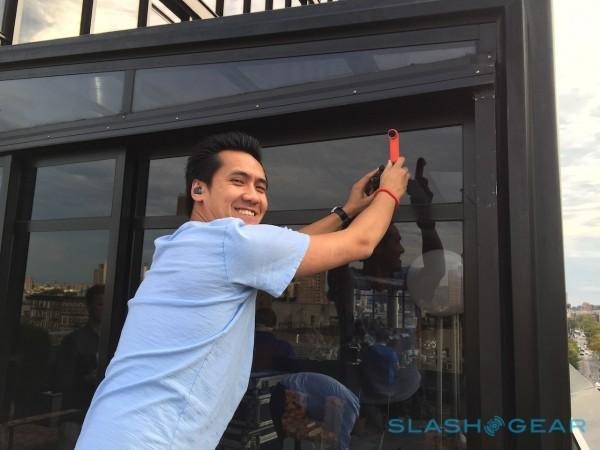 It's a pretty comprehensive range of accessories, though it might be the power add-ons that you find yourself reaching for most often, I fear. HTC says the non-removable 820 mAh battery is good for up to 1 hour and 40 minutes of Full HD video recording or 1,200 16-megapixel stills; based on my early use, I think 1 hour 25 minutes at most is a more realistic estimate. It's worth noting that RE got surprisingly hot in my hand during that period, too.
A desktop charging station – with a flared base to keep it extra-stable – is one option, plugging into the microUSB port on the bottom of the camera. Even cleverer is the power extension bar, which doubles as a regular portable battery or, with the USB cap removed, screws onto the bottom of the RE and juices it directly.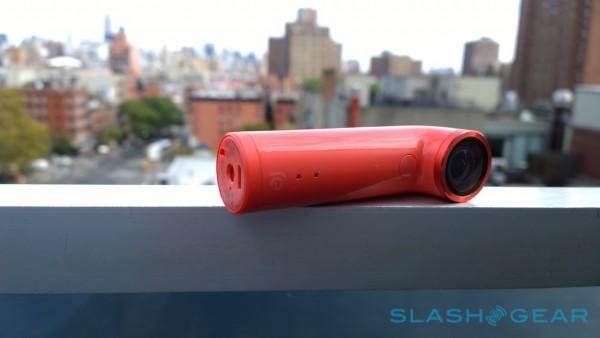 Image quality is more in line with a GoPro than a smartphone camera, too. It's about what you could expect from a fixed-focus lens, namely on a par for a point-and-shoot but unlikely to challenge anything more serious. The companion app does a solid job of ironing out the fish-eye effect of the ultra-wide-angle lens, too. Unfortunately a corrupted memory card means I can't share my samples now, but we'll have more for the full RE review.
It's an interesting approach for HTC (even if you ignore the fact that there's no UltraPixel to be found, despite that being the company's photography "halo" brand), making a companion camera that can be used not only with Android devices from other firms, but even an iPhone or iPad.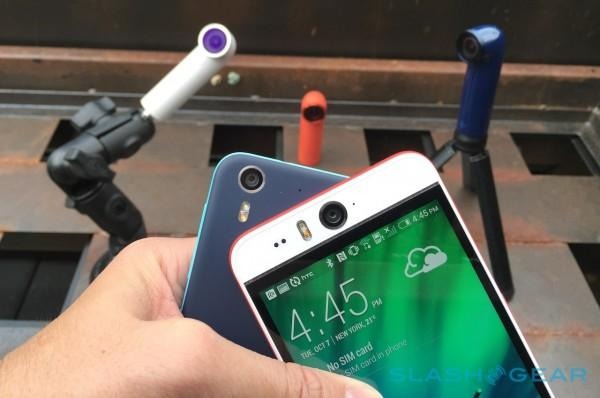 The company's ambitions don't end there, either. Real-time streaming to YouTube is in the pipeline, while an open API/SDK will mean social networks like Tencent and Instagram will be able to build in support, too, if they see fit.
The HTC RE will go on sale in the US later this month, priced at around $199.99. Availability elsewhere will follow on after that; pricing for the range of accessories is yet to be confirmed.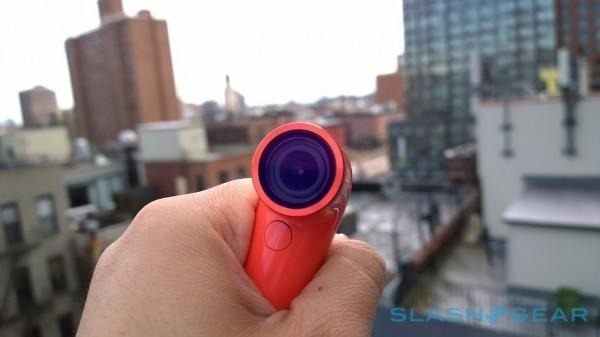 At two hundred bucks it's no small amount of money for an action camera, falling in-between Polaroid's toy-like $99 Cube and the $150+ more you'll spend on a GoPro.
The challenge, then, is convincing enough people that they want to devote separate pocket space to a second camera, and it may only be when the streaming functionality gets fleshed out that the HTC RE truly shows its worth.