Clues are coming together around the next Google Nexus tablet, this time coming from HTC and code-named Flounder and/or Volantis. Today the extra push centers on a Keyboard Case for the device. This means the tablet isn't just made for entertainment, it's made for productivity and work as well.
You'll connect to this keyboard with NFC and stay connected with Bluetooth. Using a 450mAh battery, the keyboard will power itself. Charging the keyboard's battery will be done with a simple microUSB port at the side of the case.
ABOVE: The NVIDIA SHIELD Tablet, possibly the model for the Nexus 9.
The case measures in at 228 x 320 x 5 mm and the keys are around 3 mm high. The keyboard will consist of the standard QWERTY layout with an additional set of Android home buttons.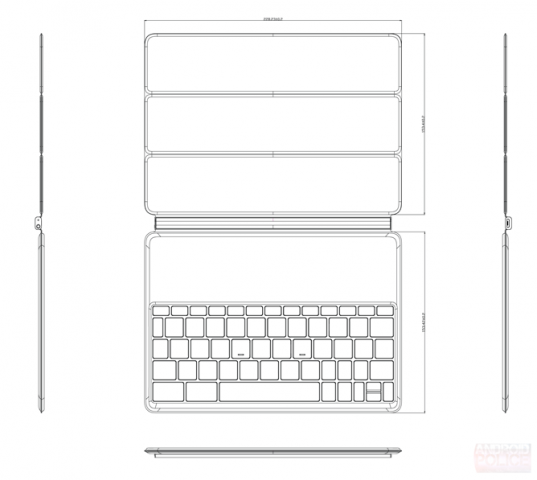 Word from Android Police suggests that this magic cover will be coming in TPU (soft plastic-like) or leather options. @UpLeaks suggests that there are two separate units – a Magic Cover and a Keyboard Folio.
Magic Cover in Leather
• Natural
• Black
Magic Cover TWU
• Coral Amethyst
• Mint Indigo
• Lime Stone
• Indigo Black
The tablet itself is suggested to be rolling out in at least two editions, one Wi-fi, the other GSM/WCDMA/LTE. The Wi-Fi version is said to be coming to Korea, Japan, and all countries where the LTE version is headed. This includes Vietnam, Thailand, Japan, Taiwan, Europe, Russia, India, Malaysia, Taiwan, New Zealand, Australia, Hong Kong, and greater China. And the United States, of course.
You can find out a whole lot more about the tablet at hand in our recent HTC Nexus 9 details article, including a 9-inch 1920 x 1080 pixel display and an NVIDIA Tegra K1 processor.