HTC Media Link HD Hands-on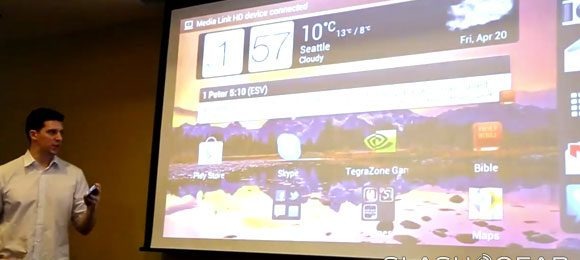 The hero series of HTC devices known as HTC One has its wireless partner up and running this week and we're taking a look at it first-hand: the HTC Media Link HD is here in all its glory. This dongle was described when the HTC One series was first announced all the way over in Barcelona and comes this week in as simple a form as expected – it's just a little black box. At the bottom end (below the HTC logo) you'll find a microUSB and a full-sized HDMI port, it's connections to your HTC One series phone entirely wireless.
This dongle works with wi-fi, and connects to your HTC One X or HTC One S – or any other HTC Sense 4.0 or higher device equipped with wi-fi capabilities. The connection itself, syncing between the dongle and your HTC smartphone or otherwise mobile device takes only a moment, and using it is easy as pie. Once you've got this device connected to your TV (or any other monitor with HDMI input) you'll be using your HTC smartphone to "fling" images, video, and more to the larger display.
NOTE: This is an upgraded version of a device that HTC released back in 2010, a device known as the HTC Media Link (without the HD). Check that link for our hands-on back in the days when it was silvery.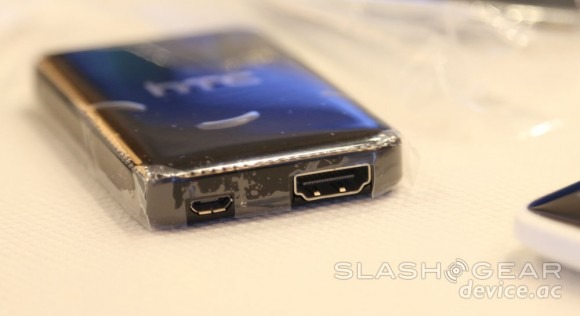 Your HTC device will be able to work as normal (though using some of its processing power on the media display of course) as this device allows for dual-screen action. Dual-screen mode means you'll have the media in front of you on your phone, you fling it up and out with a simple gesture with three fingers toward your larger display with the Link, and there the media will play while you keep your smartphone open for web browsing, texting, whatever else you need to do.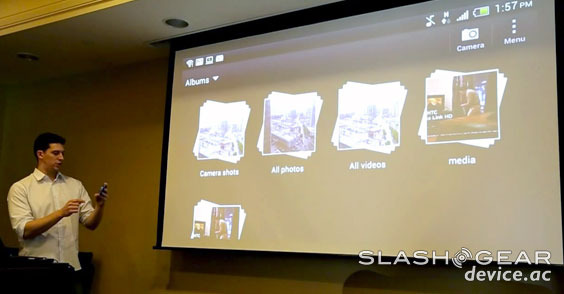 We'll be giving this device a full review sometime in the very near future. For now you'll have to check out the demonstration we've got coming your way via video. It works just like you think it does – connect and go!