HTC Jetstream unboxing and hands-on [Video]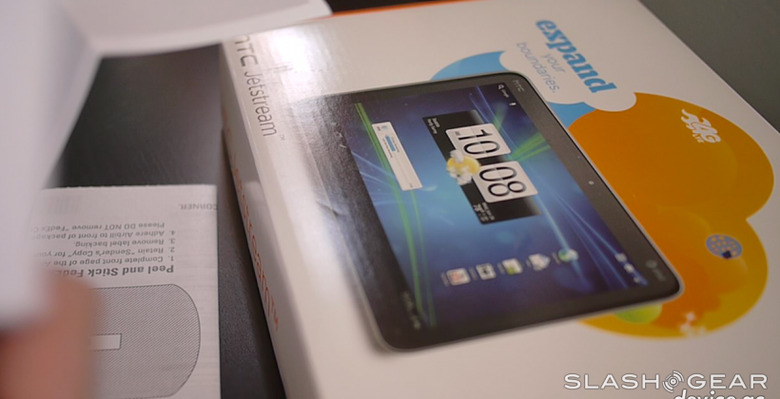 It's time for HTC to join the 10-inch Android tablet game, and with what might be the highest-quality build on an tablet with Honeycomb inside to date with the HTC Jetstream – but is it too late to jump in? And at $699.99 WITH a 2-year contract on AT&T, is it much, much too expensive to compete with the rest of the tablet crowd? That's what they're saying, ladies and gentlemen, but we've gotta be sure – OR prove them all wrong, of course. This tablet has hit the SlashGear review bench today, and here we take our first look at its final-build insides and out.
There are several factors to consider when taking your first glance at the HTC Jetstream here in the United States. First, HTC makes high quality products. Noone will debate that, or if they do, I'll call them foolish. What you've got here is a nearly entirely metal and glass device with one of the most powerful dual-core processors, the Qualcomm APQ8060 1.5GHz dual-core SoC, that is, on the market. Second, note that the first attempt HTC had at releasing an Android tablet-type device here in the USA was the HTC Flyer, a smaller tablet that your humble narrator did quite like but whose unpopularity caused it to be price chopped at Best Buy (not to the levels Best Buy accidentally reported, but chopped nonetheless.) Will this next effort best the first?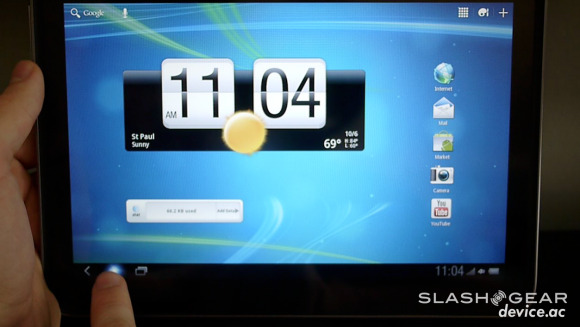 If you don't consider the price of this tablet – yes, oh my goodness yes, yes indeed. What HTC has done here is to take all the best specs it could find, put them in a container made of metal, then smash them down into a tablet. This is the only tablet on the market, THE ONLY tablet on the market with a decent camera on the back. It's an 8-megapixel camera capable of 1080p video recording – that's top notch for smartphones right now, and blows away the rest of the tablet market.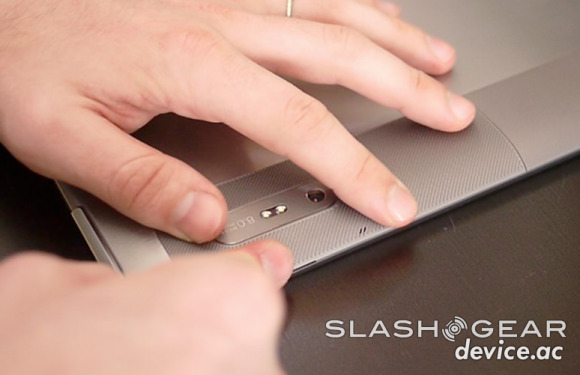 The chassis on this device are superb. It's not the thinnest or the lightest on the market, but it's certainly not the fattest of the heaviest either, and unlike SOME tablets out there, the "bulk" of this device is dedicated to making it a magnificent piece of machinery. But I won't say it's fantastic quite yet, as I've literally only had the device for less than a half a day at this point. Let's just say that things look good so far.
[vms cb40b095eda264a85f15]
Hands-on and Unboxing the HTC Jetstream
Have a look at the hands-on video, in it you'll see a thorough look at the tablet's hardware as well as the newest version of HTC Sense for tablets, that being "Sense for Tablets 1.1", aka the first. I'll jam this monster through some benchmarks for you over the next few days, take some photos, some video, and generally bring it along for a ride that'll allow me to report back to you on what it means to work with HTC's vision for a 10-inch Android. Check it out soon!
Also hit up http://device.ac/jetstream-1463/ for all the specs you need for now if I didn't give you enough to make your pre-review decision on this device yet – they've got it all!
BONUS check out Chris Davies' look at the HTC Jetstream all the way across the ocean and through many, many woods: HTC Jetstream Hands-on (v 1.0)
[vms 2706fb769f5e93667bd2]