AT&T HTC Jetstream LTE 10-inch Android tablet official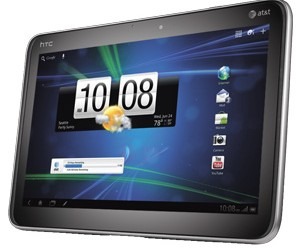 AT&T has officially unveiled the HTC Jetstream, the company's 10.1-inch tablet previously known as the HTC Puccini. Packing Android 3.1 Honeycomb on an WXGA touchscreen with support for HTC's Scribe digital pen – initially bundled with the slate – the Jetstream totes both HSPA+ and 4G LTE support and will go on sale on September 4 priced at a hefty $699.99 with a new, two-year agreement.
Inside is a 1.5GHz Qualcomm Snapdragon dual-core processor, with support for 1080p HD video playback. AT&T will preload its Family Map and Navigator apps, and there's HTC Watch and the usual bevy of Android apps. Up front is a 1.3-megapixel camera, while on the back is an 8-megapixel camera with a dual-LED flash.
The battery is a 7,300mAh pack, though HTC isn't saying how long it will last, and there's the new version of HTC Sense for tablets and a microSD card slot. The whole thing measures in at 7 x 9.87 x 0.51 inches and weighs 25oz. As on the HTC Flyer there's Evernote integration with handwriting support.
AT&T will offer the HTC Jetstream with a new $35 data plan for 3GB of data per month. Alternatively there will be two contract-free options – tablet pricing so far unconfirmed – with 250MB for $14.99 or 2GB for $25.